"The View" quietly deleted a tweet peddling fake news about the Michael Flynn plea deal sometime Saturday morning after the liberal women's talk show was widely panned.
What happened?
"The View" co-host Joy Behar on Friday read with utter excitement a news report from ABC News that claimed Flynn was directed to coordinate communication with Russia while Trump was a still a candidate.
"It's beginning to look a lot like Christmas, and it's beginning to look a lot like collusion," guest co-host Ana Navarro said. Behar later went on to describe her excitement as the "antithesis of election night" when she mourned over Donald Trump's win.
"The View" producers later posted the segment to its Twitter account where it was widely shared. Most politically charged tweets from "The View" will receive thousands of retweets and "likes."
That was before ABC corrected its report to say that Flynn contacted Russian officials after Trump had won the election and was transitioning to become president. The difference is major, but "The View" retained the incorrect tweet.
They were called out by every corner of the internet to take down the incorrect tweet and issue a correction. White House counselor Kellyanne Conway even got in on the action:
Why is this celebratory tweet (and clip) on @TheView still active when their network @ABC was forced to correct the… https://t.co/naTf43KDwV

— Kellyanne Conway (@Kellyanne Conway) 1512218922.0
The original tweet can be viewed here via an internet archive.
What did they do?
Sometime Saturday morning, someone with control over "The View's" Twitter account deleted the incorrect tweet and simply retweeted ABC's correction.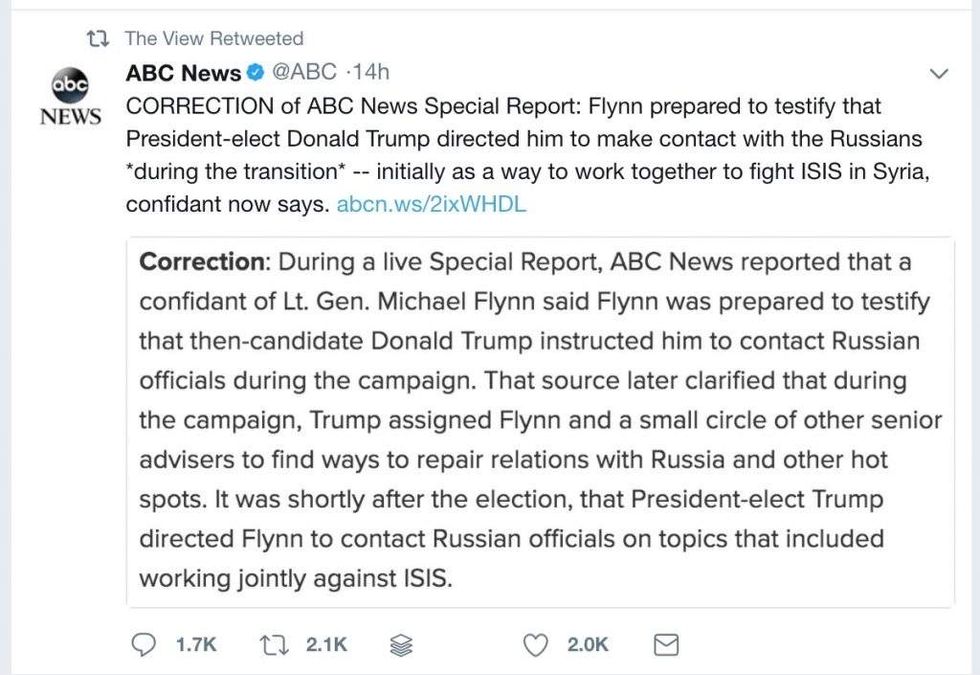 Image source: screenshot
There was no immediate apology for keeping the incorrect tweet live on the internet for more than 12 hours. The segment where the panel discussed the fake Flynn news was still live on YouTube as of Saturday afternoon.