The United Nations General Assembly on Thursday overwhelmingly voted to repudiate President Donald Trump's declaration of Jerusalem as Israel's capital, calling his move "null and void," USA Today reported.
The vote was 128-9 with 35 abstentions. However, the General Assembly vote has little to no practical impact on the matters at hand, the paper added.
Trump on Wednesday threatened to pull aid from countries voting against his Jerusalem declaration.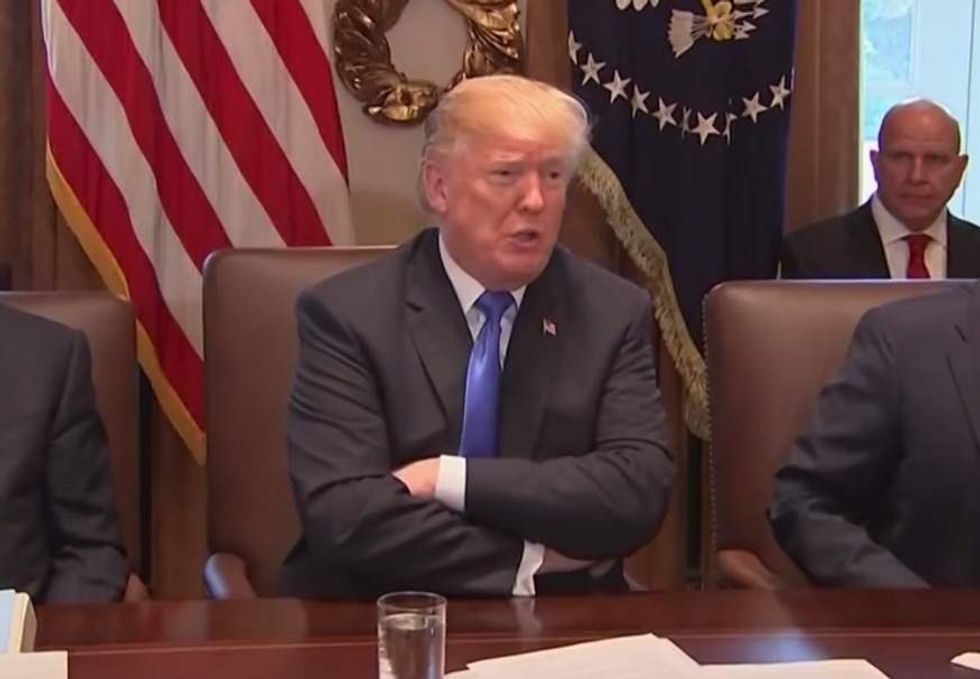 President Donald Trump comments Wednesday on potential U.N. votes against his Jerusalem declaration. (Image source: YouTube screenshot)
"They take hundreds of millions of dollars and even billions of dollars, and then they vote against us," Trump said. "Well, we're watching those votes. Let them vote against us. We'll save a lot. We don't care."
The president added: "People are tired of the United States being taken advantage of, and we're not going to be taken advantage of any longer."
Trump echoed the sentiments of Nikki Haley, U.S. ambassador to the United Nations, who blasted the U.N. over its plan to condemn the United States for its Israel move and said the U.S. will be "taking names."
At the UN we're always asked to do more & give more. So, when we make a decision, at the will of the American ppl,… https://t.co/NfwD3sfd7d

— Archive: Ambassador Nikki Haley (@Archive: Ambassador Nikki Haley) 1513721296.0
Also, Haley said "no vote in the United Nations will make any difference" in regard to the United States' decision to move its embassy to Jerusalem and called it "the right thing to do," USA Today said.
"We will remember it when we are called upon once again to make the world's largest contribution to the United Nations," she added, the paper reported. "And we will remember when so many countries come calling on us, as they so often do, to pay even more and to use our influence for their benefit."
Following Trump's Jerusalem announcement earlier this month, protests erupted in the Middle East.
Which countries voted with the U.S. against the resolution?
Israel, Honduras, Guatemala, the Marshall Islands, Micronesia, Nauru, Palau and Togo voted with the U.S. against the U.N. resolution.
Which countries abstained from the vote?
Australia, Canada, Mexico, Poland, Romania, Hungary, the Czech Republic, Croatia, Colombia, Argentina and the Philippines were among the 35 nations to abstain.
Which U.S. allies voted in favor of the resolution?
Among the 128 votes in favor of the U.N. resolution were those cast by allies Italy, Japan, the United Kingdom and France.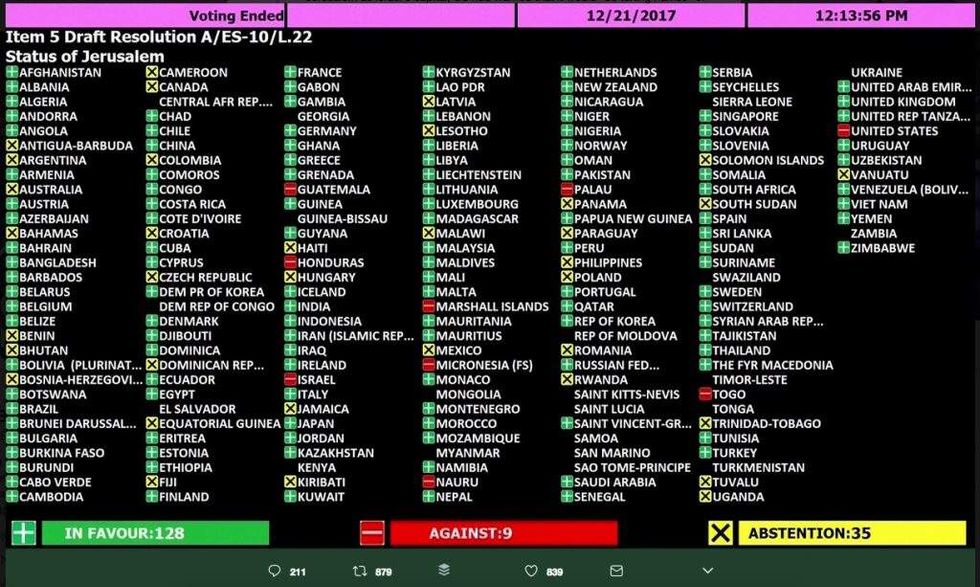 Image source: Twitter
What else was said about Trump's previous funding threat?
The message from Turkey's President Recep Tayyip Erdogan to Trump regarding his funding threat was "you cannot buy Turkey's democratic will with your dollars. Our decision is clear," he said Thursday, USA Today reported.