"A Charlie Brown Christmas" remains as popular today as ever. The iconic TV cartoon has been aired continually since its debut in December 1965.
It's famously known for Linus' reading of Luke 2:8-14 (i.e., "what Christmas is all about"):
And there were in the same country shepherds abiding in the field, keeping watch over their flock by night. And, lo, the angel of the Lord came upon them, and the glory of the Lord shone round about them: and they were sore afraid. And the angel said unto them, Fear not: for, behold, I bring you good tidings of great joy, which shall be to all people. For unto you is born this day in the city of David a Saviour, which is Christ the Lord. And this shall be a sign unto you; Ye shall find the babe wrapped in swaddling clothes, lying in a manger. And suddenly there was with the angel a multitude of the heavenly host praising God, and saying, Glory to God in the highest, and on earth peace, good will toward men.
Indeed such a plainspoken Bible reference was an eye-opener even in the 1960s — and certainly these days it's not everyone's cup of tea.
You might recall in 2015 that a school district decided to cut Linus' Bible recitation from an elementary school's stage version of "A Charlie Brown Christmas," after which parents in the audience took it upon themselves to recite the passage instead.
But there's actually much more in Charles M. Schulz's classic animated creation with regard to faith than Linus' reading of Scripture — they're just not nearly as overt.
Here's a look at some of them.
Did you catch what Linus does with his security blanket?
Pastor and author Jason Soroski noted on his blog a couple of years ago something quite interesting about Linus' recitation of Luke 2:8-14.
He drops his security blanket.
His fellow characters — particularly his imposing sister Lucy — had been prodding Linus to give up his blanket for some time to no avail.
But sure enough, right after he utters the words "fear not," down falls Linus' blanket.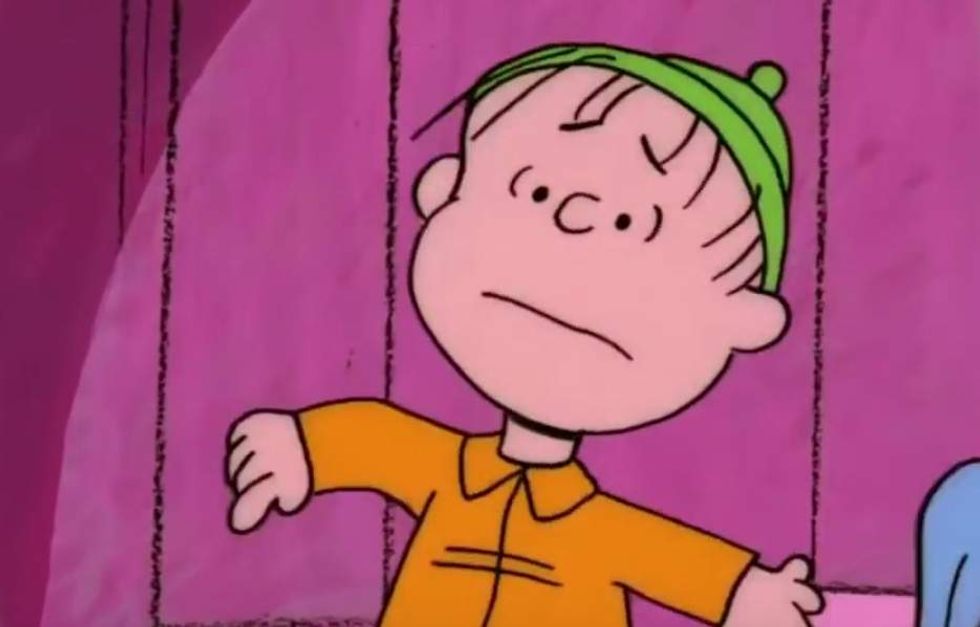 Image source: YouTube screenshot
It's not blindingly obvious because the zooming-in camera cuts out almost all of that moment — but seconds later, Linus' blanket is indeed shown out of his hands and in a pile onstage.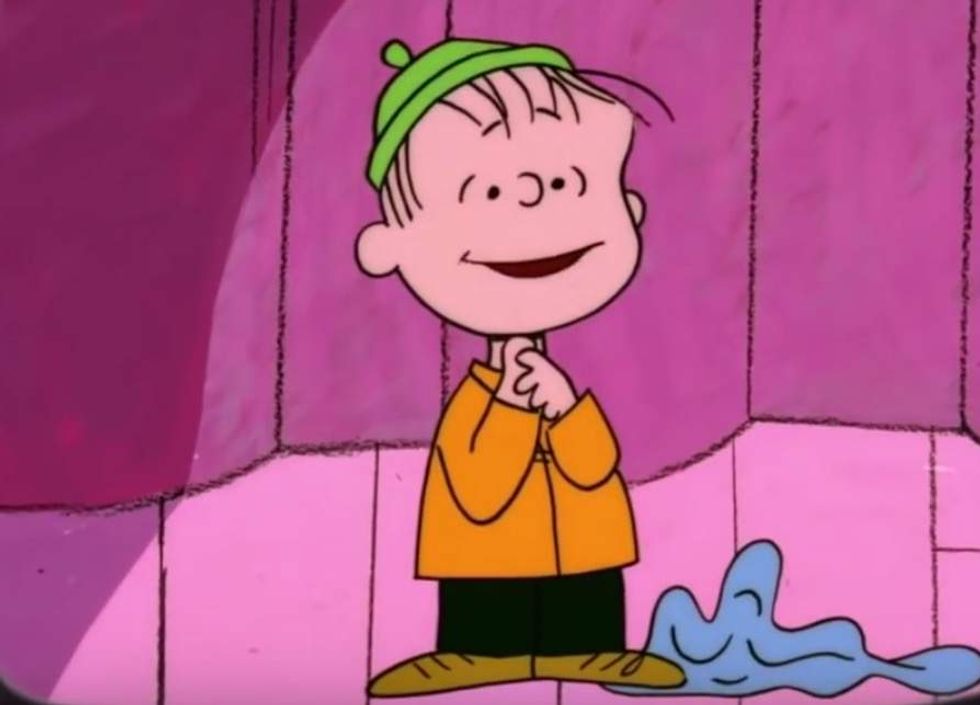 Image source: YouTube screenshot
"Looking at it now, it is pretty clear what Charles Schulz was saying through this, and it's so simple it's brilliant," Soroski writes. "The birth of Jesus separates us from our fears. The birth of Jesus frees us from the habits we are unable (or unwilling) to break ourselves. The birth of Jesus allows us to simply drop the false security we have been grasping so tightly, and learn to trust and cling to Him instead."
But wait — there's more
While Charlie is directing his friends in a Christmas play, he and Linus depart to get a Christmas tree to liven up the atmosphere.
But before they leave, Lucy not surprisingly offers her two cents — and not surprisingly she reveals her penchant for "a great, big, shiny aluminum Christmas tree ... the biggest you can find."
But that's not what Charlie settles on.
In the middle of a lot full of big, gorgeous selections is a tiny, bare tree with hardly any green upon it.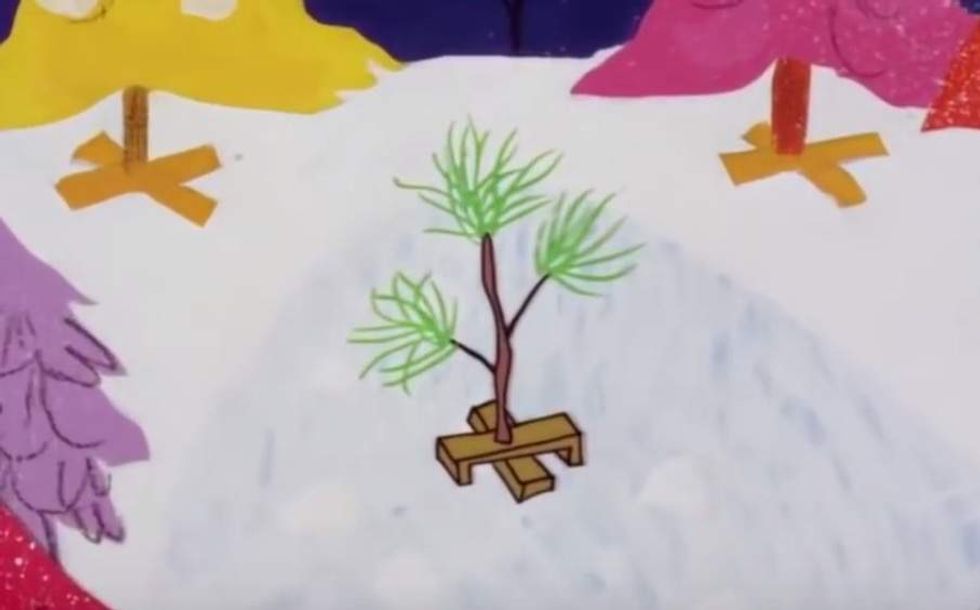 Image source: YouTube screenshot
Yet Charlie chooses it, saying the tree "seems to need a home."
Linus isn't convinced, recalling Lucy's command: "This one doesn't seem to fit the modern spirit," he says.
But nevertheless Charlie Brown marches back to his friends with his chosen tree in hand — and gets hammered for it. They call Charlie "stupid" and "completely hopeless" for not getting a "good tree."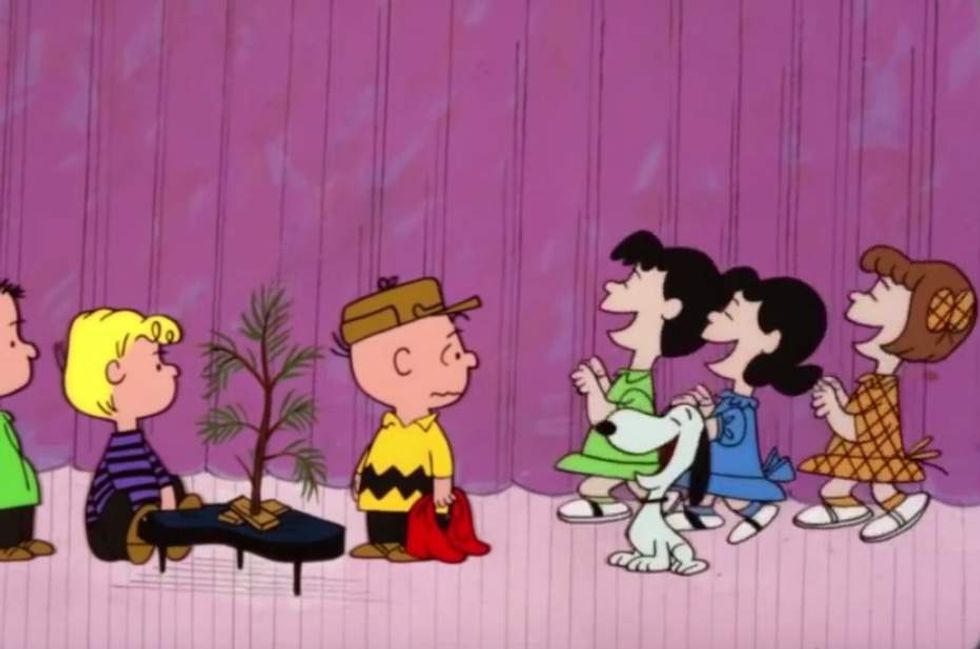 Image source: YouTube screenshot
Is Charlie Brown's hapless Christmas tree a symbol for Christ?
Here's what the prophet Isaiah wrote about the coming Messiah (53:2-3):
For He grew up before Him like a tender shoot, and like a root out of parched ground; He has no stately form or majesty that we should look upon Him, nor appearance that we should be attracted to Him. He was despised and forsaken of men, a man of sorrows and acquainted with grief; and like one from whom men hide their face He was despised, and we did not esteem Him.
It's been argued that such is how Charlie's friends react to his Christmas tree.
Yet Charlie is undeterred by his peers' vicious criticism. With the tree unwelcome in the auditorium, Charlies looks at it, smiles and takes it back outside. Curious, his friends follow him.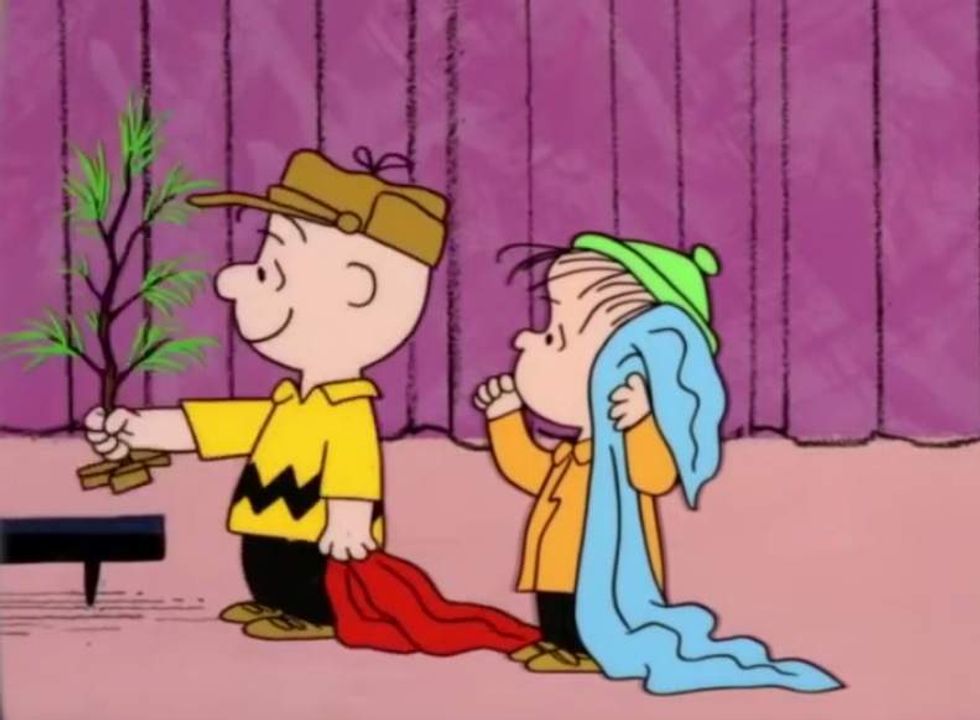 Image source: YouTube screenshot
But when Charlie places an ornament atop his tree, it droops all the way down to the snow-covered ground: "I've killed it!" Charlie laments, adding that "everything I touch gets ruined."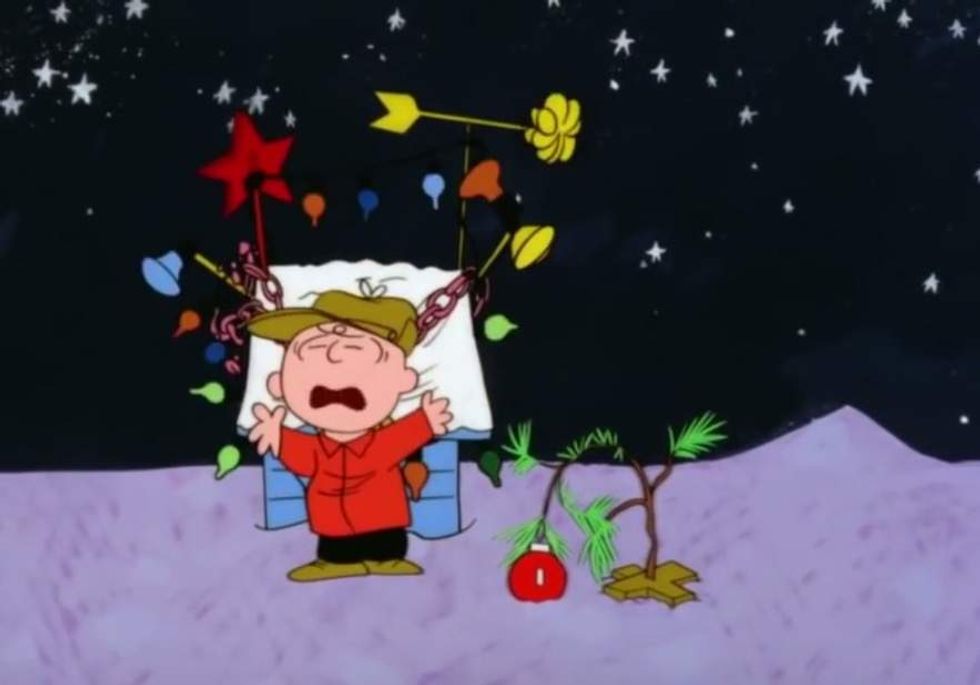 Image source: YouTube screenshot
Charlie's declaration can be viewed as akin to an acknowledgement of sin and falling short of God — and the tree's "death" symbolic of Christ's death for our sins, the argument adds.
But Linus steps up again, letting go of his security blanket once more and wrapping the base of the tree with it.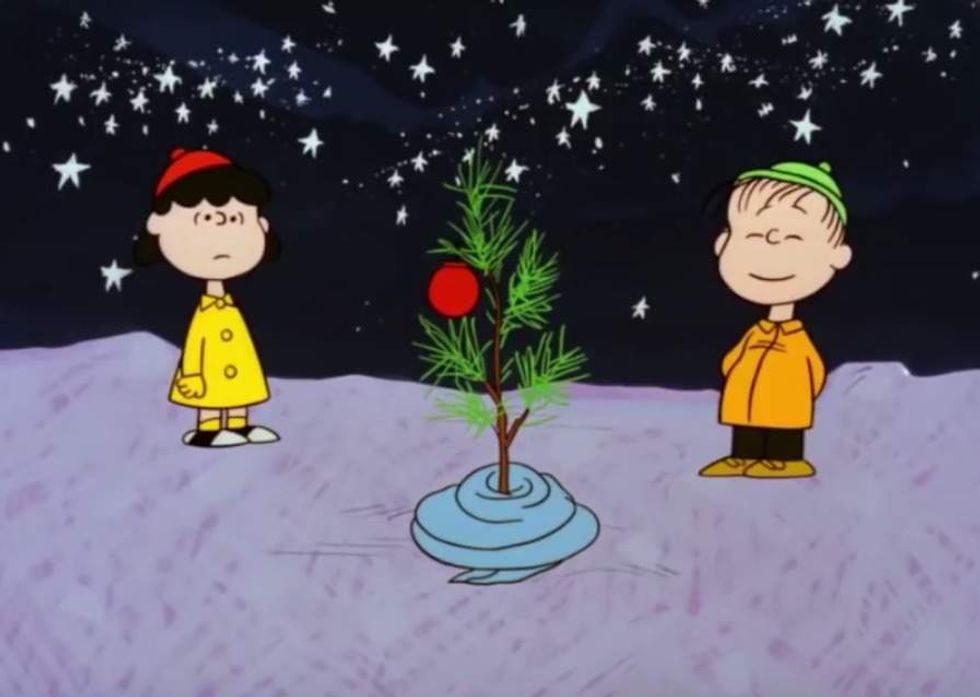 Image source: YouTube screenshot
Then what happens? The tree Charlie "killed" is alive again and shines under the night sky. The argument follows that it's essentially a symbol of Christ rising from the grave and his ascension into glory.
The Peanuts gang finishes up by shouting "Merry Christmas Charlie Brown!" and singing the classic carol, "Hark! The Herald Angels Sing."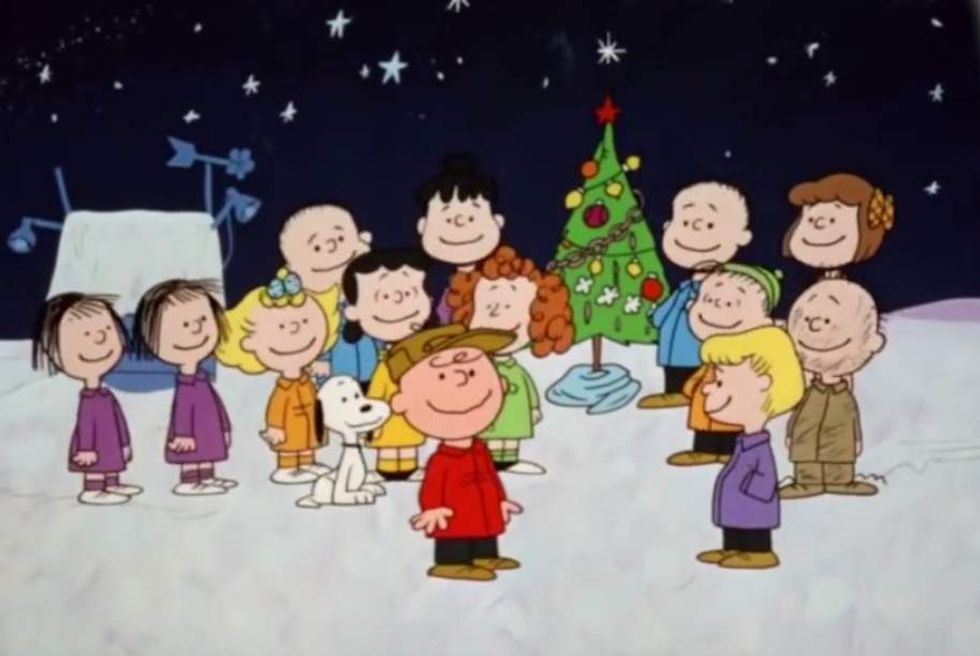 Image source: YouTube screenshot
Charles Schulz made no secret of his Christian faith
An Atlantic piece on the spirituality of Schulz's cartoon creations notes:
Schulz converted to Christianity shortly after returning from a deployment in World War II, and the experience sparked a love inside of him for sacred literature. He became a voracious reader of theological commentaries, and the margins of his personal Bible were filled with hand-written notes. He was a long-time Sunday School teacher at churches in the Midwest and California, even leading one group through a study of the entire Old Testament.
So on this day, as Linus said in his reading of Luke: "Fear not: for, behold, I bring you good tidings of great joy, which shall be to all people. For unto you is born this day in the city of David a Saviour, which is Christ the Lord."