An arctic blast of weather is causing frigid temperatures across many portions of the U.S. this weekend, and the trend could continue through New Year's Day, according to The Weather Channel.
When the New Year's Even ball drops in New York City, it is expected to be about 10 degrees, "with subzero wind chills possible." That would make it the second-coldest New Year's eve on record in the city. Wintry weather could hit as far south as Dallas, Texas, where freezing drizzle is expected over the weekend. Road crews have been sanding roads since Thursday in an attempt to prepare. Elsewhere, Erie, Pa., has had seven feet of snow since Christmas. And more snow is expected this weekend.
Are weather warnings being issued?
The National Weather Service has issued wind chill advisories and warnings from the Plains and Midwest and into portions of the mid-South and Northeast. Wind chills could drop as low as minus 50 to 60 degrees. At that temperature, frostbite can happen on exposed skin in as little as 10 minutes.
In North Dakota, wind chills were recorded as low as 55 degrees below zero, The Weather Channel reported. In Minnesota, St. Paul and Minneapolis only reached minus 6 degrees Saturday afternoon, tying a record low set on Dec. 30, 1976. And it's so cold in the Buffalo, NY area that Niagara Falls has turned into an ice- and snow-covered wonderland, according to reports.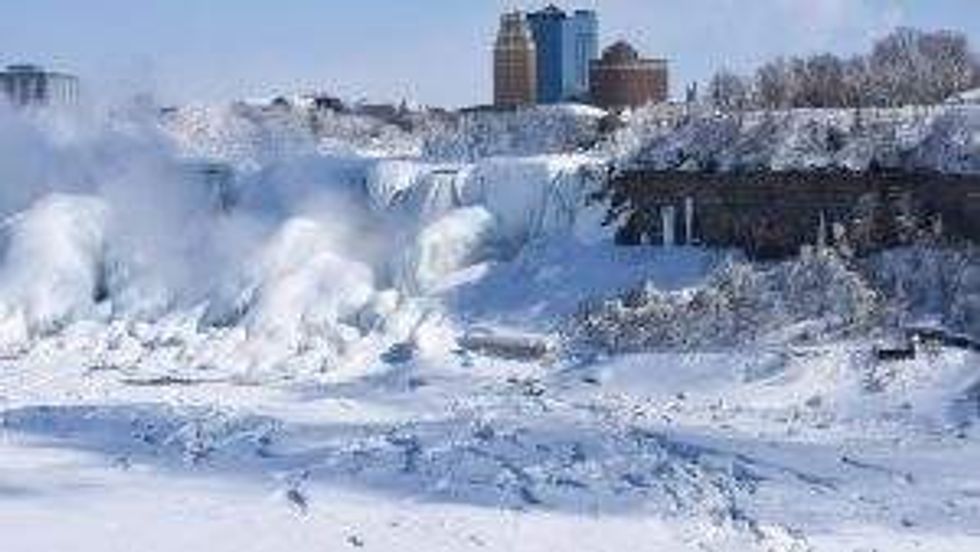 This file photo shows the American side of Niagara Falls when it was almost completely frozen over in 2015. (Aaron Vincent Elkaim/Getty Images)
The frozen winter landscape around the natural wonder is nothing new, however. Any time there is a particularly cold winter, mist from the falls can glaze over trees in the nearby park. Sometimes the branches are frozen in motion as they blow in the wind.
The following cities could experience record cold New Year's Day temperatures, according to The Weather Channel. Here are the current record-low temperatures for that day, and the year they happened:Boston: 10 degrees (1918), Buffalo, New York: 11 degrees (1918), Portland, Maine: 11 degrees (1918), Providence, Rhode Island: 12 degrees (1918), and Grand Rapids, Michigan: 13 degrees (1968)