A 15-month-old Indiana toddler is alive today because of the heroic efforts of Officer Richard Mayer, a rookie cop who saved the child's life on his very first day of paid duty.
What happened?
Melanie Hasse was having lunch with her 15-month-old daughter, Charlotte, at an Indiana Chick-fil-A on Friday when the child began choking on what was later identified as a small piece of apple.
"I looked over and she started gagging," Hasse said, according to WLS-TV. "I could see something kind of in the back of her throat, mistakenly reached in to try to grab it out, I think that pushed it back into her throat."
Luckily enough, Officer Mayer was seated just tables away and noticed that Hasse's child had begun to turn purple.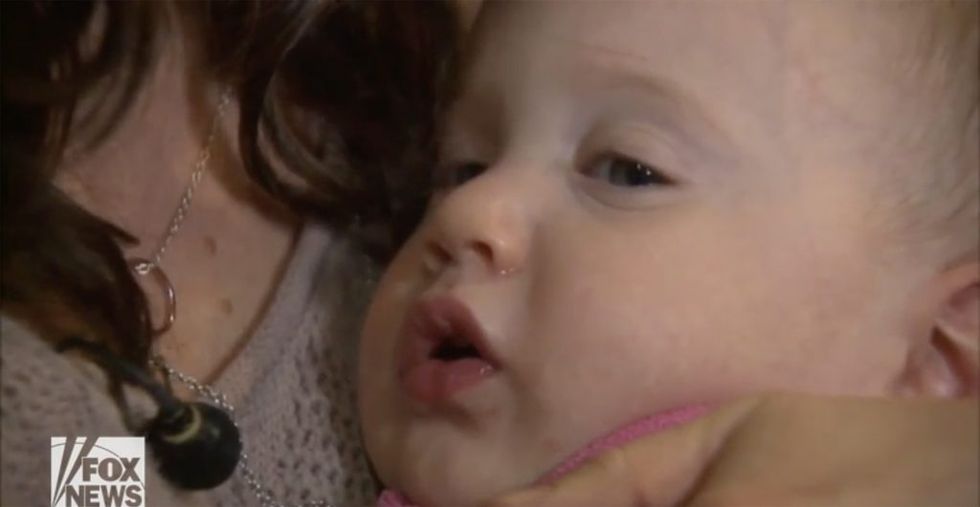 Melanie Hasse's 15-month-old child, Charlotte. (Image source: Fox News video screenshot)Hasse dashed over, with child in arms, to the officer's table, where instinct took over and he quickly jumped into action.
"She came running over ... I grabbed her and Officer Ramos to my right flipped her over, we did back slaps on her and got food dislodged from her throat right away," Mayer said, according to WLS.
The was also Mayer's first act as a paid police officer. The object lodged in Charlotte's throat was a piece of apple.
"And then she started crying, and I was like 'OK, we're OK," Hasse said.
Grateful for Mayer's help, Hasse said, "This is what he was meant to do. To save lives in some kind of way."
According to WGN-TV, Officer Mayer, who also has a 1-year-old daughter, has had to use the baby Heimlich maneuver on his own child before.
"That caught us all off guard," Mayer said. "All three of us officers sitting there have a daughter, and all of us looked back at it and said, 'Hey, what if that was our daughter?'"
Hasse told WGN that she doesn't believe it's coincidence that Mayer was there to respond to her emergency.
"I've been so thankful to the Lord that he was there at the right time, right when I was, and I don't think it's coincidence that this was his first day," Hasse told WGN. "I think he was meant to be somebody who protects and saves, and I'm just so thankful for him."