American women are more likely to have children today than they were a decade ago, according to a new study by the Pew Research Center.
What did the study find?
According to a Pew Research Center analysis of U.S. Census Bureau data, more women at the end of their childbearing years have given birth as of 2016 than had 10 years ago.
The study found that 86 percent of women ages 40 to 44 are mothers, up from 80 percent in 2006.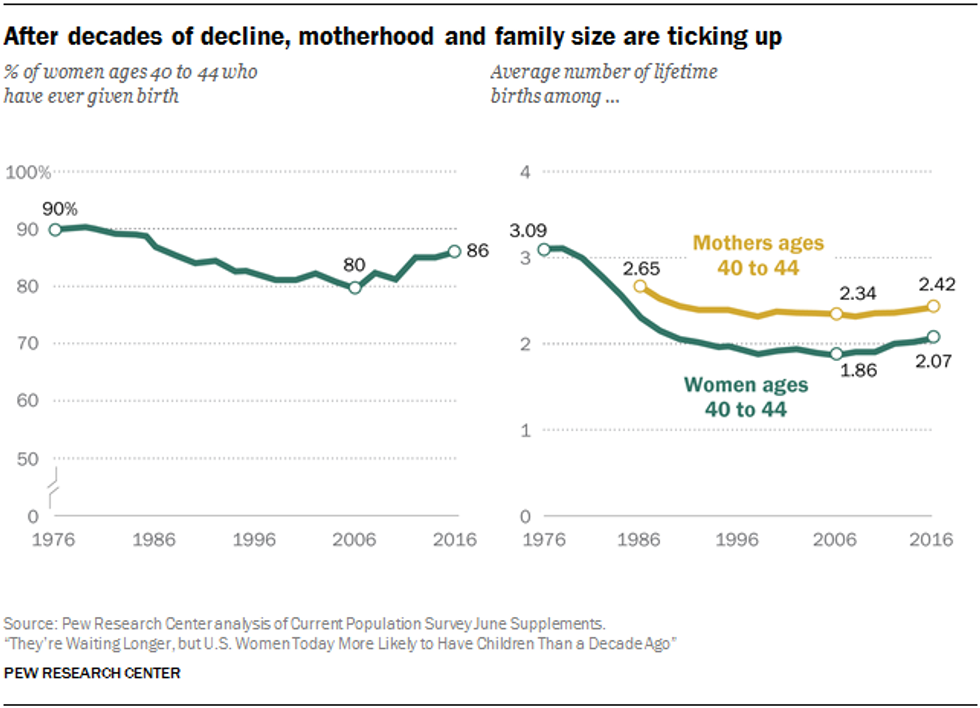 The study also found another trend among American women: the sizes of their families are growing.
"Not only are women more likely to be mothers than in the past, but they are having more children," the report said.
Now, women have an average of 2.07 children during their lives, an increase from 1.86 in 2006, which the Pew Center said was the lowest number on record.
The Pew Center noted that its analysis reflects different trends than measurements of the fertility rate, because it measured fertility over a lifetime rather than the number of births per woman in a single year. Annual fertility rates are decreasing, the Pew Center said, because more women are becoming mothers later in life.
The report said the median age at which American women become mothers in the U.S. is 26, up from 23 in 1994. The Pew Center said the increase in the median age of motherhood is due in part to fewer births to teenage mothers and more women delaying motherhood in their 20s.
The study also found "a substantial increase" in motherhood among women who have never married. A majority — 55 percent — of women ages 40 to 44 who never married have had at least one child, an increase from 31 percent in 1994.