Seattle Seahawks star defensive end Michael Bennett — among the most outspoken national anthem kneelers in the NFL — has a book coming out April 3 with quite the provocative title.
It's called "Things that Make White People Uncomfortable."
Bennett's co-author, Dave Zirin — who's also sports editor at progressive magazine The Nation, KIRO-TV reported — tweeted a photo of the book cover Monday:
So.... this is out on April 3rd and it's spectacular. @mosesbread72 delivers both honesty and the funny like no one… https://t.co/U9JWnyltZJ

— Dave Zirin (@Dave Zirin) 1517236080.0
"Not only was it a book about this wild year of 2017 and us living through it in real time, but to me it is also a book about Michael's evolution throughout that year and how he changed from being just an outspoken football player to being kind of this icon of outspoken resistance who just happened to be an NFL player," Zirin told KING-TV.
As for the book's 'White People' title?
"I think the title is a just a title to start a conversation so people want to read," Bennett noted about his book last year, KIRO reported. "I think the book I'm focusing on is issues that I see that are important in America, and that are my view."
Among those issues is race relations in the NFL and in society, KIRO said, adding that Bennett began sitting on the Seahawks' bench during national anthems last season to raise awareness for social equality and police reform.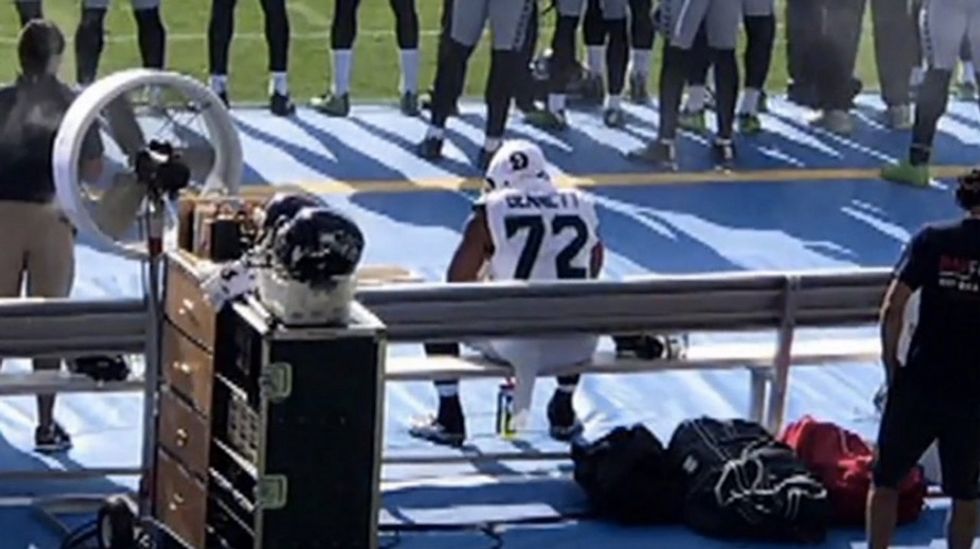 Image source: YouTube screenshot
Bennett also spoke out about equality for women as well as for those with different ethnicities, religions, and sexual orientations, KIRO said.
The book's description reads:
Bennett adds his unmistakable voice to discussions of racism and police violence, Black athletes and their relationship to powerful institutions like the NCAA and the NFL, the role of protest in history, and the responsibilities of athletes as role models to speak out against injustice. Following in the footsteps of activist-athletes from Muhammad Ali to Colin Kaepernick, Bennett demonstrates his outspoken leadership both on and off the field.
In what other ways has Bennett made headlines?
He co-authored a 10-page memo last September with two other NFL players asking Commissioner Roger Goodell to endorse the month of November as a social activism awareness month.
Bennett accused Las Vegas police of racial profiling and using excessive force when he was detained Aug. 27. But in late September, police said its investigation found the officers acted appropriately and professionally, and they were cleared of any wrongdoing.
(H/T: Truth Revolt)