CNN reported Monday that sensitive anti-terrorism documents concerning Sunday's Super Bowl in Minneapolis were left in the seat pocket of a commercial airliner.
What are the details about the documents?
The Department of Homeland Security documents that were purportedly discovered featured phrases such as "For Official Use Only" and "important for national security."
The DHS report, which was dated December 2017, purportedly mocked up a simulated biological warfare attack — anthrax, specifically — in preparation for the Super Bowl. The outlet reported that the documents also contained improvement recommendations for authorities' response to biological warfare attacks.
According to CNN, recipients of the "draft 'after-action' reports were told to keep them locked up after business hours and to shred them prior to discarding," and were told that the information from the reports was not to be shared with anyone outside of the "operational need-to-know" scope.
The sensitive documents weren't the only thing left in the seat pocket: a boarding pass and travel itinerary were also left behind with the documents, according to CNN.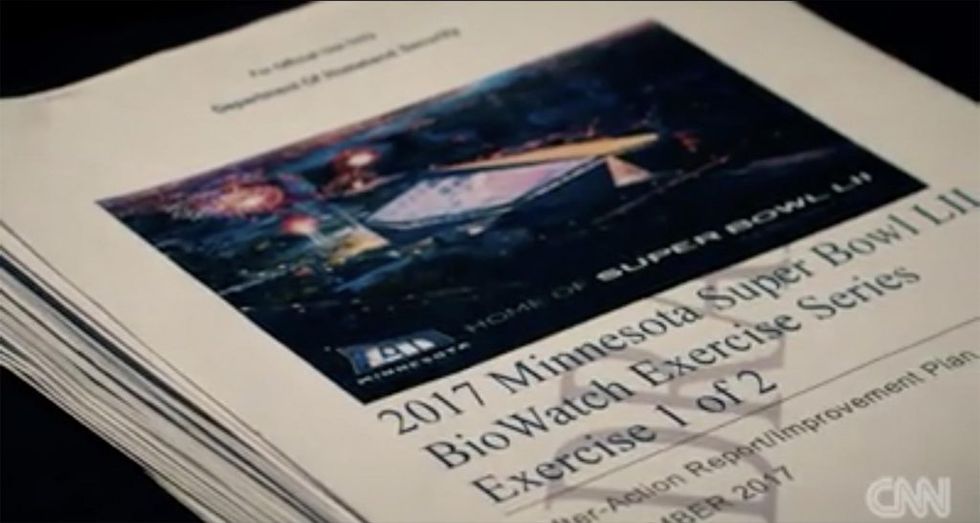 (Image source: CNN video screenshot)
CNN reported that the boarding pass and travel itinerary bore the name of Michael V. Walter, who manages the Department of Homeland Security's BioWatch program.
According to the agency's website, the mission of DHS's BioWatch program is "to operate a nationwide, aerosol detection system providing early warning across all levels of government to support public health and emergency management communities to prepare for and respond to biological incidents."
CNN reported that they were unable to confirm specifically who was responsible for leaving the sensitive information behind.
What was said about the documents?
Tyler Q. Houlton, a Department of Homeland Security spokesperson, said in a statement to CNN, "This exercise was a resounding success and was not conducted in response to any specific, credible threat of a bioterrorism attack."
A Department of Homeland Security official also told CNN that the documents were part of an "operational review" and added that "DHS does not comment on personnel matters or potential pending personnel action."
CNN reportedly opted to hold off on their reporting of the incident until after the conclusion of Sunday's Super Bowl, as government officials warned that prematurely publishing the report could jeopardize event security.
CNN noted that some details were taken out of their report after government officials recommended their omission, noting that such details could have caused a threat to national security.