An American flag was taken down outside a Utah high school, shredded and then replaced with an Islamic State  flag, police in the city of Hurricane told KUTV-TV.
Police also found Islamic State-related graffiti spray painted on a wall at Hurricane High School, KUTV said.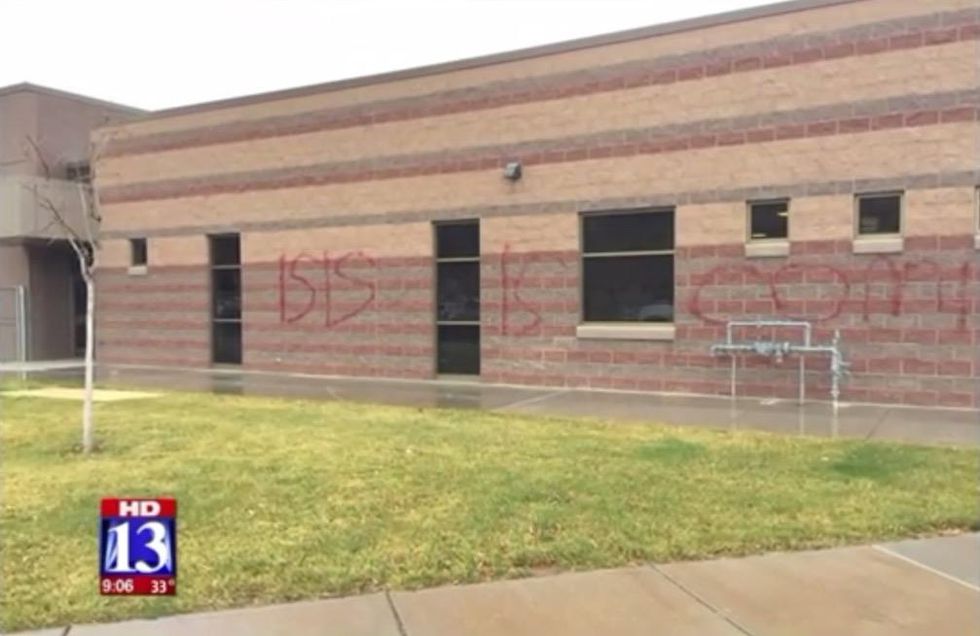 Image source: KSTU-TV video screenshot
Officer Ken Thompson said investigators believe the guilty party didn't get a chance to finish spelling out the word "coming," KUTV added.
Police arrived at the scene about 3 a.m. Thursday, KSTU-TV reported.
Thompson told KUTV that police don't know if a student or others passing through town were behind the act. No arrests have been made, the station added.
The FBI analyzed an image of the flag that Hurricane Police sent them, but the agency told police it doesn't believe the incident was carried out by anyone "linked to the Islamic State," KUTV reported, citing a Hurricane Police Facebook post.
"Most likely somebody else knows...other than just the person who did it," Thompson told KUTV. "Officers have received tips this morning, and they're following those leads, and so far they haven't generated a credible lead, but tips can help us out a lot."
The graffiti was removed shortly after it was found, KUTV reported, adding that the ISIS flag also was taken down and replaced with a new American flag.