The College of the Holy Cross is getting rid of its Christian knight mascot and "all knight-related imagery" due to the "violence of the Crusades," the school's president said.
Rev. Philip L. Boroughs, president of the Massachusetts school, wrote in a letter to the campus community last week that it's "clear that our current visual representations of the Crusader do not align" with Holy Cross' values — among them "inclusivity and respect for different cultures, perspectives and identities" and "the common good, human rights, social justice and care for the environment."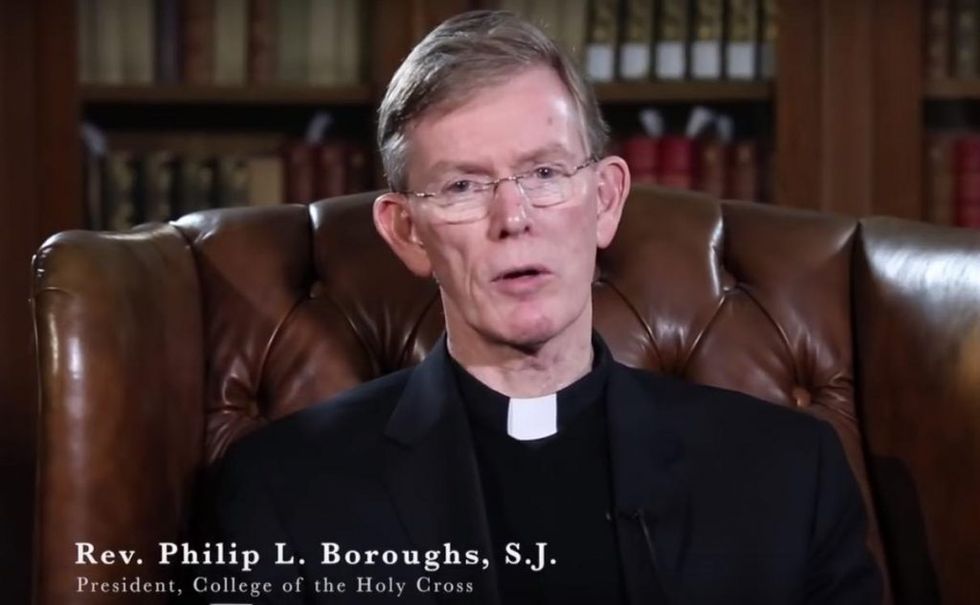 Image source: YouTube screenshot
Boroughs added that "the visual depiction of a knight, in conjunction with the moniker Crusader, inevitably ties us directly to the reality of the religious wars and the violence of the Crusades."
Now, he said, Holy Cross "will gradually phase out the use of all knight-related imagery."
In its place, Boroughs noted, the college "will use the interlocking HC on a purple shield, currently the secondary athletics logo, as the primary marker for all athletic teams, uniforms and advertising." Also being retired is the school's costumed knight mascot, he wrote.
The Crusades commenced nearly 1,000 years ago after Pope Urban II called on Western Christians to take up arms and recapture the Holy Land from Muslim control.
Holy Cross officials acknowledged the Crusades were "among the darkest periods in Church history."
What about the 'Crusaders' moniker?
Boroughs noted that the school's Board of Trustees "chose to reaffirm our identity as Crusaders" — but there's a "contemporary" caveat to that decision. The president added that today the school views a Holy Cross Crusader as one who puts forth "a noble effort to support a cause, to right a wrong or to make a difference."
What steps did the school newspaper take?
The name of Holy Cross' student newspaper was changed last month to the "Spire" after 48 faculty members signed a letter to the editor complaining that its then-name the "Crusader" promoted "Islamophobia" and argued that the 2016 election necessitated a change in both the paper's name and the college's mascot, Campus Reform said.
And reaction to the decision?
Lawrence Jones, editor-in-chief of Campus Reform, told Fox News' "Fox & Friends" that the move by Holy Cross is another step down the political correctness pathway on college campuses.
"The social justice warriors and the speech police are out to destroy history," Jones said in the fiery interview.
Here's a video message from Boroughs and Holy Cross Board of Trustees Chair John J. Mahoney on the decision to keep the Crusaders name. The move to axe the knight mascot came later: