Lake Ingle apparently caused quite the stir during a religious studies class at Indiana University of Pennsylvania last month when he declared there are only two genders. The very next day the senior's comments got him banned from the class — and it's a course he needs in order to graduate.
Well, the college is now backing down.
IUP President Michael Driscoll announced Monday that he halted an Academic Integrity Board investigation on Ingle — for now, at least — and he's letting him return to the class, KDKA-TV reported.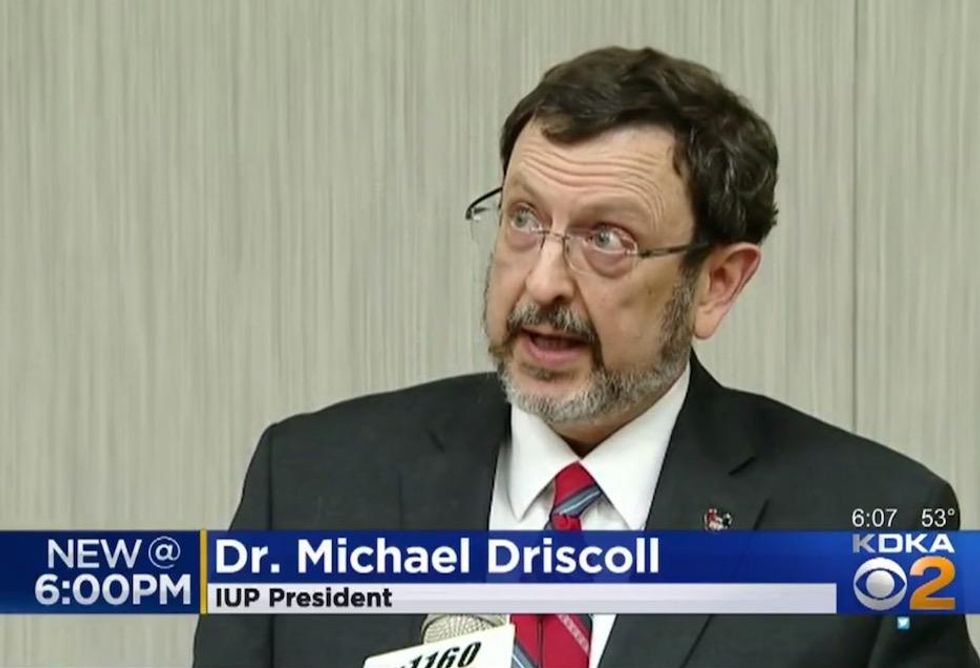 Image source: KDKA-TV video screenshot
"Based on a review of governing policies last week, the student was informed that he is allowed to attend class," Driscoll said. "I hope he will be in attendance this week and beyond."
How did this all start?
Ingle said his class watched a TED Talks video Feb. 28 featuring a transgender speaker, Paula Stone, discussing "mansplaining," "male privilege" and sexism, Campus Reform reported.
The instructor opened a discussion after the clip that allowed women to speak first, Ingle told the outlet, adding that when no women spoke up for about 30 seconds, he decided it was appropriate to comment.
But Ingle told Campus Reform "Dr. [Alison] Downie attempted to silence me because I am not a woman," although he added that he managed to state that "the official view of biologists" is that there are only two genders.
The next day the instructor met with Ingle and gave him documents that included a letter from the university provost. College Reform said it obtained the documents which allege Ingle was disrespectful, refused to stop talking out of turn, damaged the learning environment and made "angry outbursts" for having to "listen to a trans speaker discuss the reality of white male privilege and sexism."
Ordered to 'listen in silence'
The provost's letter barred Ingle from the class until the matter is resolved, the outlet said, adding that the school ordered him to apologize and then "listen in silence as the professor and/or any student who wishes to speak shares how he or she felt during Lake's disrespectful and disruptive outbursts on 2-28."
Ingle said the school's actions violated his free-speech rights, Campus Reform said.
The school president added an interesting exclamation point to the whole thing
"To help ensure that a positive learning environment is maintained, I have asked a senior faculty member with significant experience in the First Amendment and a long career as a successful classroom teacher to join the class as a monitor and mentor to all," Driscoll added, KDKA reported.
The president also admitted his decision opens him up to charges that he's not following school policy, the station said, but that he's willing to take the risk to restore "respect and dignity" to the matter.
Prior to Driscoll's announcement, Ingle told Campus Reform that he's tried to battle head on "censorship on college campuses" and bring "the opposing, conservative view that many classroom discussion beg for."
"With regards to my conflict with the university and instructor, I am fighting to make my voice heard. Not only my voice, but the voices of others that oppose popular university opinion," he told the outlet. "I am not battling my professor to prove that I am right about gender wage gaps or transgenderism, I am fighting to ensure that students may disagree with their professors and if they do, must speak up."