An Iowa hair salon defended their decision to post a photograph of Ivanka Trump after a public outcry led to a boycott of their services.
Here's what they posted of Ivanka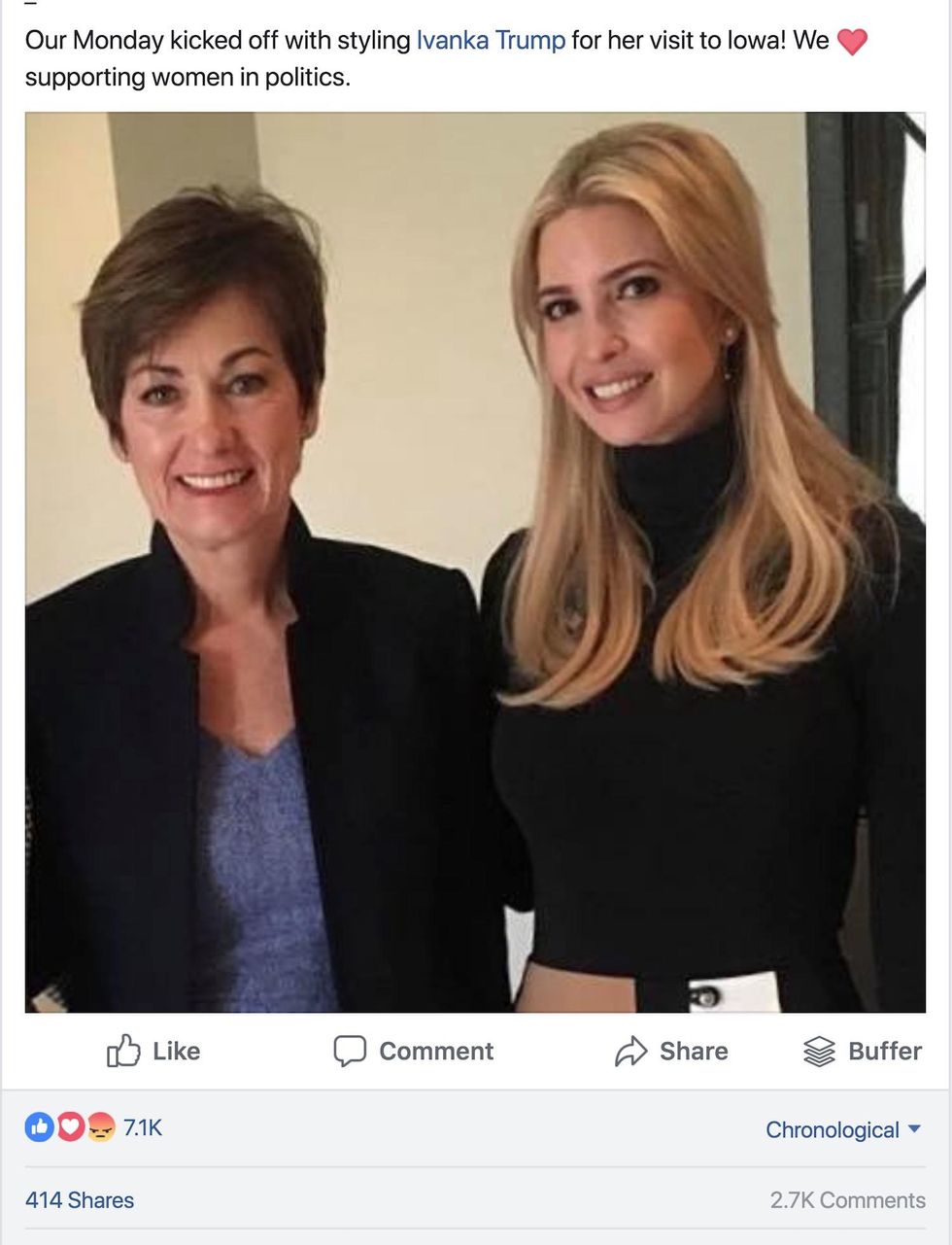 The image included the president's daughter and Governor Kim Reynolds, with the caption, "Our Monday kicked off with styling Ivanka Trump for her visit to Iowa! We [love] supporting women in politics."
Many customers rejected the message and said that they would be boycotting the salon thereafter.
"You respect money over women," read one comment. "Not just women, but humanity. These two featured in your photo are disgraceful."
"This is devastating. I love Salon Spa W so much. It's my place of refuge," read another. "As an incredibly loyal customer, I demand an apology before I book my next appointment, and will be canceling the appointments I have."
A third comment read, "Do you know how much money I spend at Salon Spa W? I get my nails and hair done there exclusively, and literally have my appointments booked till years end. THIS makes me not want to give you another penny, and makes me really REALLY angry for all your amazing LGBTQ staff whose lives these women threaten. Please take this down."
"Indiscriminate care and kindness"
China Wong, the president of Salon Spa W, added a message to the photo defending their comment after the furor.
"We believe everyone matters and deserves our indiscriminate care and kindness," she wrote.
"We were taken aback by the response to the image below of our Governor with Ivanka Trump who received services from our salon," she added. "We also recognize impact matters more than intent. While we are not a partisan organization we do see it as part of our mission to welcome people to Des Moines and serve everyone. We share images of our clients, some that are recognizable public figures, to showcase our work."
"We also serve you," she continued, "our beautiful, diverse, and passionate community. We proudly share our work and celebrate all of you because our purpose is making people look and feel beautiful."