Minnesota's Largest Candy Store certainly knows how to get attention on social media.
Back in 2015, the store in Jordan posted a message on its outdoor sign that read, "Join the movement #CaramelApplesMatter."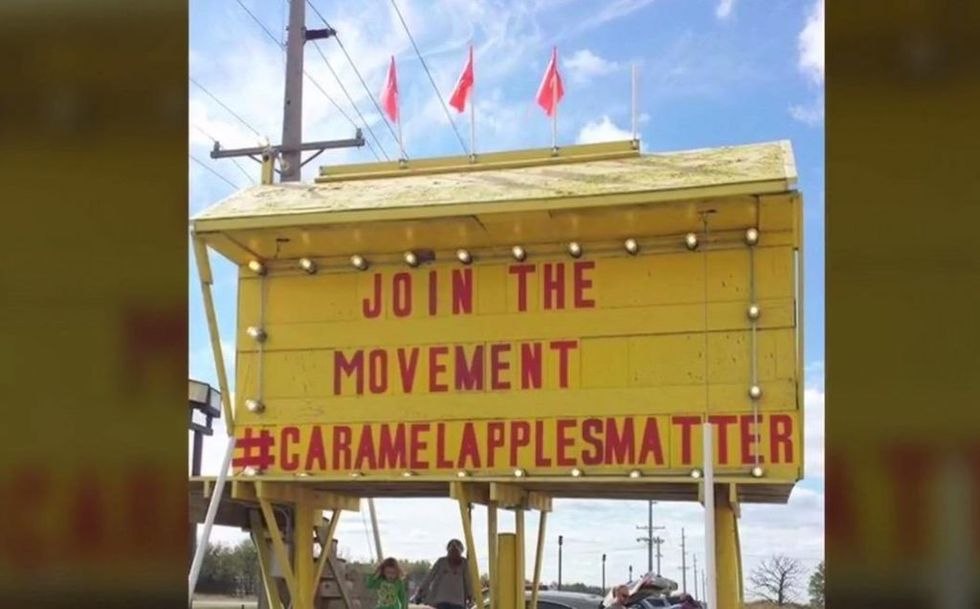 Image source: WCCO-TV video screenshot
And the sign incited a storm of outrage — with some accusing the candy store of racism and mocking the Black Lives Matter movement.
One Facebook user wrote that the sign was a "co-optation of #blacklivesmatter" and "racist as hell," WCCO reported. Another user said she'd never shop at the store again, the station added.
"If any offense was taken, and clearly there was, you know, we want to get beyond that and we apologize for it," owner Robert Wagner told WCCO. "I could stand here and make all kinds of excuses, but at the end of the day it was a mistake."
Wagner told the station the #CaramelApplesMatter sign was up for about 40 hours and then removed.
What have they done for an encore?
Well, apparently Minnesota's Largest Candy Store just can't help needling some passers-by — because another provocative sign went up Tuesday, WCCO reported.
Amid winter raging on in April, the sign — covered in snow, no less — read, "In Only Two Years Trump Fixed Global Warming."
As you might expect, reaction on Facebook to the new sign was mixed.
"PLEASE KEEP POLITICS OUT OF YOUR POSTS!!!" one user wrote. "I would hate to have to stop coming to your store!!"
But that comment garnered a flurry of snarky replies, including "I am sure they would survive with out you. Take a chill pill!" and "Bye less of a crowd for the rest of us!"
Another Facebook comment supporting the store's sign seemed to sum up the futility of protesting it:
"Now I just want candy, the only thing that upsets me about this post is now I am going to have to find out where this place is and go there and eat their candy. The only reason I am upset is because I have never heard of this place, which means it's going to be a long road trip for some candy ... All you people whining made it happen, I will shop here to spite you....."
Minnesota's Largest Candy Store reacted with delight to it all: "The only thing funnier than this sign is all these comments and memes! Lol!"