Matthew Schoenecker — a freshman at Markesan High School in Wisconsin — was more than happy to show WISN-TV his collection of witty T-shirts depicting guns and other weapons.
One spells the word "Love" using a handgun, grenade, knives and a rifle. Another declares "Celebrate Diversity" underneath an image of 12 different firearms. And then there's the one that announces, "2nd Amendment: America's Original Homeland Security."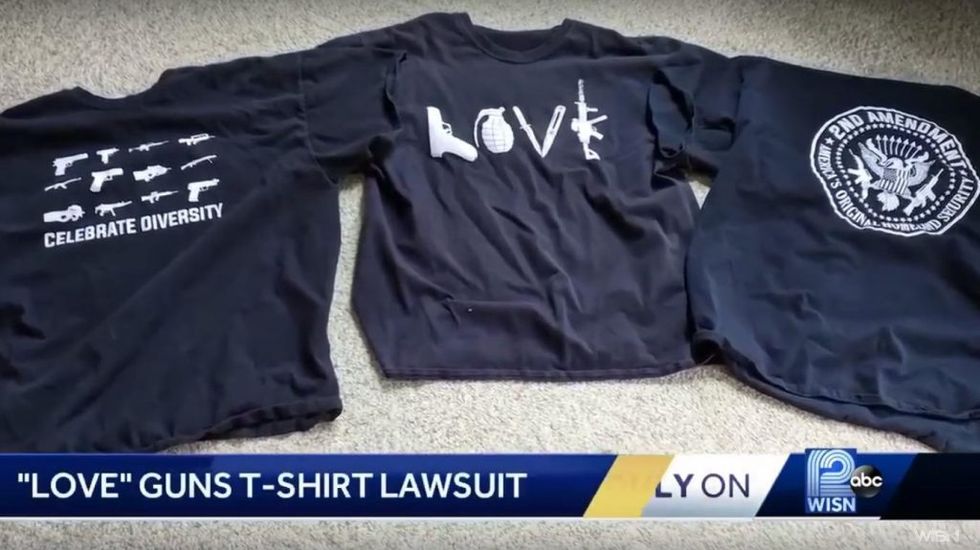 Image source: YouTube screenshot
"I enjoy shooting, and I enjoy the Second Amendment, like the right to keep and bear arms," Matthew told the station.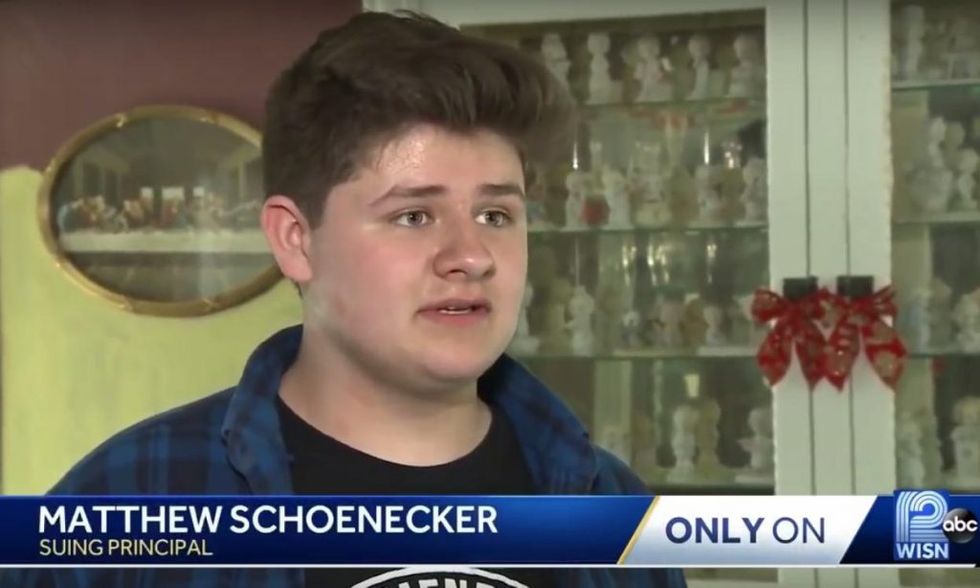 Image source: YouTube screenshot
But according to Matthew, his principal doesn't much enjoy his T-shirts — and banned him from wearing them to school, WISN reported.
In fact, the station said Matthew and his parents were told before spring break that he could no longer come to school wearing the T-shirts. But when Matthew went to school last Friday wearing the "Love" T-shirt, he got in trouble, the Milwaukee Journal Sentinel reported.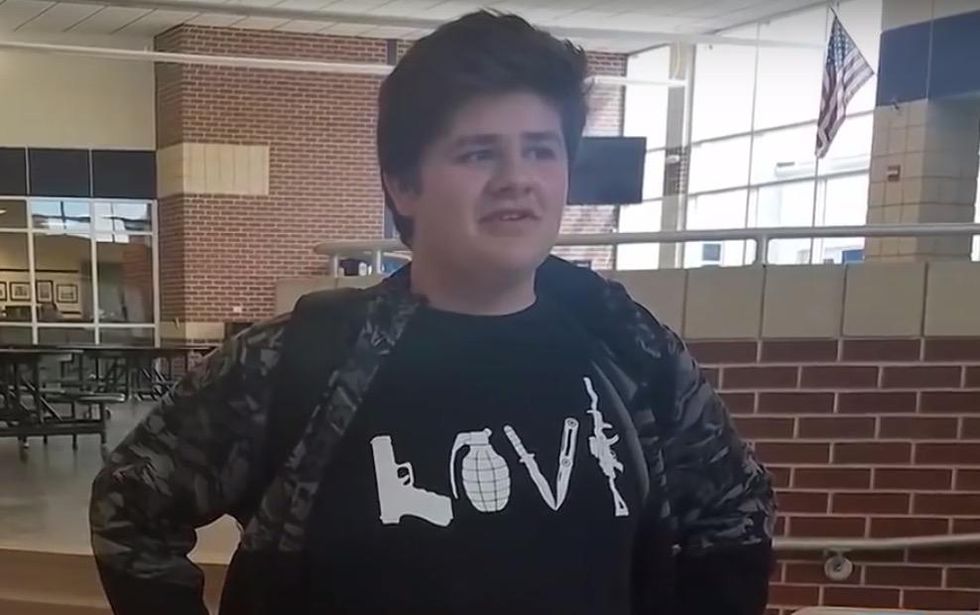 Image source: YouTube screenshot
"It was his choice whether he wears it or not," Matthew's father, Brian Schoenecker, told the station. "He decided, 'I'm gonna wear this. It's my right.'"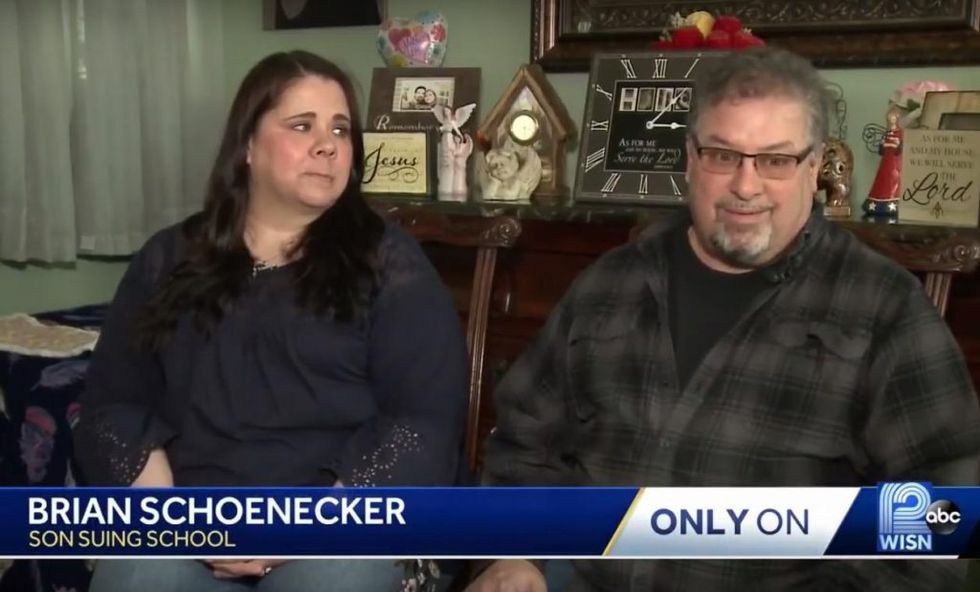 Image source: YouTube screenshot
Schoenecker said he was "a little upset" upon learning that his son was being disciplined and went there with Matthew's mother, Pam Schoenecker, to "see what's going on," WISN reported.
What happened to Matthew?
Matthew's parents found him in a small room known as "the cubicle" because he refused to cover his gun T-shirt, WISN said. He received no instruction while in the cubicle, the Journal Sentinel reported, adding that the principal sent Matthew there.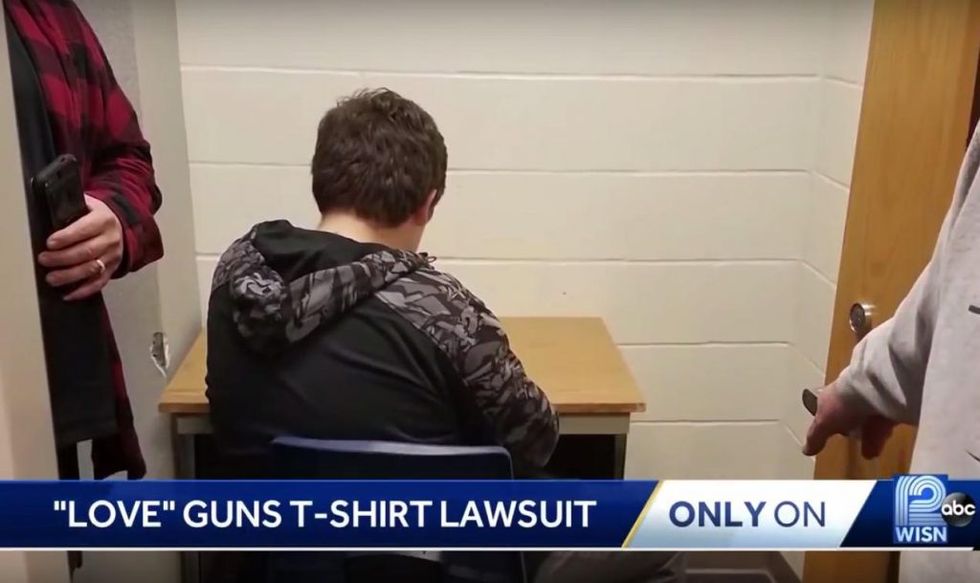 Image source: YouTube screenshot
Regarding her son's T-shirts, Pam Schoenecker told WISN "there's nothing in there saying he's promoting violence whatsoever, which is what the principal said was the issue, that he was promoting violence at school."
How is Matthew fighting back?
Matthew filed a federal lawsuit against the principal, the station reported, adding that gun rights group Wisconsin Carry is funding it.
"I didn't think it would get this big, this bad," Matthew told WISN.
What does the suit say?
The suit was filed Monday in Milwaukee and names principal John Koopman as the sole defendant, the Journal Sentinel reported, adding the suit claims Koopman violated Matthew's freedom of expression and that his T-shirts depict guns and other weapons in "a non-violent, non-threatening manner."
John Monroe — a Georgia-based attorney who's successfully represented many Wisconsin gun owners — is representing Matthew, the paper added.
What does Wisconsin Carry have to say?
Nik Clark, Wisconsin Carry president, told the Journal Sentinel that Matthew's parents are members of his group and that they said teachers were harassing Matthew about his T-shirts after the Parkland, Florida, shooting even though he'd been wearing them all year without an issue.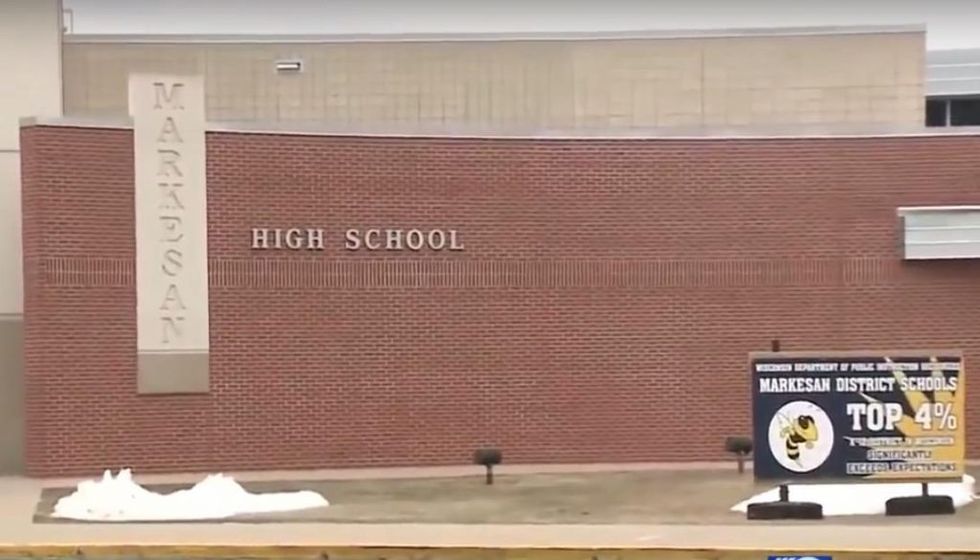 Image source: YouTube screenshot
Clark added to the paper that he doesn't believe the case needs to drag on long and that the Markesan community supports gun rights. The suit, he said, seeks only a court order allowing Matthew to wear his T-shirts and costs for bringing the lawsuit, the Journal Sentinel reported.
There are no explicit school rules against T-shirts featuring guns, the paper added, but Koopman told Matthew's parents at a meeting last month that he has discretion to restrict clothing at school he deems inappropriate.
Both WISN and the Journal Sentinel said the Markesan School District didn't respond to their requests for comment.
(H/T: Bearing Arms)