After about 25 Duke University students disrupted a speech by the college president Saturday — marching onstage with chants and signs and a bullhorn before reading aloud their "manifesto" with various demands — a large number of graduates in the audience didn't take too kindly to the protest.
Believe it or not, they booed the demonstrators, the Duke Chronicle reported.
Not only that, but some miffed alums stood up and turned their backs to the stage, the paper reported.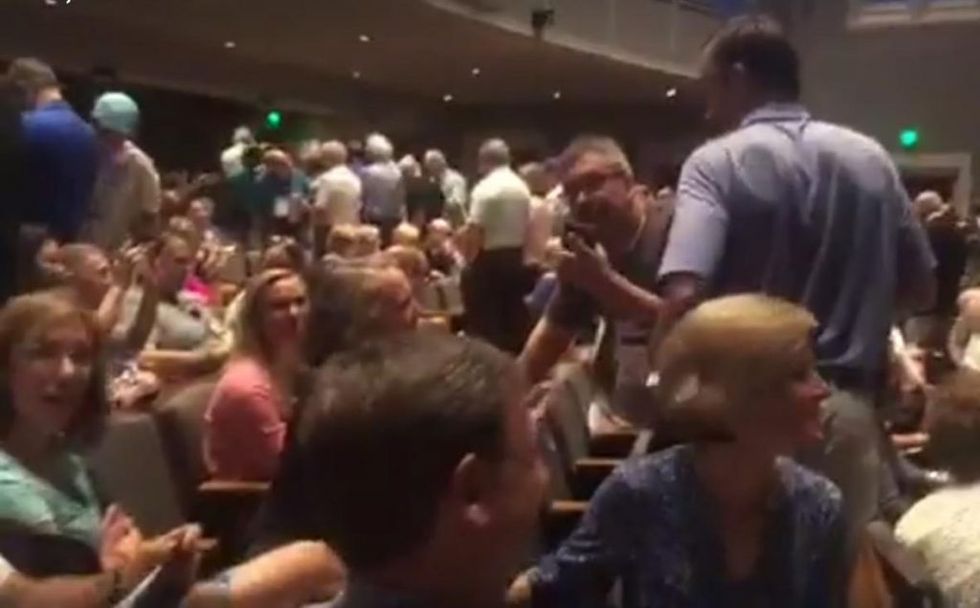 Image source: Facebook video screenshot
Some shouted vulgarities at the protesters, the Chronicle added — and they also reported hearing racial epithets.
How did protesters react to the booing and backs turned on them?
One might assume just getting to storm a stage and disrupt a speech without consequences — well, so far, at least — is quite a coup for your average woke college student. But alas, the paper reported that the protesters actually were peeved at the reception they received.
Senior Bryce Cracknell told the Chronicle he was disappointed that administrators focused more on stopping the students than angry alumni.
"Instead of actually going to the alumni and saying 'that's not appropriate' or removing them from the space, they were more worried about us," Cracknell added to the paper.
That's right. The protesters felt the alumni audience should have behaved itself and listened respectfully to the protesters who were disrupting President Vincent Price's speech.
Here's a clip. The booing starts at about the 4:30 mark:
"I think when we walked out all of us were kind of shaken by the negative feedback, but so many alumni came up to us and were like, 'Thank you for what you're doing. Thank you for continuing this work,'" junior Trey Walk told the Chronicle.
What are the students' demands?
Student demands include higher worker pay, more mental health support and greater transparency in Board of Trustees meetings, the Chronicle reported.
"We can send email after email and we can show up for public forums and talk about these issues," junior Sydney Roberts — a protester and co-chair of The Chronicle's independent Editorial Board — told the paper, "but the University doesn't feel like there's an urgency unless we are actively meeting them where they are and making it a spectacle and making it something where they can't just push it into their spam box."
In a group statement, the protesters added that "in the paraphrased words of Dr. [Martin Luther] King in his letter from a Birmingham Jail (which we respectfully suggest the administration and angry alumni read), through direct action we merely hope to bring to the surface the hidden tension at Duke that is already alive."
This story has been updated.
(H/T: The College Fix)