You might recall vegan activists protesting a Toronto restaurant that proudly serves venison — and how the owner of the Antler Kitchen and Bar took revenge by butchering and eating a deer leg right in front of protesters last month.
Well, as one might imagine, tensions have been mounting ever since.
But not so much that the vegan activists weren't willing to cut a deal with chef and owner Michael Hunter: Just display an animal rights slogan in the restaurant's window and the protests will stop, the National Post reported.
The slogan reads, "Animals' lives are their right. In their desire to live and capacity to suffer, a dog, is a pig, is a chicken, is a human. Reject speciesism," the paper said.
How did the restaurant owner react to the vegans' offer?
"We're not going to — there's no way," Hunter said during the Joe Rogan Experience podcast last week, the Post noted. "It's like eco-terrorism, extortion, whatever you want to call it."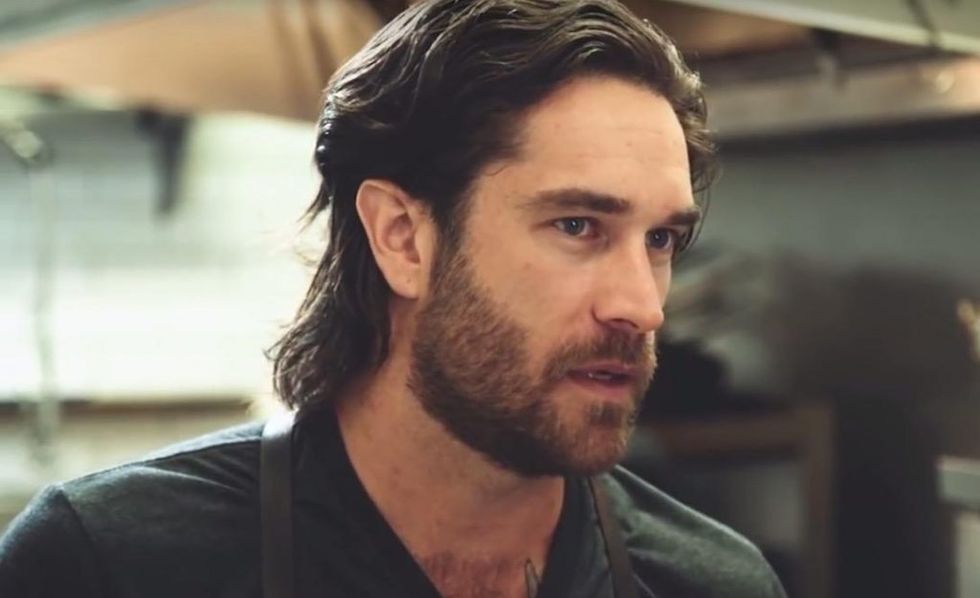 Michael Hunter (Image source: YouTube screenshot)
Of his deer butchering stunt in front of protesters, Hunter told Rogan, "I just said, 'Screw it. I'm going to get these people to get out of here.' I thought that that would make them go away. It was just totally last resort, totally fed up. I wanted to defend myself, defend our customers. You could see people walking in visibly upset. … I was just upset and I just kind of thought, 'Buzz off,'" the paper reported.
How did the vegans react to Hunter's rejection of their offer?
The protesters announced they would return to Antler Friday evening with a projector to shine the slogan upon a wall near the restaurant, the Post reported.
"The sign, if you look at what it says, it's just a fact," organizer Marni Ugar — a local dog walker and head of the activist group Grassroots Anti-Speciesism Shift — told the paper.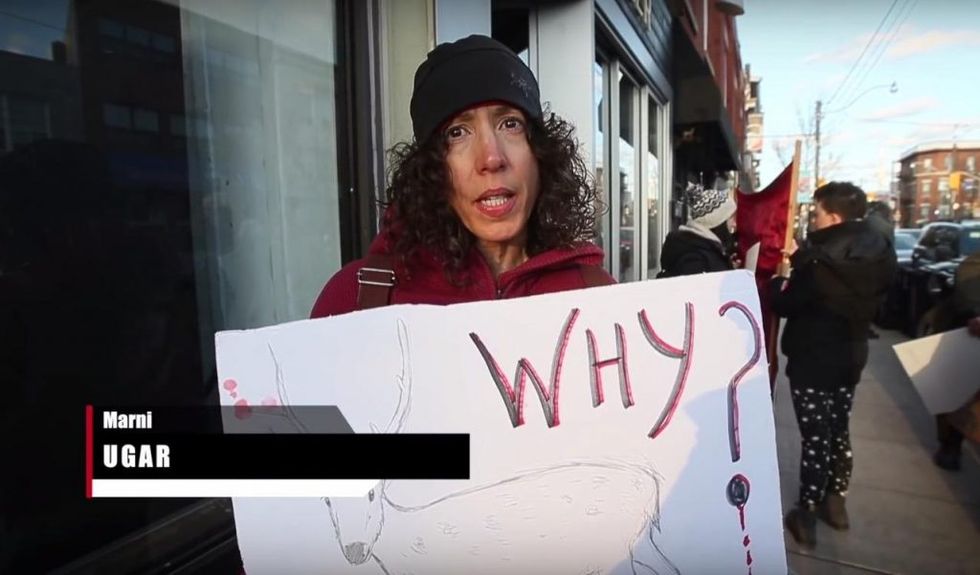 Image source: YouTube screenshot
How did police react to the vegans' plan?
When Friday night came around, Toronto's finest told protest organizers they weren't allowed to project the image of the slogan on any nearby wall, the Post reported — so protesters instead held screens playing video loops of animals being slaughtered and skinned.
How did one Antler customer react to the protesters' antics?
"Best meal I've ever had," one Antler patron hollered at protesters as he left the restaurant, the paper reported. "You guys don't know what you're missing."
How has business been at Antler amid all the controversy?
"We're a little bit busier than normal right now," Hunter told Rogan, the Post reported. "At this point, it's like dinner and a show. People want to see it. People are requesting the window table."