Comedian Kathy Griffin — she of the holding-a-bloody-severed-head-of-President-Donald-Trump school of guffaws — called TBS "spineless" over having "made" Samantha Bee apologize for calling Ivanka Trump a "feckless c**t" Wednesday night.
Spineless. Support your talent TBS. Instead, you made her apologize. https://t.co/jzVNwhfyZa

— Kathy Griffin (@Kathy Griffin) 1527792289.0
"Support your talent TBS," Griffin added in her Thursday tweet.
The seemingly revitalized comedian was already deep into the controversy before making her latter statement, first imploring Bee to not apologize for her remark against Trump's daughter:
. @iamsambee please do not apologize.

— Kathy Griffin (@Kathy Griffin) 1527787218.0
And even after Bee's apology — in which she called her own use of the expletive "inappropriate and inexcusable" — Griffin weighed in again, telling folks to not get in Bee's face for the apology.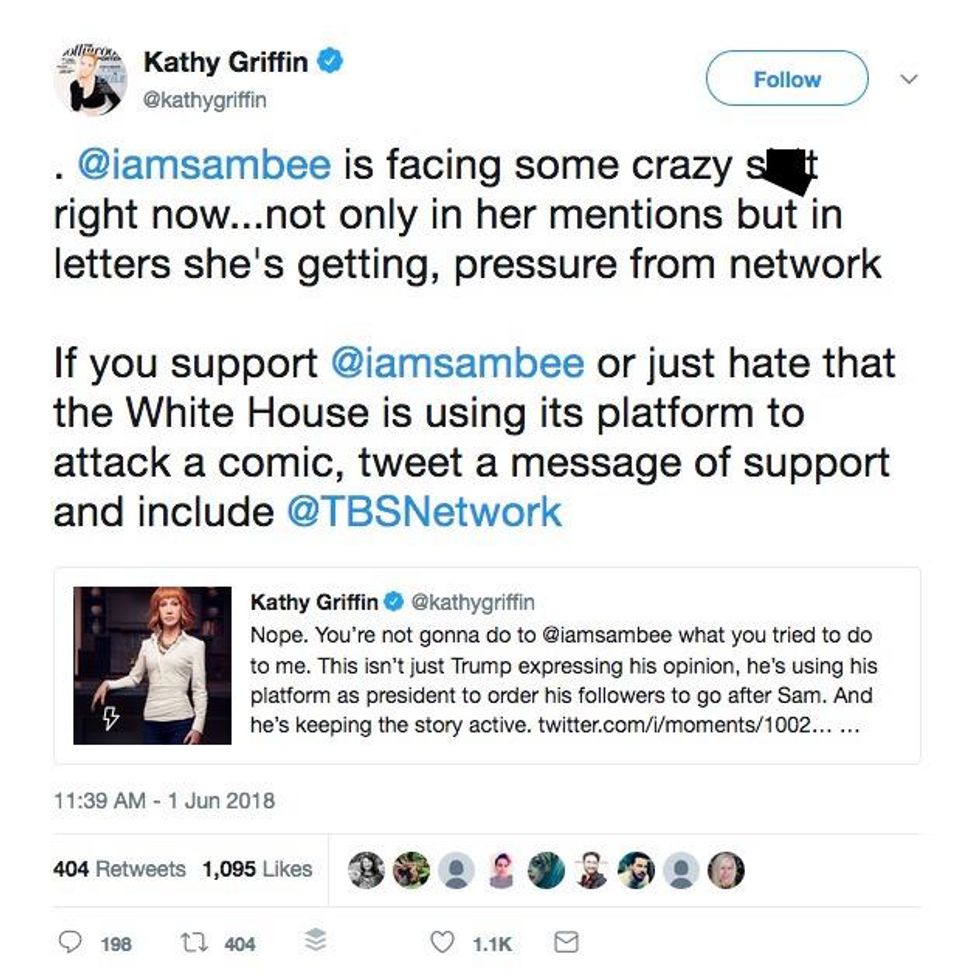 Image source: Twitter, redacted
Griffin said Bee is "facing some crazy s**t right now...not only in her mentions but in letters she's getting, pressure from network" and that "if you support [Bee] or just hate that the White House is using its platform to attack a comic, tweet a message of support and include [TBS]."
The White House said in a statement to the Washington Post that Bee's "disgusting comments and show are not fit for broadcast" while White House press secretary Sarah Huckabee Sanders noted that the "collective silence by the left and its media allies is appalling," the Hill noted.
What else is happening with Griffin?
After her Trump-severed-head controversy a year ago, Griffin was fired from her New Year's Eve gig at CNN with Anderson Cooper and then made a profuse apology. Later, she took back her mea culpa.
But now, according to Forbes, she's going on a 27-date North American tour — the "Laugh Your Head Off World Tour" — which could earn her up to $4 million by the time it ends this fall.
"It's taken a long time for me to get paying work in my own country," Griffin told the magazine. "America has been the last country to forgive me."
(H/T: Washington Times)