The Michigan gubernatorial election is set for Nov. 6. Two-term incumbent Gov. Rick Snyder (R) is term-limited. Democratic, Republican, and Libertarian Parties will choose their nominees in an Aug. 7 primary.
Other parties will choose respective nominees at state party conventions.
Who are the GOP candidates?
● Dr. Jim Hines, president of the Christian Medical and Dental Associations
● Lt. Gov. Brian Calley
● Attorney General Bill Schuette
● State Sen. Patrick Colbeck
A May poll from Public Opinion Strategies has Schuette currently favored to win the party nomination at 42 percent. Trailing Schuette are Calley at 19 percent, Colbeck at 6 percent, and Hines at 1 percent.
The Detroit Free Press bills Colbeck as the most conservative candidate of the four.
Schuette is the Trump-endorsed candidate and the party's favored candidate. Calley, however, has been vocal in his support of the president, though he initially supported John Kasich in the 2016 presidential race.
Hines has said that he has supported Trump from the get-go, and Colbeck backed Trump after he clinched the GOP's nomination for president.
Who are the Democratic candidates?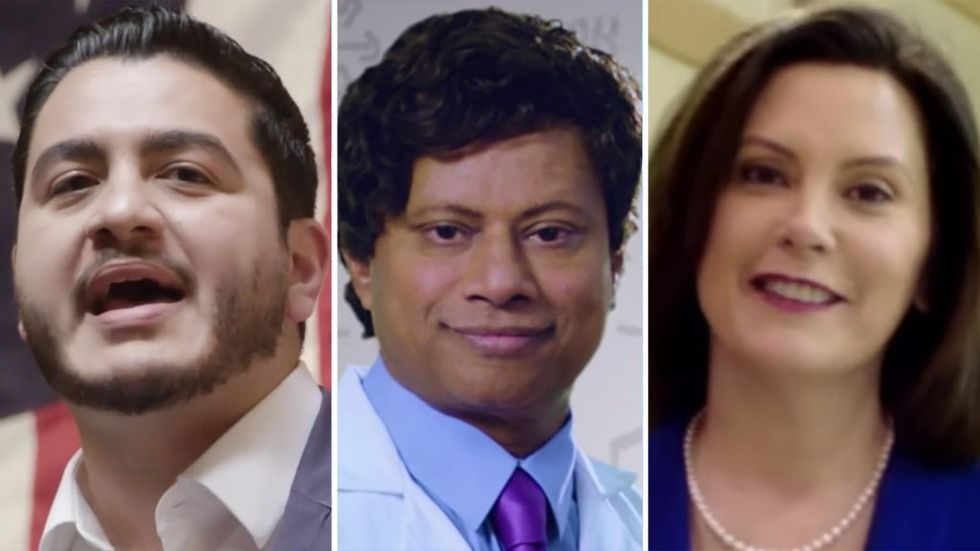 (From left, Abdul El-Sayed, Shri Thanedar, and Gretchen Whitmer)
● Former Detroit Department of Health and Wellness Promotion Executive Director Abdul El-Sayed
● Author and entrepreneur Shri Thanedar
● Former state Sen. and one-time Ingham Country Prosecuting Attorney Gretchen Whitmer
An April poll from the Glengariff Group has Thanedar currently favored to win the party nomination at 30 percent. Whitmer is at 26 percent, and El-Sayed sits at 7 percent.
In March, the Detroit Metro Times reported that Whitmer is the establishment favorite, and Time reported in May that she is "widely considered the Democratic frontrunner."
What are some issues?
Perhaps the largest issue at stake is how the incoming governor will handle the Flint water crisis.
Whitmer said that if she is elected, she will make Flint a top priority.
"There's no reason that the state that's home to 21 percent of the earth's fresh water should have a community full of people who can't bathe their children or give them a glass of water at the dinner table. It's time to fix the damn pipes," Whitmer said according to the Detroit News. "Flint will be a top priority during the first 100 days of my administration. I am committed to fully repairing the damage in Flint and rebuilding the trust in the community."
Schuette said, "Flint and other struggling Michigan cities will be high on my list of priorities because my singular goal is to make Michigan a true economic growth state and we cannot accomplish that if our major population centers like Flint are ready for growth."
If elected, Thanedar says that he will "double down" on efforts to replace damaged water pipes — and fast.  "I will double down on efforts to replace every single damaged water pipe across the city. The timetable for replacement must be improved drastically," he said.
Candidate El-Sayed said he has plans to implement a new infrastructure program if elected.
"I will create a Clean Water Infrastructure Bank that would use public and private money to fund full infrastructure replacement," El-Sayed said. "I will enforce higher water quality standards, lowering the action level to 5 parts per billion."
All of the candidates appear to be in agreement that it's high time Michigan residents' faith is restored in their state government.
A 2015 survey from the Center for Public Integrity handed Michigan an "F" for government transparency and accountability.
According to Time, all of the Democratic candidates "support a $15 minimum wage, oppose a pipeline being built under the Great Lakes, promise to clean up the drinking water and want to get rid of Michigan's 'right-to-work' law that crippled organized labor in the state."
So who's going to win?
At the time of this writing, the Cook Political Report calls the race a toss-up.