Connecticut sprinter Terry Miller competed on the boys team during the winter indoor track season, the CT Post reported.
But in the CIAC State Open track and field championships last week, the transgender sophomore from Bulkeley High School in Hartford competed as a girl, the paper said — and absolutely crushed the competition.
Miller won the 100-meter dash in 11.72 seconds and took the 200-meter dash in 24.17 seconds — both meet record times, the CT Post reported.
Terry Miller of Bulkeley wins the 100m girls dash i. 11.72 (meet record). Andraya Yearwood of Cromwell 2nd, RHAM's… https://t.co/ivpGzIFM5v

— GameTimeCT (@GameTimeCT) 1528145089.0
Also of note is that Andraya Yearwood of Cromwell High School — another transgender sprinter who won the girls' 100- and 200-meter dashes at the Connecticut state track meet last year — came in second behind Miller in this year's girls' 100, GameTimeCT reported.
What did a state athletic official have to say?
"A lot of people have asked, 'Can you run a separate race, can you put an asterisk next to their name, do something that shows there is a standard that is different from that?'" CIAC executive director Karissa Niehoff noted to the CT Post. "When you get into that playing out, you have got civil rights issues."
Niehoff added to the paper: "Then within the same gender, you are taking one population of the gender, and you're separating them and creating another class. That's what Title IX speaks to. That's what Office of Civil Rights guidelines speak to. You cannot discriminate based on gender. And in our case in Connecticut, gender is gender identity."
When asked about the girls beaten by Miller and Yearwood who would've gotten a chance to advance in competition had the transgender pair not competed, Niehoff told the paper "we do feel for them."
"Fully agree it doesn't feel good," she added to the CT Post. "The optic isn't good. But we really do have to look at the bigger issues that speak to civil rights and the fact this is high school sports."
What did the girl who finished third in the 100 have to say?
"To be honest, I think it's great they get a chance to compete, and as long as they're happy, I guess, there's not that much I can do," RHAM High School's Bridget Lalonde, who finished third in the 100 behind Miller and Yearwood, told the CT Post. "The rules are the rules. The only competition is the clock. You can only run as fast as you can."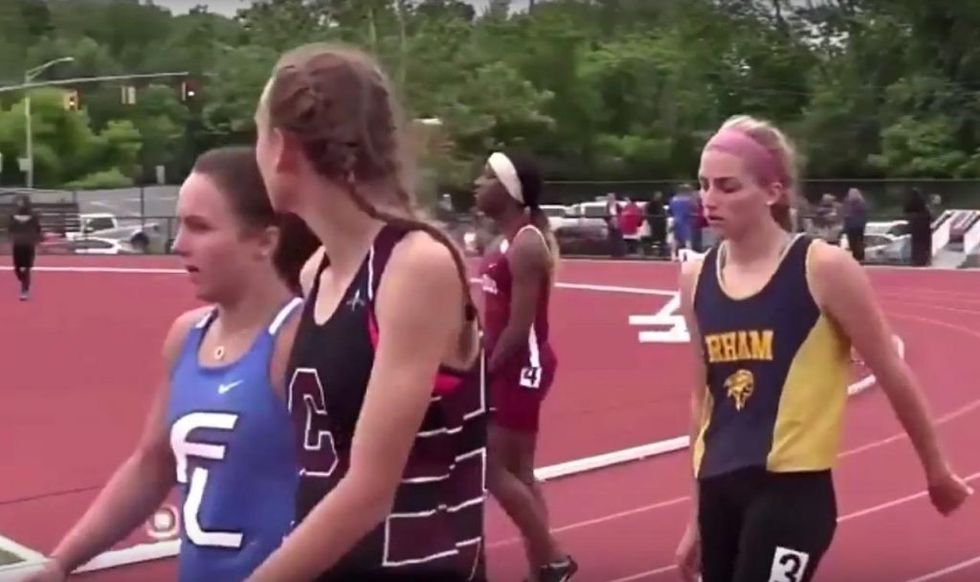 Bridget Lalonde (right) after finishing third in the 100-meter sprint. (Image source: YouTube screenshot)
The paper added that some said Lalonde was the real winner of both events, as she had a personal best time of 12.29 in the 100 and finished second to Miller in the 200.
Here's a clip of the 200:
Terry Miller of Bulkeley sets another meet record in winning the girls 200m, 24.17 #cttrack https://t.co/6hAaFApIwk

— GameTimeCT (@GameTimeCT) 1528147752.0
What about the girl who finished sixth in the 100?
"I think it's unfair to the girls who work really hard to do well and qualify for Opens and New Englands," Glastonbury sophomore sprinter Selina Soule, who finished sixth in the 100, told the Hartford Courant. "These girls, they're just coming in and beating everyone. I have no problem with them wanting to be a girl."
Soule's mother, Bianca Stanescu, told the CT Post there's no transgender competition issue when it comes to things like "math and science and chorus" but that it's not the same with athletics.
"Sports are set up for fairness. Biologically male and female are different," she told the paper, adding that "the great majority is being sacrificed for the minority."
What did a non-transgender winner have to say?
Carly Swierbut of Newton won the girls' 400 in a time of 55.48 — beating Miller who came in fourth — and told the CT Post she has no problem competing against transgender athletes.
"If you're good enough to run, you're good enough to run. If somebody wants to win, they're going to work their tail off to win," Swierbut told the paper. "It doesn't matter who you are, what you are, everybody should have the chance."
What do coaches have to say?
James Hillhouse Academies coach Gary Moore told Hearst Connecticut Media prior to the state open championships that Miller should be allowed to compete but the situation "wasn't fair to the girls," the CT Post noted, adding that Moore insisted something should be done to "level the playing field."
"I've been stopped by at least five coaches [at the state meet], all of them saying they really liked what I said in the paper. How come other coaches aren't talking? This is a big issue a lot of coaches have, that we've got to do something, but how come you're not saying anything?" Moore told the CT Post. "I've said what I needed to say. I'm getting a little annoyed with the coaches that we haven't been able to get together and do what's best for everybody."
Simsbury coach Lorenzo Milledge said "the rule needs to be changed," the paper added.
"The way the law is written, Terry Miller is eligible to compete," Glastonbury coach Brian Collins told the CT Post. "I think a lot of people, myself included, have a problem with ... a biological male competing. When they put the state law in effect, my interpretation is it wasn't made for high school sports. I think it was meant for all people — whether transgender, bisexual, gay — are treated fairly. I totally agree with that, but with sports it's not a level playing field. You'd probably ask the state reps if the law should be changed for sports."
(H/T: The Daily Wire)