A congressional intern who yelled "f*** you!" to President Donald Trump as he was walking through the U.S. Capitol last week has been suspended for a week — but she won't lose her internship, Fox News reported.
Caitlin Marriott, 21 — who is interning in the office of Democratic Sen. Maggie Hassan of New Hampshire — yelled the epithet, the cable network said, citing sources.
Here's the clip. (Content warning: Language):
LISTEN: As Pres Trump's entourage entered Speaker Ryan's office in the Capitol, someone on the other side of the Ca… https://t.co/YcpBeStjBK

— Frank Thorp V (@Frank Thorp V) 1529444709.0
What will happen to the intern?
While Marriott has been suspended, Fox News reported that she won't lose her internship and will work through August.
"We are aware of the situation and have taken disciplinary action, including a one-week suspension and revoking her congressional intern ID badge (thereby restricting her access to the Capitol), in response to her breach of office policies regarding respectful and appropriate conduct," Hassan spokesman Aaron Jacobs told Fox News. "We also facilitated contact with Capitol Police."
Marriott will be confined to her duties in Hassan's office on the third floor of the Hart Senate office building during her suspension, the network reported.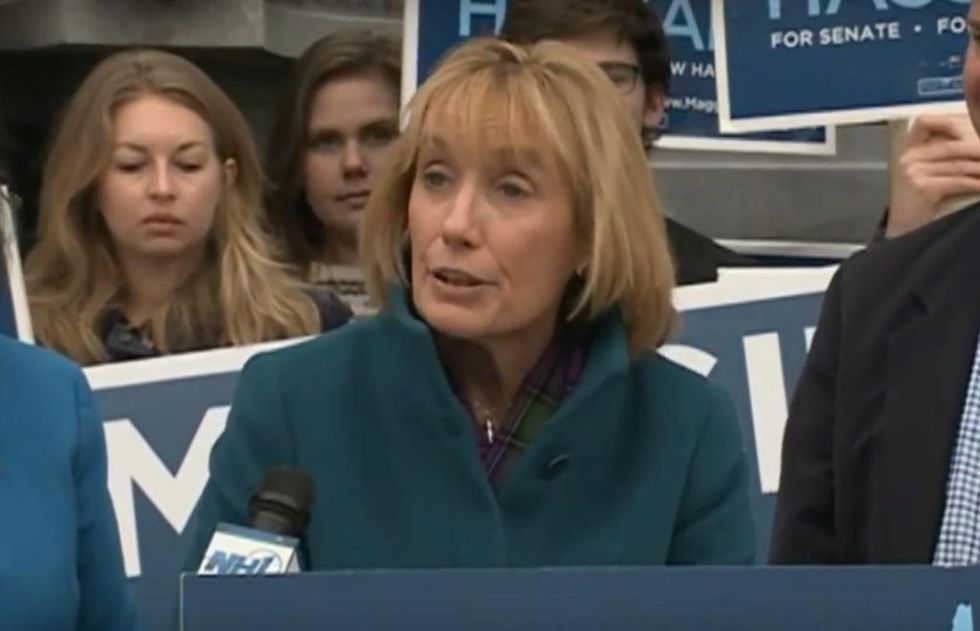 U.S. Sen. Maggie Hassan (D-N.H.) (Image source: YouTube screenshot)
What led to the outburst?
Prior to Trump's visit to the Capitol last Tuesday, interns gathered on the Senate side of the Capitol Rotunda behind a line of Capitol Police officers and Secret Service agents, Fox News said. The interns discussed shouting something Trump and "egged on" Marriott to do so, the network noted, adding that her outburst was "impulsive."
What happened afterward?
Fox News said Marriott "raced from where she heckled Trump, forcing U.S. Capitol Police to put out a 'be on the lookout' over their radios."
Authorities identified Marriott and spoke with her to determine if she posed a threat to Trump, the network reported, citing sources. After deciding Marriott didn't pose a threat to the president, authorities determined they could take no further action, Fox News said.
(H/T: Washington Examiner)