So you wanna go to law school?
Well, you might have an easier time passing the Law School Admission Test than choosing which box to check under "gender identity" when you create an account for the Law School Admission Council.
If you head on over to the LSAC website and click on "create account," you can see for yourself: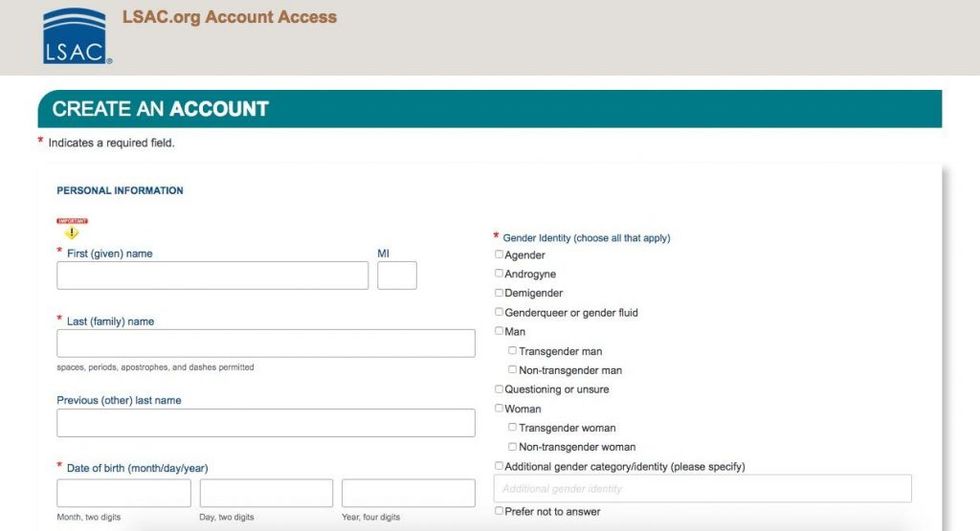 Image source: LSAC website screenshot
In addition to "man" and "woman" — endearing they remembered those two — new registrants aiming to take the LSAT can choose from among other gender identity options such as "androgyne," "demigender," "genderqueer or genderfluid," "questioning or unsure," "additional gender category," and "prefer not to answer."
Oh, and if you find yourself hovering over the "man" and/or "woman" boxes but are hankerin' for some more options under either of them, your wish is the LSAC's command.
You also can choose "transgender man," "transgender woman" — and even "non-transgender man" and "non-transgender woman." The latter pair sound a tad repetitive, but one could just take that up with the judge.
What did the LSAC have to say about the gender identity options?
The College Fix said a Law School Admissions Council representative didn't respond to emails and a voicemail seeking comment about the gender identity options.
But the outlet said an LSAC online portal allows users to reveal their sexual orientation and pronouns as well, in order to "improve services and programs for law school candidates." According the the College Fox, the sexual orientation options users can choose are:
Asexual

Bisexual

Gay

Heterosexual/straight

Lesbian

Pansexual

Queer

Questioning or unsure

Same-gender loving

An identity not listed (please specify)

Prefer not to answer
As far as pronouns go, well, the LSAC needs to step it up: Only the standard "he/his/his" and "she/her/hers" along with "they/their/theirs," "other," and "prefer not to answer" are offered.
That's right. Not a "ze" or "hir" or "sie" or "zir" in sight. So the LSAC might want to watch it in the pronoun arena, lest it officially finds itself in contempt.