Steve Bannon — former chief strategist for President Donald Trump — was "minding his own business" while browsing in a Virginia bookstore Saturday when a woman confronted Bannon and called him a "piece of trash," the bookstore owner told the Richmond Times-Dispatch.
So Nick Cooke, owner of Black Swan Books in Richmond, confronted the woman right back.
"I asked her to leave, and she wouldn't," Cooke told the paper. "And I said, 'I'm going to call the police if you don't,' and I went to call the police, and she left. And that's the end of the story."
Well, not quite.
Leftists get angry — at bookstore owner
Former Hillary Clinton adviser Philippe Reines tweeted the Times-Dispatch story — and included the bookstore's address and contact information: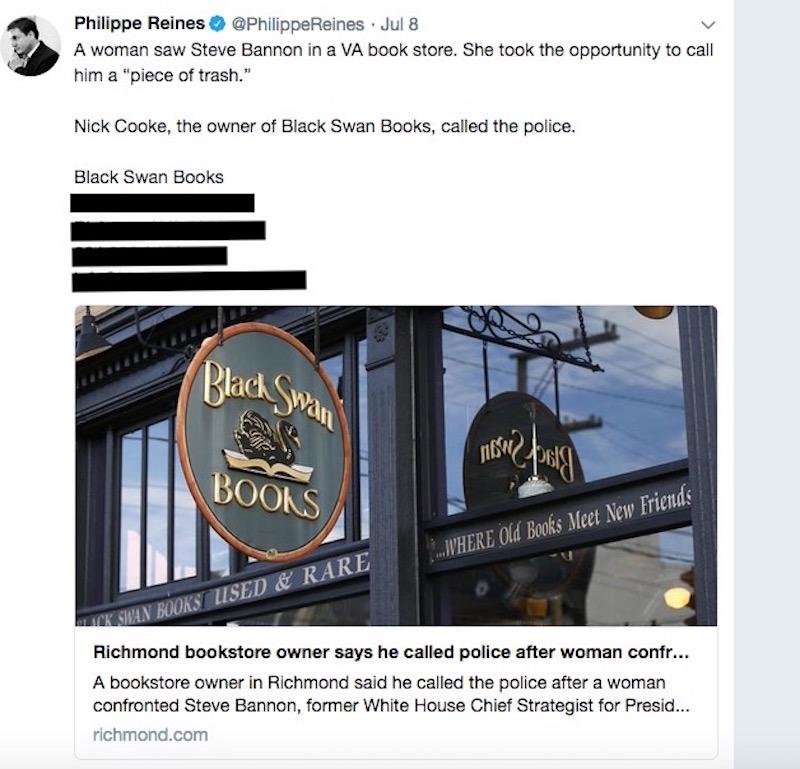 Image source: Twitter, redacted
When backlash hit Reines for seemingly encouraging action against Cooke and Black Swan, he only doubled down on his Twitter page, making an accusation against Cooke and blasting Trump supporters.
In addition, Caroline O., a writer/editor for ShareBlue — a left-wing site owned by David Brock — tweeted that Black Swan Books is "now blacklisted" after the owner "defended Steve Bannon and turned the store into a safe space for white nationalists."
What did the bookstore owner say?
"We are a bookshop," Cooke told the Times-Dispatch. "Bookshops are all about ideas and tolerating different opinions and not about verbally assaulting somebody, which is what was happening."
Cooke told the paper he had no comment when asked if he had a personal relationship with Bannon and said he wanted to respect the former Trump official's privacy, calling him as "a private person in my bookshop."
Bannon grew up in Richmond, the Times-Dispatch said. The paper said efforts to contact Bannon early Saturday evening were unsuccessful.
What other incidents have occurred along these lines?
(H/T: The Hill)