White House press secretary Sarah Huckabee Sanders deserves a "life sentence" of public harassment "after inciting against the press," a noted columnist said.
Washington Post columnist Jennifer Rubin added to MSNBC host Joy Reid on Sunday that Sanders "has no right to live a life of no fuss, no muss."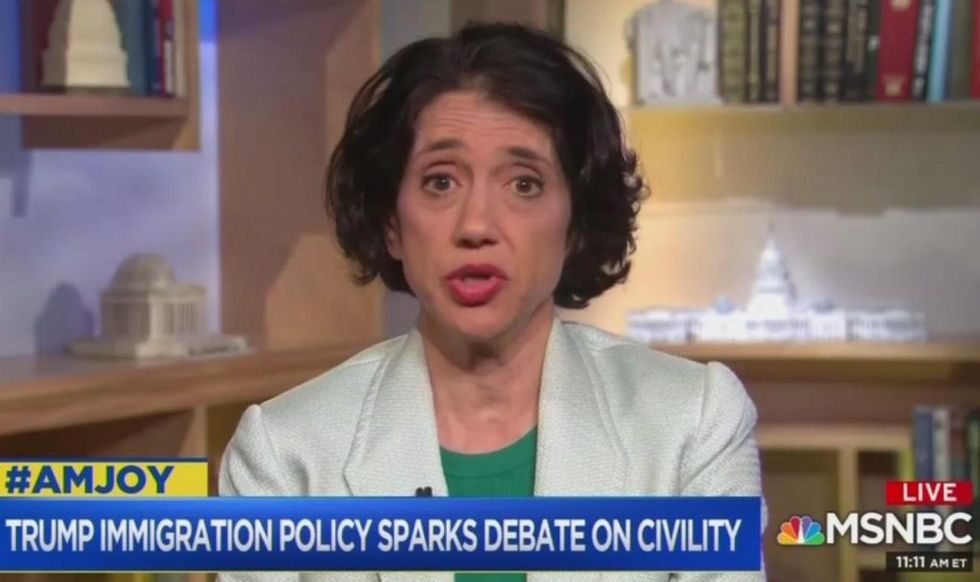 Washington Post columnist Jennifer Rubin (Image source: MRCTV video screenshot)
What's the background?
The owner of a Virginia restaurant last month booted Sanders and her family from the establishment over her connection to President Donald Trump in the wake of illegal immigrant children getting separated from their parents at the U.S.-Mexico border.
"This feels like the moment in our democracy when people have to make uncomfortable actions and decisions to uphold their morals," Stephanie Wilkinson, the owner of the Red Hen in Lexington, told the Post.
The incident led to protests outside the restaurant, an arrest after chicken poop was allegedly thrown at it, as well as Wilkinson's resignation from a business group in town.
Other related incidents included:
Gun experts encouraged Trump officials to get concealed carry permits for self-protection, and Sanders reportedly was to be placed under Secret Service protection following the Red Hen incident.
The Trump administration had decided to prosecute all illegal border crossers, which forced the separation of children from their parents per federal law and longstanding Department of Homeland Security policy. But Trump signed an executive order ending the separation of children from their parents.
What else did Rubin say?
Following last week's mass murder at the Capital Gazette newspaper in Maryland, a number of journalists have blamed Trump's anti-press rhetoric despite the culprit reportedly having a vendetta against the paper that preceded the Trump presidency.
Still, Rubin joined the fray, saying the entire press corps should "walk out of the briefing room" the next time Trump or Sanders says "fake news," noting that such a phrase is code for "every nutcase in America to come after" journalists.
"Your lives are all in danger, your lives are all on the line," Rubin said to her colleagues, noting that the Trump administration has been guilty of "incitement to violence" against the media.
"We're not going to let these people go through life unscathed," she continued, noting Sanders and others "should be made uncomfortable, and I think that's a life sentence, frankly."
Here's the clip:

(H/T: Newsbusters)