Homeland Security Secretary Kirstjen Nielsen got treated to number of uninvited guests at her dinner out in Washington, D.C. — Democratic Socialists who showed up to chant their displeasure over illegal immigrant children being separated from their parents at the border.
What happened?
The secretary was eating Tuesday evening at MXDC Cocina Mexicana when a group of 10 to 15 protesters entered the restaurant, Politico reported, citing the Washington Post.
Here's the clip: (Content warning: Expect at least one F-bomb side with your order of Cuatro Quesos Fundidos):
"How dare you spend your evening here eating dinner as you're complicit in the separation and deportation of over 10,000 children separated from their parents?" one protester hollered at the outset of the demonstration. "How can you enjoy a Mexican dinner as you're deporting and imprisoning tens of thousands of people who come here seeking asylum in the United States? We call on you to end family separation and abolish ICE!"
The group's protest was streamed live on the Facebook page of the Metro D.C. Democratic Socialists of America, Politico reported.
The message with the video noted, "We're in downtown DC disrupting DHS Secretary Kirstjen Nielsen's dinner at MXDC. The irony isn't lost on us that this is a Mexican restaurant. Nielsen has led the program to tear apart familes [sic]. We are here to tell her to put an end to separating families, to step down as head of the department, and that ICE and CBP must be abolished."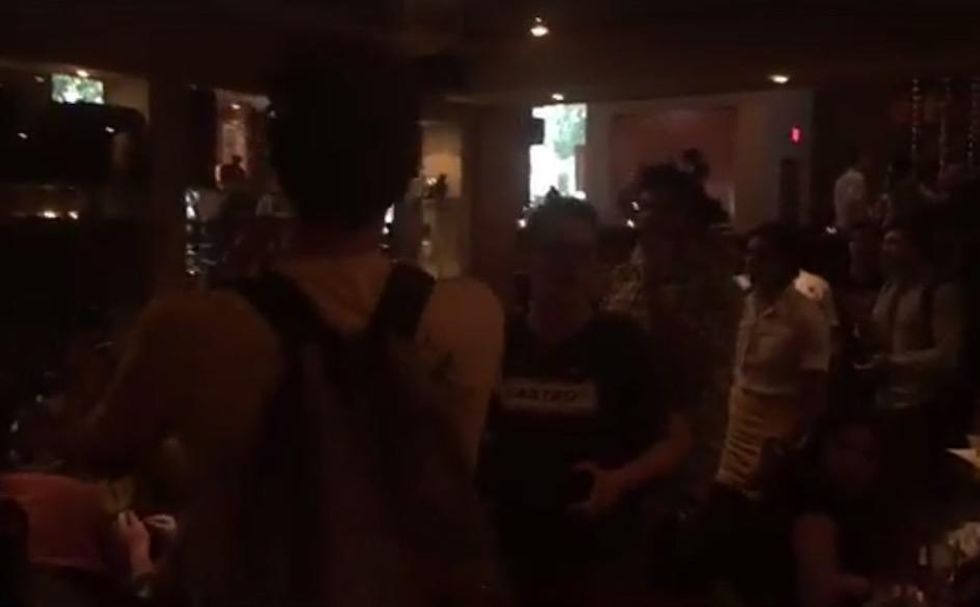 Image source: Facebook video screenshot
Nielsen has become a focal point in the controversy over the administration of President Donald Trump to prosecute all illegal border crossers, which has forced the separation of children from their parents per federal law and longstanding DHS policy.
But Nielsen didn't acknowledge the group.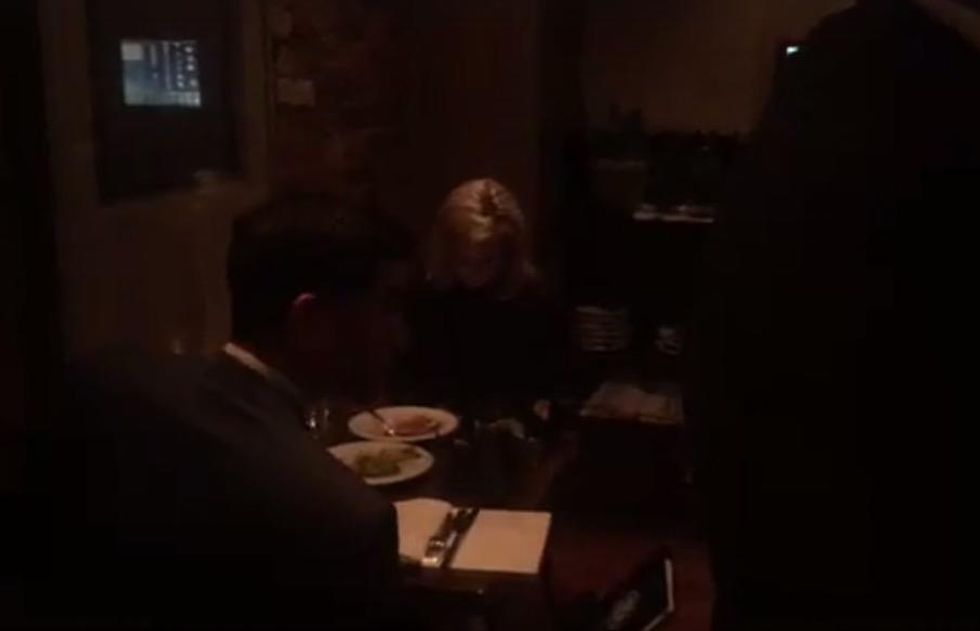 Image source: Facebook video screenshot
Undeterred, the demonstrators hurled the following at her:
"End Texas concentration camps!"
"What's your salary, Kirstjen? How much do you make locking up children?"
"Kirstjen Nielsen, you're a villain, locking up immigrant children!"
"If kids don't eat in peace, you don't eat in peace!"
"Do you hear the babies crying?"
"In a Mexican restaurant of all places! The f***ing gall!"
"No human being is illegal!"
A handful of other diners in the restaurant clapped along with the protesters, who remained inside for 10 to 15 minutes until Nielsen paid her check and left with her Secret Service detail, Politico said.
The secretary on Sunday pointed out how groups like the one that disrupted her dinner aren't looking at some crucial facts:
This misreporting by Members, press & advocacy groups must stop. It is irresponsible and unproductive. As I have sa… https://t.co/HqmePHLu7R

— Secretary Kirstjen M. Nielsen (@Secretary Kirstjen M. Nielsen) 1529272268.0
A DHS spokesman offered the following statement to Politico about the protest:
"While having a work dinner tonight, the secretary and her staff heard from a small group of protesters who share her concern with our current immigration laws that have created a crisis on our southern border," the spokesman told the outlet. "The secretary encourages all — including this group — who want to see an immigration system that works, that contributes to our economy, that protects our security, and that reflects our values to reach out to members of Congress and seek their support to close the terrible immigration loopholes that have made our system a mess."