The Fresno State professor who celebrated the death of former first lady Barbara Bush a few months ago has called for "white editors" to "resign" and "hand over ... positions of power," Campus Reform reported.
Randa Jarrar — who bragged she's a "tenured professor" and "will never be fired" after cheering the April passing of Bush and calling her a "witch" and a "racist" — posted a tweet Tuesday apparently in response to a controversial poem published in the Nation earlier this month, the outlet said.
The poem — "How-To" by acclaimed writer Anders Carlson-Wee — drew criticism and led the Nation to add a note to it, saying the poem "contains disparaging and ableist language that has given offense and caused harm to members of several communities."
Excerpts from the short poem read, "Don't say homeless, they know you is" and "It's about who they believe they is. You hardly even there."
How did Jarrar reportedly respond?
"At some point, all of us in the literary community must DEMAND that white editors resign. It's time to STEP DOWN and hand over the positions of power," Jarrar tweeted, according to Campus Reform, which said it obtained a screenshot of the tweet despite her account switching to private amid the Bush fracas. "We don't have to wait for them to f*** up. The fact that they hold these positions is f*** up enough."
Jarrar also called for the resignation of Stephanie Burt, a poetry editor for the Nation, because she "erases and violently silences [people of color]" and "has said some hurtful s**t about George W Bush and has hurt Arab American poets in my community," the outlet added, posting a screenshot of another tweet reportedly from Jarrar.
Did the Nation and its poetry editors have anything further to say?
Burt and Carmen Gimenez Smith, another poetry editor with the Nation, penned with the magazine the following apology Tuesday above the "How-To" poem:
As poetry editors, we hold ourselves responsible for the ways in which the work we select is received. We made a serious mistake by choosing to publish the poem 'How-To.' We are sorry for the pain we have caused to the many communities affected by this poem. We recognize that we must now earn your trust back. Some of our readers have asked what we were thinking. When we read the poem we took it as a profane, over-the-top attack on the ways in which members of many groups are asked, or required, to perform the work of marginalization. We can no longer read the poem in that way.
Campus Reform said it reached out to Jarrar for comment on her reported recent tweets but didn't receive a response. A Fresno State spokesperson told the outlet the California school doesn't comment on faculty members' personal opinions but added that "in this instance, the view expressed does not reflect those of the University."
TheBlaze on Thursday didn't immediately hear back from the poem's author, Carlson-Wee, after asking for a comment on the Nation's new position on "How-To."
Speaking of racism
Jarrar posted a similar tweet about whites in literary circles earlier this year, the Daily Wire said: "I can't wait for the old white guard of literary writers and 'critics' to die. Their time is f***ing up, too."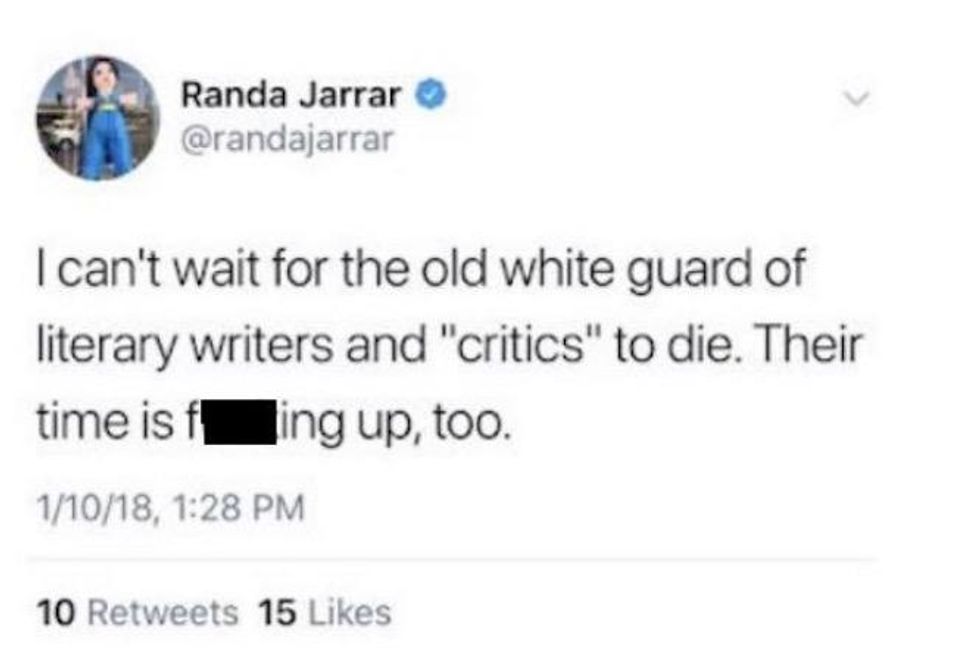 Image source: Twitter via the Daily Wire, redacted
She also wrote to another Twitter user to get the "f*** outta here with your white feminism. I said don't at me bitch. I'm a professor, I don't just read headlines. Stay asleep," the outlet said.
Jarrar noted in another tweet: "Coming up: a bunch of f***ing white women," the Daily Wire noted.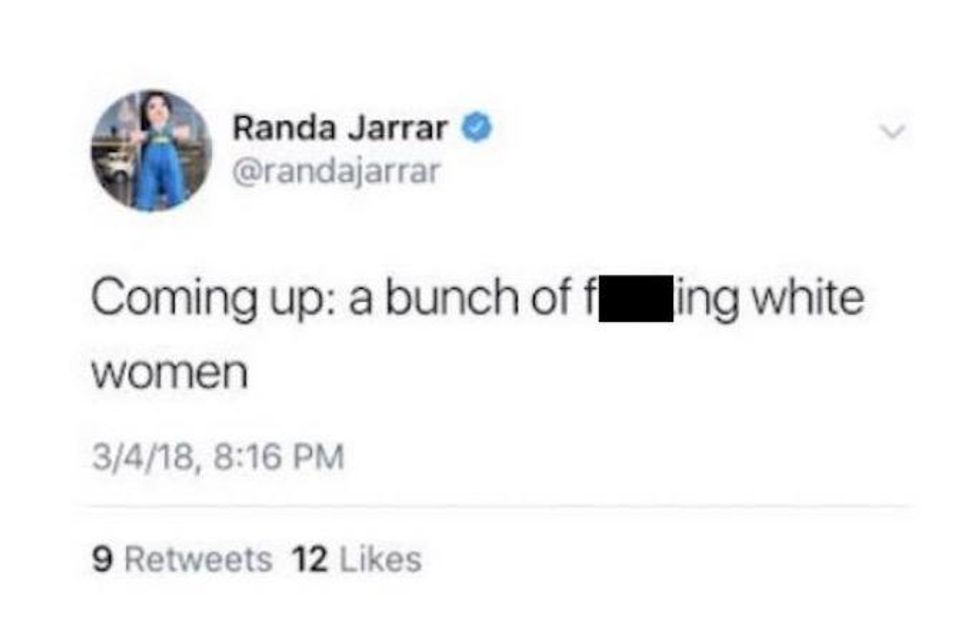 Image source: Twitter via the Daily Wire, redacted
Jarrar was born in Chicago but grew up in Kuwait and Egypt, the Fresno Bee reported. The Daily Wire added that she is Muslim and a supporter of the Palestinian state — and noted in another tweet that "we are sooooo much cooler than Israelis, don't at me b***h."
Oh, here's a collection of some of Jarrar's greatest hits. (Content warning: Profanity):