An author and English professor at Fresno State is under fire by many on social media after mocking the death of former first lady Barbara Bush — and now it appears that she's on leave.
What did she say?
Randa Jarrar celebrated Barbara Bush's death on Twitter Tuesday night.
In a series of tweets that are no longer public, Jarrar wrote, "Barbara Bush was a generous and smart and amazing racist who, along with her husband, raised a war criminal. F*** outta here with your nice words."
She added, "PSA: either you are against these pieces of s**t and their genocidal ways or you're part of the problem. That's actually how simple this is. I'm happy the witch is dead. Can't wait for the rest of her family to fall to their demise the way 1.5 million Iraqis have."
After receiving tons of blowback on Twitter, Jarrar wrote, "All the hate I'm getting ALMOST made me forget how happy I am that George W Bush is probably really sad right now."
She added, "I'm using [woke points] to dance happily on the grave of someone I despise."
The liberal professor added that she didn't even care about the criticism, because she couldn't lose her job at Fresno State.
"I work as a tenured professor," she boasted. "I make 100K a year doing that. I will never be fired. I will always have people wanting to hear what I have to say."
As of the time of this writing, Jarrar's Twitter account remains set to private.
What did the college say?
In response to the outcry against Jarrar, Fresno State President Joseph Castro issued a statement.
"On behalf of Fresno State, I extend my deepest condolences to the Bush family on the loss of our former First Lady, Barbara Bush," Castro said in the statement, which was shared on Twitter. "We share the deep concerns expressed by others over the personal comments made today by professor Randa Jarrar, a professor in the English Department at Fresno State."
"Her statements were made as a private citizen, not as a representative of Fresno State," the statement continued. "Professor Jarrar's expressed personal views and commentary are obviously contrary to the core values of our University, which include respect and empathy for individuals with divergent points of view, and a sincere commitment to mutual understanding and progress."
Statement by @Fresno_State President @JosephICastro regarding tweets made today by a faculty member: pic.twitter.com/h3ZbQyMmxd

— Fresno State (@Fresno_State) April 18, 2018
So what about her being on leave?
A previously cached version of her Twitter page describes Jarrar as an author and professor and boasts of her essays published on the internet.
"Books: A MAP OF HOME & HIM, ME, MUHAMMAD ALI. Professor. Essays in @salon, @nytmag, @buzzfeed, @the_rumpus, @thesunmagazine etc Muslim & Arab AF," the "about me" portion reads.
However, Jarrar's page, at the time of this writing, reads, "Currently on leave from Fresno State. this is my private account and represents my opinions."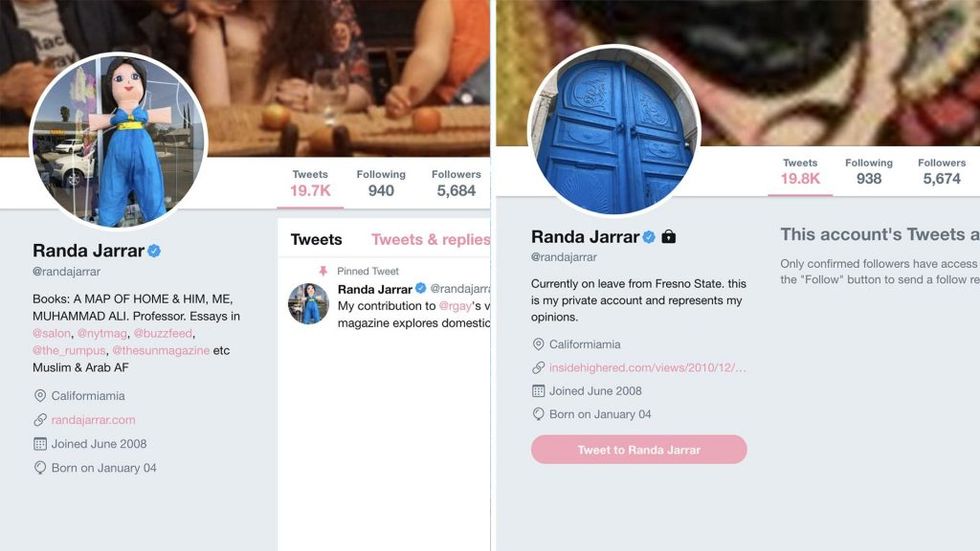 (Image source: Twitter screenshot)