Contrary to Fresno State professor Randa Jarrar's boast that she can't fired after posting tweets celebrating the death of former first lady Barbara Bush, the school said Jarrar indeed can be shown the door.
"I work as a tenured professor," Jarrar bragged on Twitter before making her account private. "I make 100K a year doing that. I will never be fired. I will always have people wanting to hear what I have to say."
Well, Jarrar may want to check with Provost Lynnette Zelezny, who had the following to say Wednesday about the professor's boast, the Fresno Bee reported: "Does tenure mean that you, technically, cannot be fired? The answer to that is no."
How did all this start?
Following Barbara Bush's death on Tuesday, Jarrar — an associate professor in the English department — posted a series of tweets:
"Barbara Bush was a generous and smart and amazing racist who, along with her husband, raised a war criminal. F*** outta here with your nice words."
"PSA: either you are against these pieces of s**t and their genocidal ways or you're part of the problem. That's actually how simple this is. I'm happy the witch is dead. Can't wait for the rest of her family to fall to their demise the way 1.5 million Iraqis have."
When others pushed back at Jarrar's tweets, she dug in her heels: "All the hate I'm getting ALMOST made me forget how happy I am that George W Bush is probably really sad right now."
And then Jarrar noted, "I'm using [woke points] to dance happily on the grave of someone I despise."
What did Jarrar do for an encore?
Among Jarrar's tweets was one that included a phone number she passed off as her own but was actually a number for Arizona State University's suicide hotline, the Bee reported.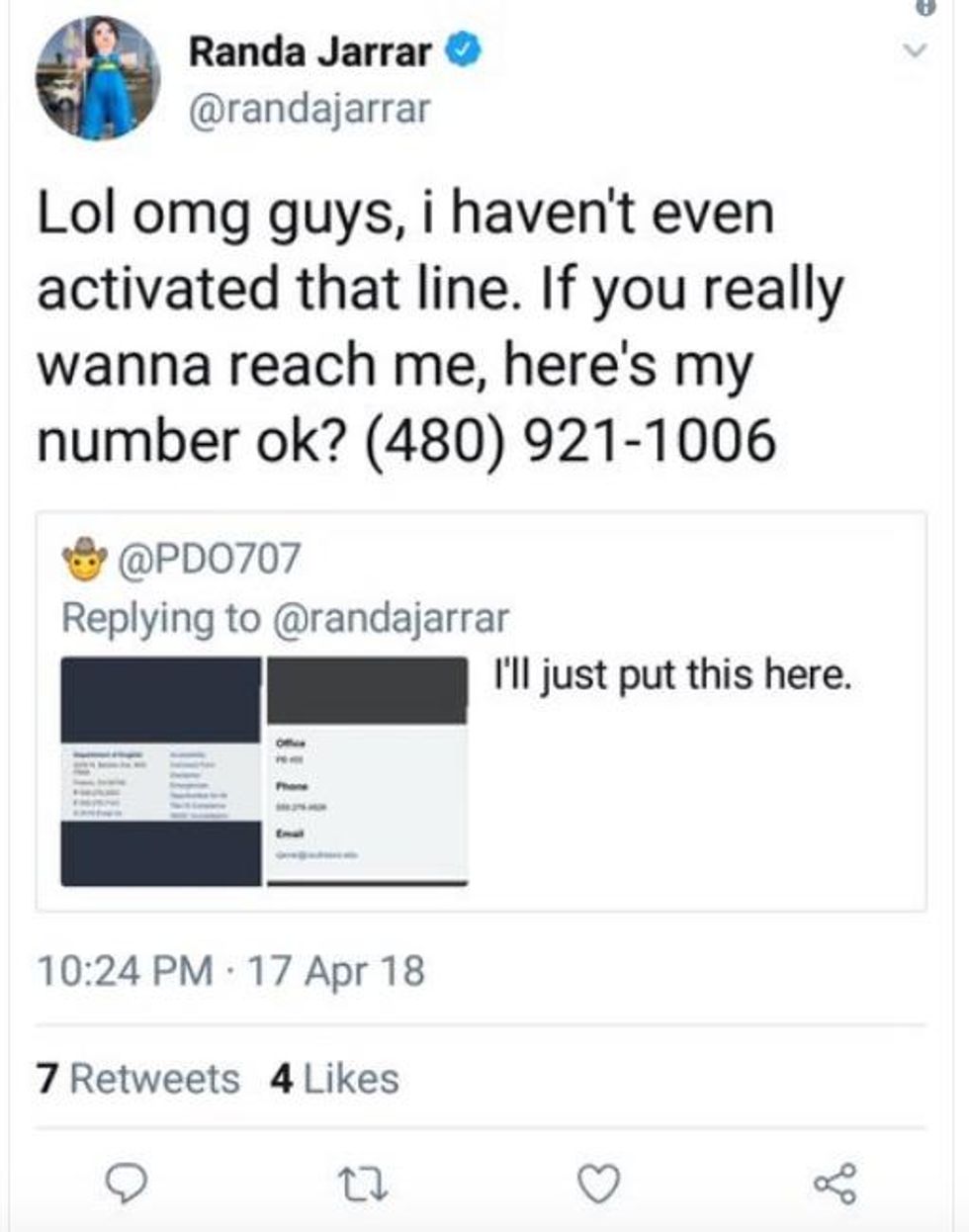 Image source: Twitter via the Daily Wire
An Arizona State University official who asked not to be identified told the Bee that the tweet did lead to unusually high call volume but doesn't believe Jarrar's stunt prevented anyone with a legitimate call from getting through.
Lori Prentice — who runs a homeless ministry in Madera County, California — disagreed, telling the Bee that Jarrar tweeting out the number was like a "kick in the teeth" for those who work with individuals in crisis.
"There is a strong probability that someone who finally found the courage to contact the suicide hotline couldn't get through due to Jarrar's caustic misdirection," Prentice told the paper.
Prentice added to the Bee that her daughter has been considering attending Fresno State — but now her decision will hinge on how the university handles Jarrar.
What else has Jarrar tweeted?
Racist and anti-Semitic tweets were discovered on Jarrar's Twitter account before she switched it to private, the Daily Wire reported.
"I can't wait for the old white guard of literary writers and 'critics' to die. Their time is f***ing up, too," she wrote.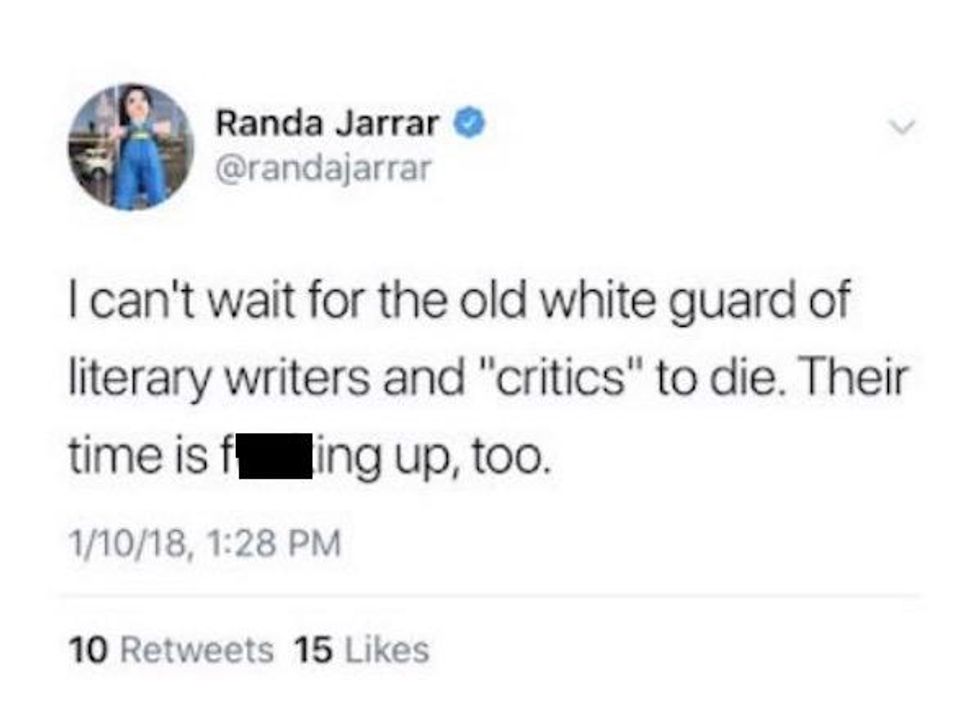 Image source: Twitter via the Daily Wire, redacted
Jarrar noted in another tweet: "Coming up: a bunch of f***ing white women."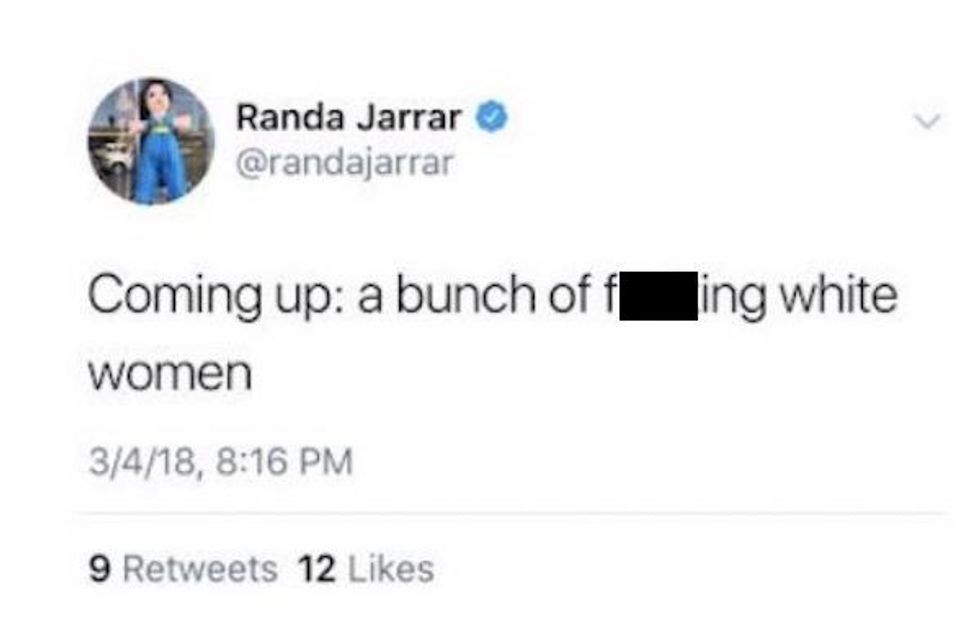 Image source: Twitter via the Daily Wire, redacted
She wrote to another Twitter user to get the "f*** outta here with your white feminism. I said don't at me bitch. I'm a professor, I don't just read headlines. Stay asleep."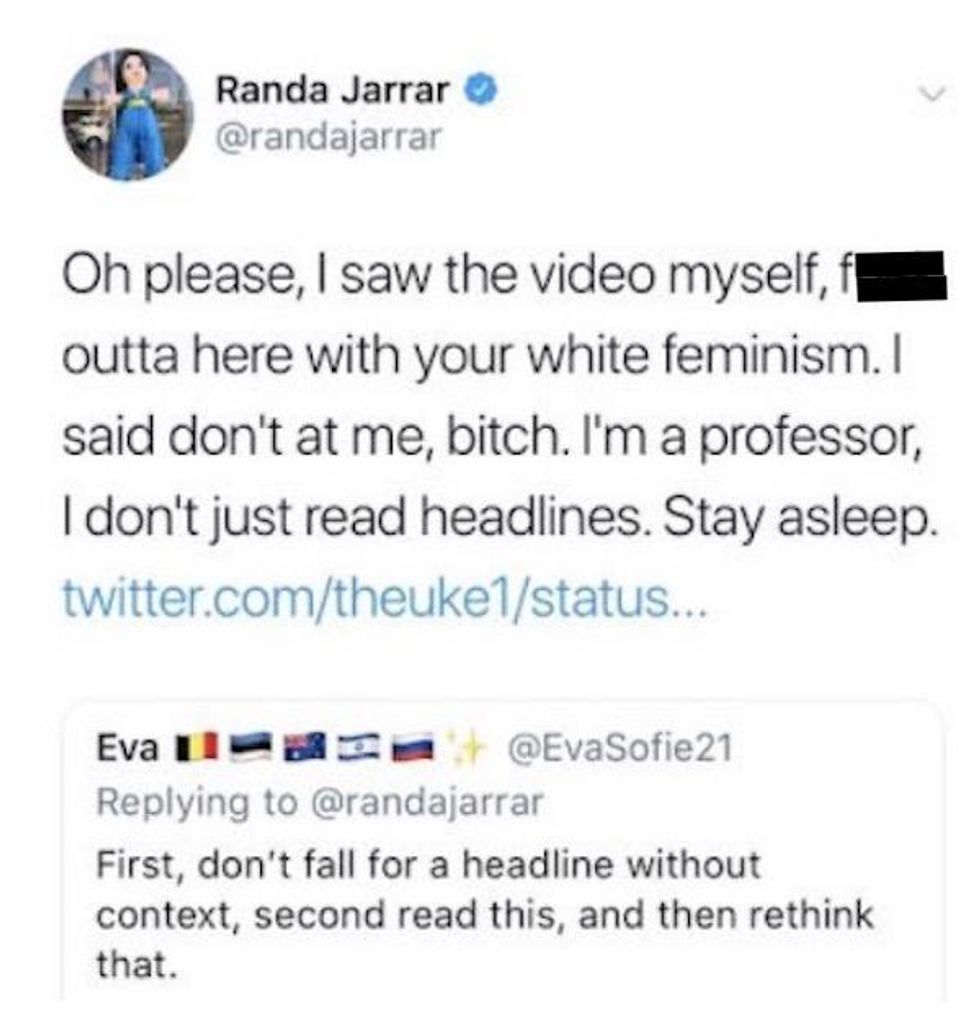 Image source: Twitter via the Daily Wire, redacted
Jarrar was born in Chicago but grew up in Kuwait and Egypt, the Bee reported. The Daily Wire added that she is Muslim and a supporter of the Palestinian state — and noted in another tweet that "we are sooooo much cooler than Israelis, don't at me bitch."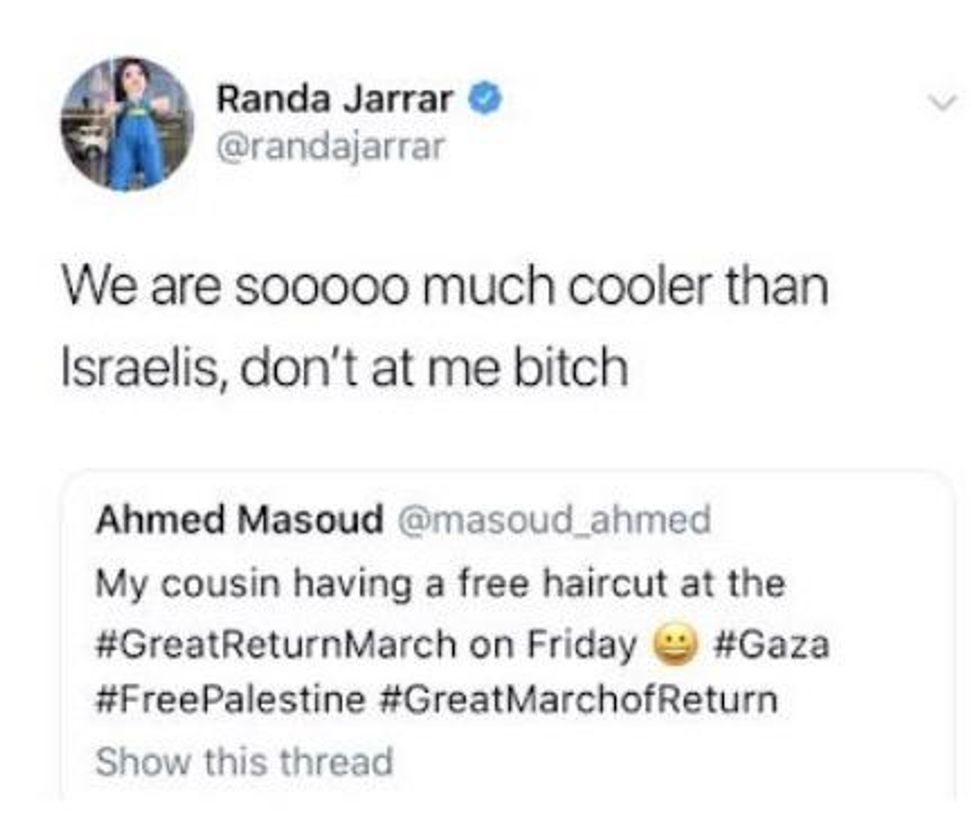 Image source: Twitter via the Daily Wire
What did Fresno State's president have to say about Jarrar?
"A professor with tenure does not have blanket protection to say and do what they wish," Fresno State President Joseph Castro said regarding Jarrar, according to the Bee. "We are all held accountable for our actions."
Castro added that Jarrar's words were "beyond free speech" and "disrespectful," but also said "one set of tweets, as horrible as they were, do not define us."
Jarrar did not returned requests for comment by phone and email, the Bee reported.
But in case you're curious about what's she like in front of an audience, here's a clip of her. (Content warning: Rough language, but you already knew that):
(H/T: BizPac Review)