A man told police on Monday he was stopped at a red light in Hyannis, Massachusetts, when the driver behind him began honking the horn, the Cape Cod Times reported
Then things got weird — and scary.
He told cops the driver followed him down another road, still honking, the paper said.
"I could hear her screaming out of the car or something, so I'm like, 'Man, maybe something's wrong with my car,'" said the man identified by WBZ-TV only as "Brendan" for his safety.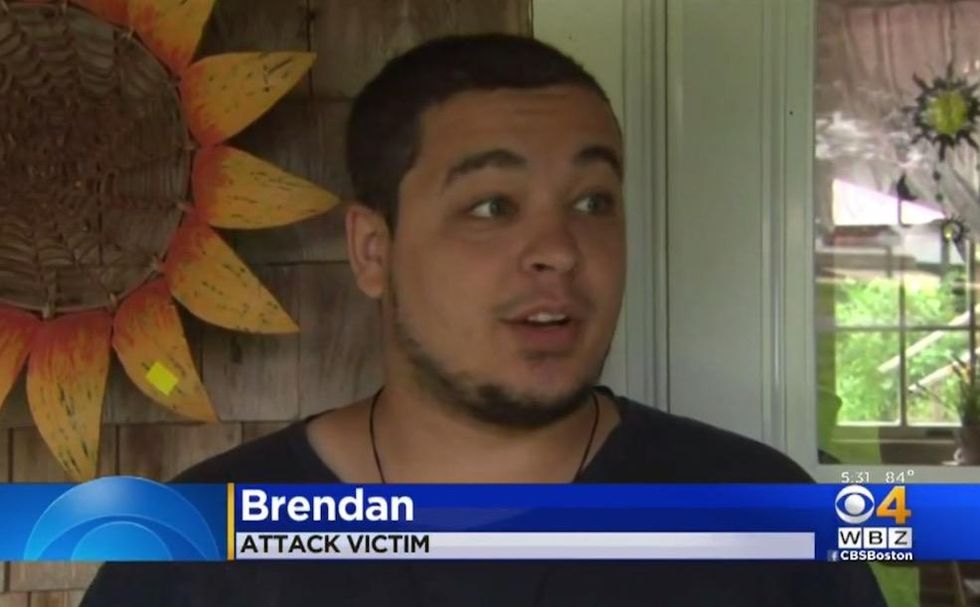 Image source: WBZ-TV video screenshot
Well, apparently there was something wrong with his car — affixed upon it is a bumper sticker supporting President Donald Trump with his campaign slogan, "Make American Great Again."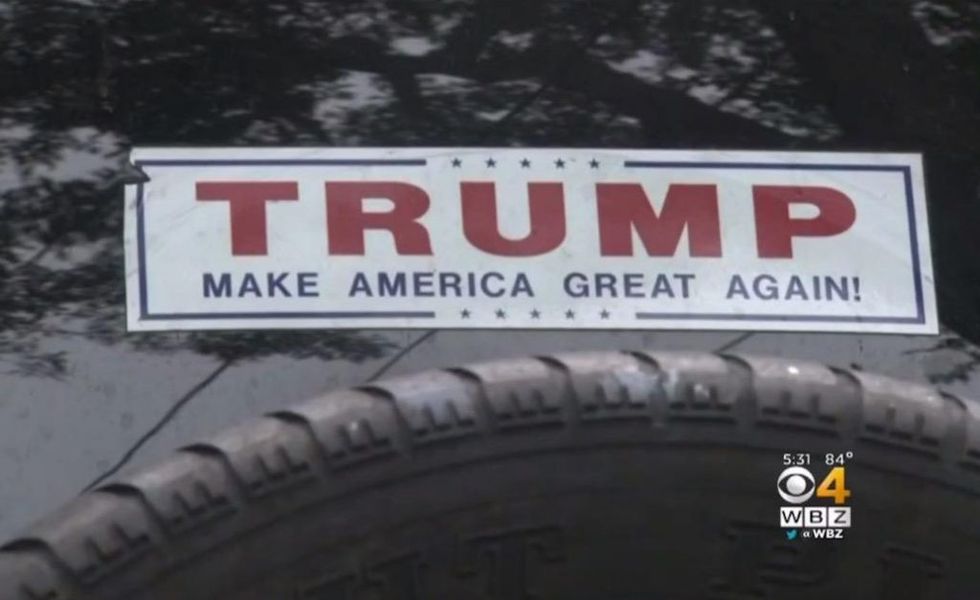 Image source: WBZ-TV video screenshot
'You're racist!'
Brendan added to the station that "the first thing she said when I came out of the car was, 'Did you vote for Trump?' And I was like, 'Yeah, what of it?'"
With that, he told WBZ, the driver yelled, "You're racist!" along with "a bunch of cuss words" coming at him "nonstop."
But that wasn't the worst of it.
Brendan recorded video of the incident as the driver first allegedly hit the back of his car then clipped his open door, missing him by inches, WBZ said.
"Her tire was right next to my foot," Brendan recalled to the station. "That could have ended really bad."
The driver then allegedly left the scene, the Cap Cod Times reported, citing police.
What happened after the incident?
The video showed the license plate of the vehicle in question, which police traced to 25-year-old Chloe Wright of Taunton, the Times said. The victim identified a driver's license photo of Wright as the woman who hit his car, the paper added, citing the police report.
State police on Monday stopped and arrested Wright as she was driving in Bourne after a random check of her license plate revealed an open warrant on charges against her, the Times reported.
She pleaded not guilty Monday in court to a charge of assault with a dangerous weapon, the paper said, adding that she also faces charges of vandalizing property and leaving the scene of property damage. Wright was released on $1,250 bail and ordered to stay away from the victim, the Times said.
She's due back in court Aug. 28 for a pretrial hearing, the paper added.
Brendan mused to WBZ, referencing Wright's arrest: "Was it really worth it for her?"
(H/T: PJ Media)