An Achille, Oklahoma, school has been temporarily closed after parents reportedly threatened a 12-year-old transgender student on Facebook.
What are the details?
School had only been in session one day at Achille Public Schools when they canceled classes on Monday and Tuesday following reports that some parents had threatened a transgender student who had used the girls' restroom.
KXII-TV reported that several law enforcement agencies stepped in to investigate the alleged threats.
The statements in question were made in a parents' group on Facebook last week after the student — identified as Maddie — used the girls' bathroom after being unable find a staff bathroom to use instead.
According to the Washington Post, a Facebook user posted the following message:
Heads up parents of 5th thru 7th grade girls. The transgender is already using the girls bathroom. We have been told how the school has gone above and beyond to make sure he has his own restroom yet he is still using the girls. REALLY . . . Looks like it's gonna be a long year. We have made school board meetings over this situation last year but nothing seems to be changing. This is the same kid that got an [sic] trouble as soon as he transferred two years ago for looking over the stalls in the girls bathroom. Enough is enough.
The outlet reported that the post has since been deleted, but later an image of the post was reposted for posterity.
The Post reported that other images of comments — including those from adults outside of the school district — also appeared.
Maddie's mother, Brandy Rose, said that she and her family moved to the area when Maddie was in fifth grade.
"She's been living as a female for years," Rose said. "She started at Achille as 'Maddie.' We had no problems when we first started."
According to Rose, issues began to brew two years ago when a student accused Maddie of trying to peek under a bathroom stall divider.
"My daughter leans very far forward to use the bathroom," Rose told the station. "I can understand why someone seeing her lean forward would think, 'OMG, she's trying to look under.'"
As a result of the complaint, Maddie was permitted to use the staff bathroom for the last two years.
What happened on the first day?
On the first day of school Wednesday, Maddie was unable to find the staff restroom in the middle school and used the girls' restroom instead.
"[Maddie] hadn't been told where the staff bathroom was," Rose said. "Before she was able to be told, she had to pee, so she used the girls bathroom one single time."
This set off a firestorm of complaints within the Facebook parents' group after one parent reportedly found out about Maddie using the girls' restroom and aired the grievance on the social media page.
Some of the complaints and threats against Maddie included referring to the child as "thing" and "it," and others even suggested that Maddie should be beaten up or castrated.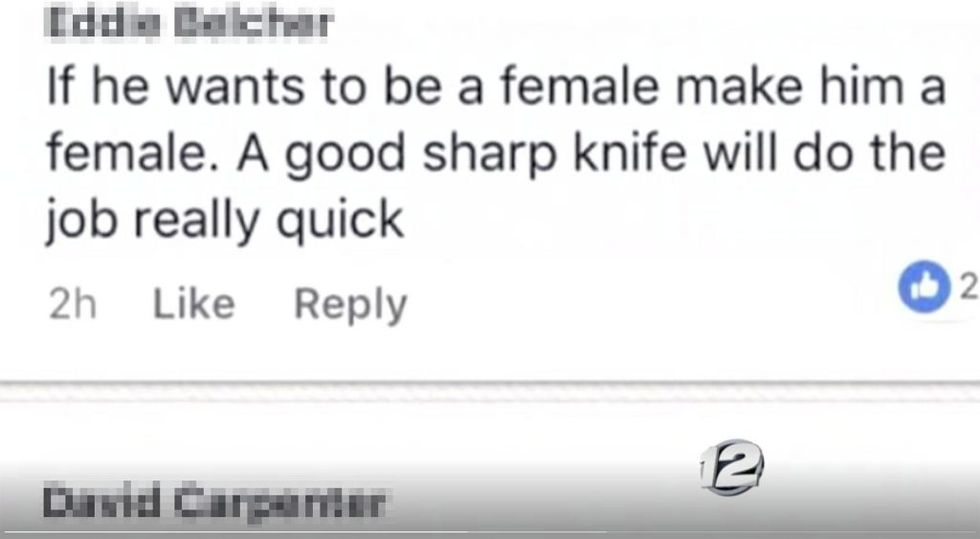 (Image source: KXII-TV video screenshot)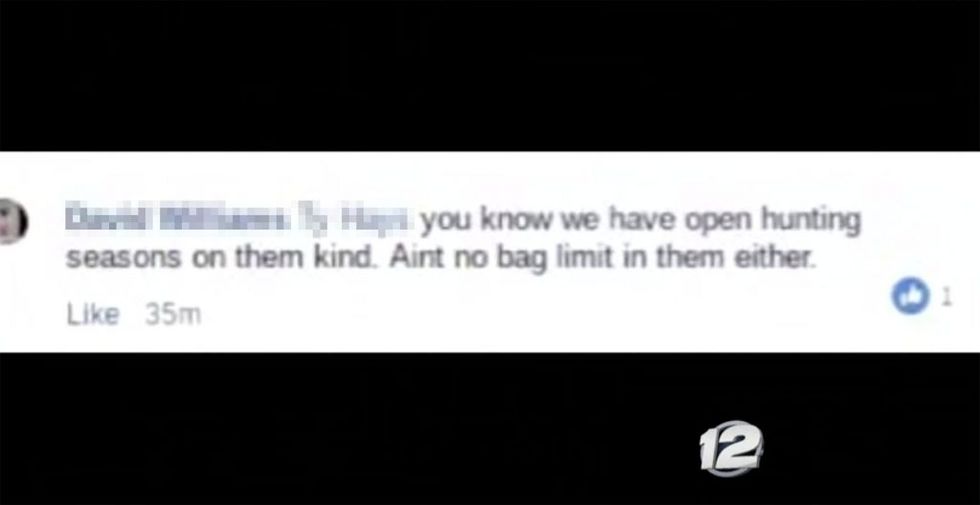 (Image source: KXII-TV video screenshot)
"That's a threat against her life," Rose said, and revealed that Maddie is now living in fear. "That's scary. These are adults making threats — I don't understand it."
"She's an awesome kid," Rose added. "To see any fear in her, I can't explain how bad that hurts me for them to hurt her."
School Superintendent Rick Beene and the Bryan County Sheriff's Department agreed that closing the school on Monday and Tuesday would be a good idea as a result of the online threats.
According to the station, the sheriff said that Rose filed a protective order against at least one parent. The sheriff also revealed that several law enforcement agencies — including the FBI — are investigating to see whether the remarks and threats constitute a hate crime.
Anything else?
According to a Tuesday report in the Post, Beene said that only the person who shared the initial Facebook post was a district parent, and that other messages came from parents living in other parts of the state as well as Texas.
One of the now-defunct page's administrators also clarified this.
"The other comments were screenshots from another thread not related to the Achille parent group," the administrator wrote. "The way they were pieced together made it appear as such but no threats made within our group."
The Facebook group appears to have been deleted at the time of this writing.
Beene also told KFOR-TV that the possibility of demonstrations also played a role in the decision to close the school on Monday and Tuesday.
"The thought was, for law enforcement, that you can have an opposing group that might be here and that could lead to problems so law enforcement asked me if we could shut down until Wednesday so they didn't have to worry about those 360 kids in addition to what they were already having to deal with," Beene said. "The problem is, when you get into a small town, you don't have to get a permit to demonstrate, therefore the problem with that is you don't know who's showing up, you don't know what time they're going to show up or anything like that."
Beene said that he doesn't anticipate that the school will be closed past Tuesday.