A Benghazi hero said he'd like to "choke" former President Barack Obama after the Democrat noted during his headline-grabbing Friday speech that Republican outrage over the deadly 2012 attack was the result of "wild conspiracy theories."
Kris Paronto — a former U.S. Army Ranger and CIA contractor who was guarding the Benghazi compound during the coordinated terror attack that took four American lives, including U.S. Ambassador to Libya Christopher Stevens — didn't hide his anger at Obama during a Fox News interview Sunday.
What did Paronto say?
"It's disgusting. It just raises the bile inside of me. I had a hard time just watching the speech itself," Paronto told host Pete Hegseth. "I just wanted to see what he had to say. And when that came across, I just wanted to reach through the screen and just grab him — grab him and choke him and say, 'Are you kidding me? Are you kidding me that you'd have the gall to disgrace the memory of my teammates and what we did there that night by calling it conspiracy?' But that's a narcissist for you."
Speaking of wild conspiracy theories, Paronto also blasted Obama and his administration for blaming the Benghazi attack on a YouTube video that was offensive to Muslims around the world and then arresting the video's creator, noting Obama and his allies on the left try to "rewrite history" if the facts don't "fit their narrative."
"Honestly, the man is a disgrace, just a complete disgrace," Paronto said of Obama before adding that "I wish I had that man sitting in front of me right now, I really do, without his Secret Service, to be honest with you." Paronto appeared to punch his fist into his palm.
Hegseth told Paronto to be careful with his comments about the former president, but the veteran didn't seem concerned, noting that "it doesn't get yourself away from saying comments, especially [when] buddies of mine died in front of me."
What else did Paronto say?
Paronto also blasted Obama on Twitter in response to his speech:
Paronto said Twitter suspended him over another post
Robert J. O'Neill, a former Navy SEAL who said he fired the fatal Osama bin Laden head shots, also blasted Obama's speech — and another Twitter user actually replied that Obama "kinda killed" Bin Laden:
@mchooyah He kinda killed Osama Bin Laden, so....

— 🇺🇸 Liddle' Antifa 🇺🇸 (@🇺🇸 Liddle' Antifa 🇺🇸) 1536346439.0
Well, that apparently was a bit much for Paronto, who tore into the Twitter user in question — noting later his words got him suspended: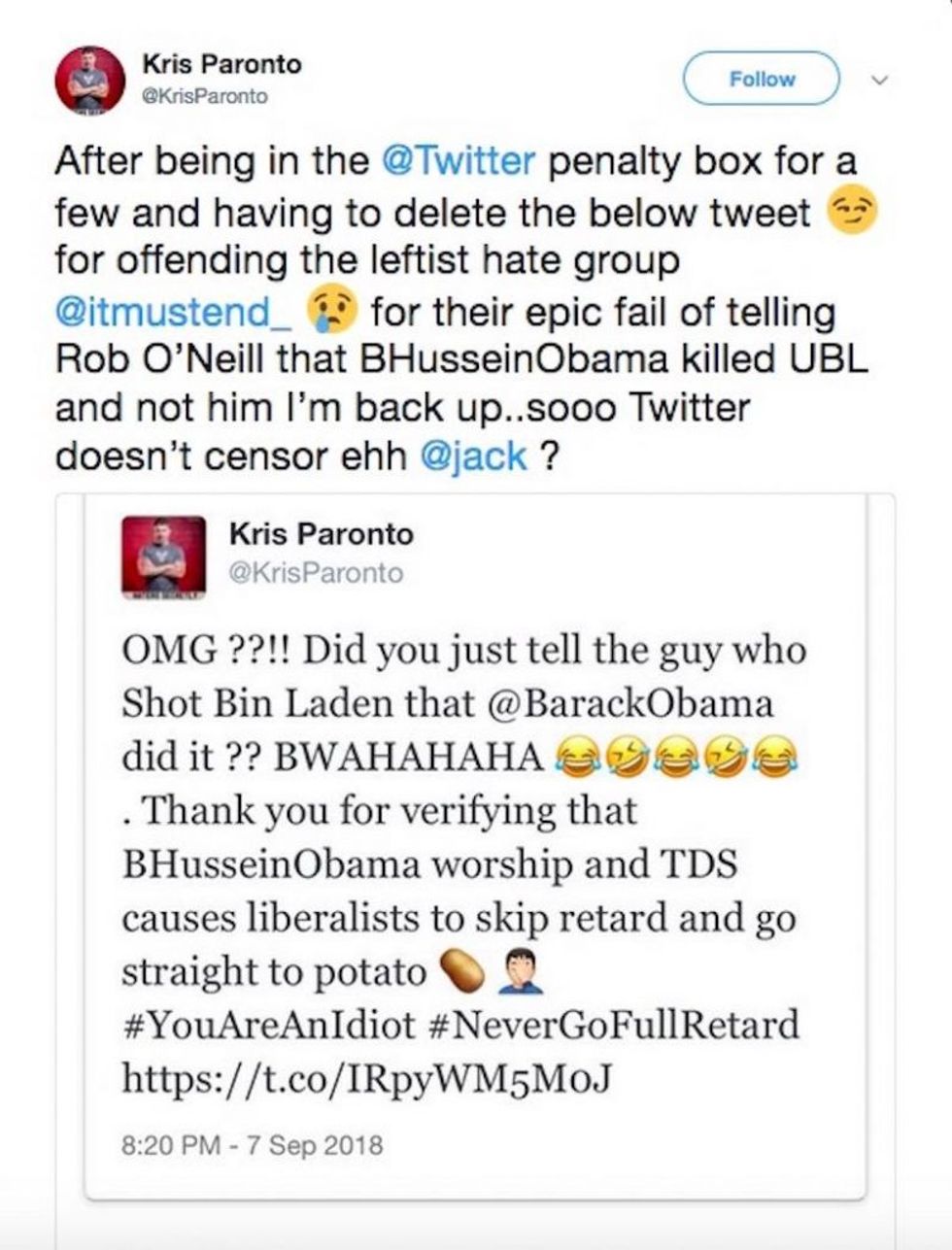 Image source: Twitter