After trailing his opponent a month ago, Nevada Democratic gubernatorial nominee Steve Sisolak now holds a slight lead — 2 points — over Republican nominee Adam Laxalt in a new Suffolk University/Reno Gazette-Journal poll.
While both candidates lost ground among likely voters in the course of a month, Sisolak fared better. The new poll shows Sisolak favored by 37.4 percent of likely voters and Laxalt supported by 35.4 percent of likely voters. Just over 15 percent of likely voters said they were undecided, the poll said.
How does this latest poll compare to numbers a month ago?
A Suffolk University/Reno Gazette-Journal poll released July 31 showed Laxalt supported by 41.6 percent of likely voters and Sisolak close behind at 41 percent — less than a percentage point behind.
An even bigger difference between the two polls is that undecided voters doubled in the course of a month, with the previous poll showing 7.4 percent of likely voters as undecided compared to just over 15 percent in the latest poll.
Both polls surveyed 500 likely voters in Nevada's general election, and the margin for error in each was 4.4 percent.
David Paleologos, director of the Suffolk University Political Research Center in Boston, said last month that "the people who can swing this election are third-party voters, undecideds, and those who are saying today that they will go to the polls and select 'none of these candidates,'" the Gazette-Journal said.
How did Laxalt's campaign respond?
"With so many Nevadans still undecided, we know this is going to be a close race — which is why we're working hard to earn every vote in every corner of the state," Laxalt's campaign spokesman Parker Briden told TheBlaze on Wednesday. "Unlike Steve Sisolak, Nevadans know Adam won't raise taxes and will actually act to help schools."
Briden added that Laxalt — the state's attorney general — has "support from 75% of all county commissioners" and "a bipartisan majority of mayors, Nevada's largest small business association, and more. Just today, we earned the endorsement of the Las Vegas Metro Chamber of Commerce, the single largest Chamber in Nevada."
The Sandoval factor?
Sitting Gov. Brian Sandoval, a Republican, has said he won't endorse Laxalt or any candidate for governor this year. Sandoval — a popular figure in the state — cannot run for a third term under state law.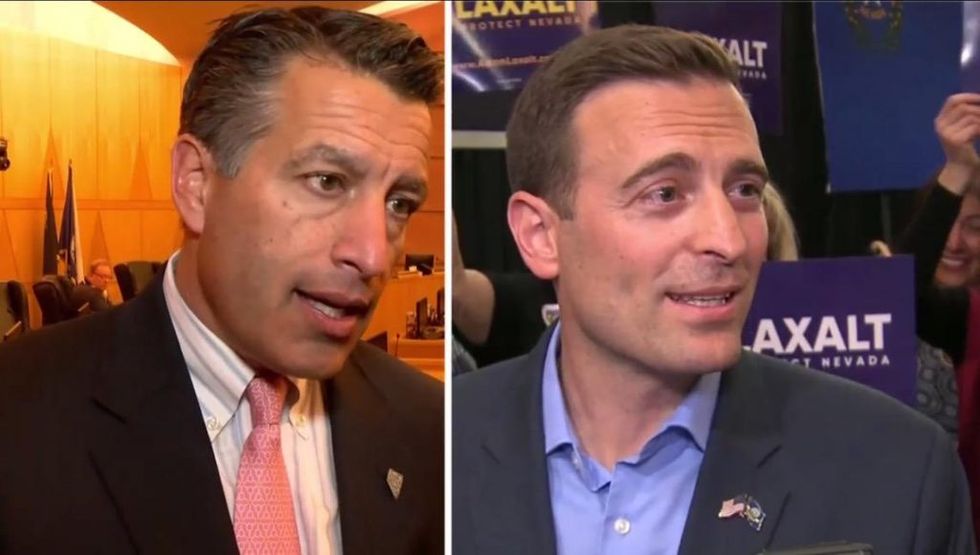 Nevada Republican Gov. Brian Sandoval (left); Nevada's GOP gubernatorial nominee Adam Laxalt (right). (Image source: KSNV-TV video screenshot)
Sandoval and Laxalt weren't particular close politically, as Sandoval is more of a moderate where Laxalt leans decidedly conservative. Also at issue is Laxalt's promise to repeal Sandoval's 2015 tax hike that generated billions for schools.
Other numbers
The latest poll showed independent gubernatorial candidate Ryan Bundy — son of controversial rancher Cliven Bundy — at 4.2 percent support among likely voters, and libertarian candidate Jared Lord at 4.6 percent. Those numbers represented a big jump for both candidates, as the previous poll a month ago showed Bundy at 2.4 percent support and Lord at 1.4 percent support among likely voters.