The crisis in the Catholic church since the revelations of sexual abuse by clergy and subsequent coverup has hit the head of the church hard - at least in his favorability ratings.
Here's what happened
Pope Francis has enjoyed a high favorability ratings from Catholics and non-Catholics alike, but his rating has plummeted since the scandal began making headlines in August.
The favorability rating of the pope has fallen to 48 percent among Americans according to a new CNN poll. In January, a poll found that 66 percent of Americans approved of the pope, while 72 percent said they approved of the Pope in December 2013.
Previously 83 percent of Catholics approved of Pope Francis a year and a half ago, but that has fallen by 20 points to 63 percent after the sex abuse scandal.
Age seems to be a strong determinant of whether Americans lose faith in the pope.
Among those older than 45 years, favorability of the pope fell by 24 points, from 68 percent to 44 percent. But among those under 45 years of age, the pope has lost only 10 points of favorability.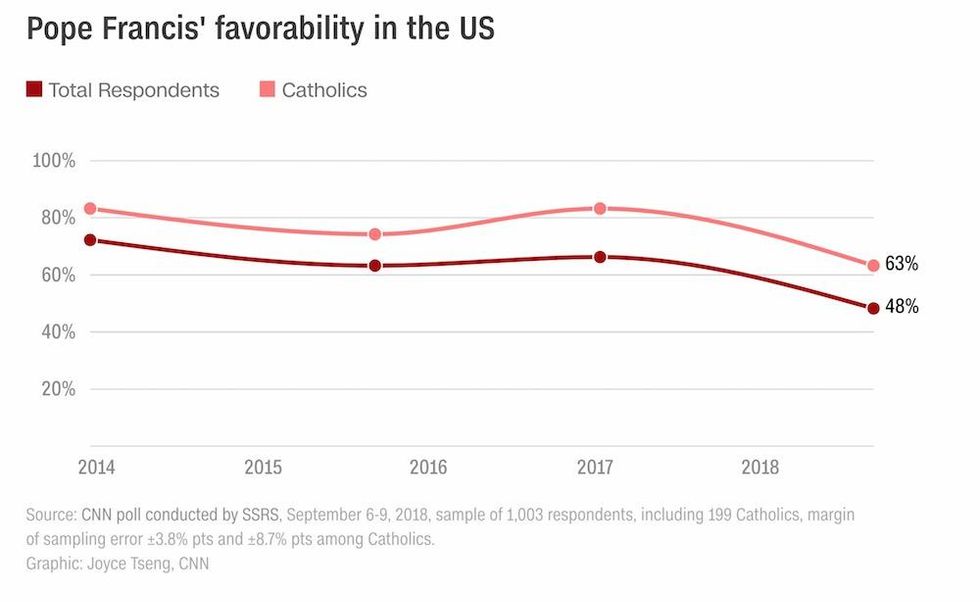 A graph of the drop in the favorability rating of the pope according to a new poll. (Image Source: CNN screenshot)
Women also had a steeper decline in favorability of Pope Francis than men, while Democrats had a steeper decline than Republicans, but that could be because Republicans had a lower opinion already.
While some of the comments and statements from the Vatican since the scandal have been met with scorn, Pope Francis has since called for a meeting of Catholic church leaders to address the issue in February.
Here's the latest on the sexual abuse scandal in the church: