President Donald Trump held a Thursday rally in Las Vegas for Nevada Republicans running in the upcoming midterm elections, including U.S. Sen. Dean Heller, 4th Congressional District candidate Cresent Hardy, and 3rd Congressional District candidate Danny Tarkanian, the Las Vegas Sun reported.
Trump also threw his support behind state attorney general and GOP gubernatorial nominee Adam Laxalt, calling him "a very popular guy in these parts with a great family."
During Laxalt's few minutes at the podium prior to Trump's raucous address, he told the crowd that "the far left has become unhinged." With that he pointed to Nevada's "neighbor to the west, California," noting that the Golden State possesses misplaced priorities, such as policing the use of "plastic straws" rather than paying attention to more pressing issues like its rampant homelessness.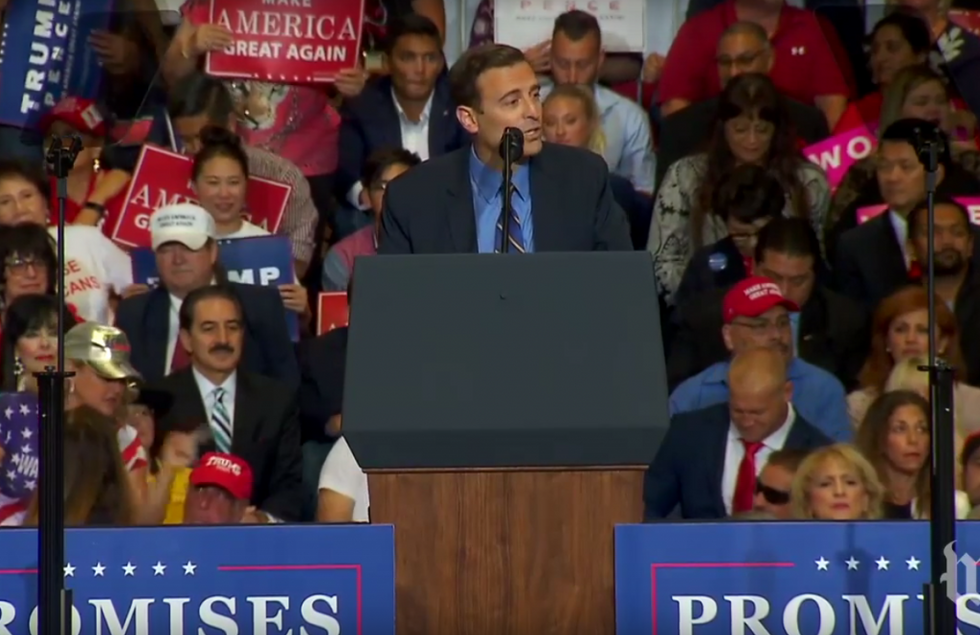 Nevada Republican gubernatorial nominee, Adam Laxalt, speaks at a rally Thursday in Las Vegas. (Image source: YouTube screenshot)
Laxalt added that he doesn't want Nevada to become like California — and warned it might if voters elect his opponent, Democratic gubernatorial nominee Steve Sisolak, noting Trump's nickname for him, "Shady Steve," and saying Sisolak is looking to raise property taxes.
"I will not raise taxes on hard-working Nevadans," Laxalt added to the crowd.
After holding a lead of less than 1 percent over Sisolak in late July, Laxalt found himself trailing his opponent by 2 points in a new poll released earlier this month.
What else did Trump say?
Trump urged Republicans to vote, the Sun reported, saying the party that wins the presidency cannot get complacent when election time comes around. He also took another shot at the media, which he said peddles "fake news."
Upon mentioning his opponent in the 2016 presidential election, former Democratic nominee Hillary Clinton, the crowd responded with its "lock her up!" chant.
Convention center security estimated the audience members numbered between 7,500 and 10,000, the paper said, with another 10,000 turned away over capacity limitations.
The anti-Trump contingent
Progressive groups protested outside the venue, the Sun reported, as one anti-Trump member chanted, "We believe women, we believe women!" in reference to Trump's Supreme Court nominee Brett Kavanaugh, who was accused of a sexual assault last week in an incident that allegedly occurred over 35 years ago.
"I don't think anybody can send a message to Donald Trump," Battle Born Progress Executive Director Annette Magnus told the paper. "I don't think he listens to anybody, especially when reason or logic are involved, but we do need to send a message to Nevadans tonight that Dean Heller and Adam Laxalt are no different than Donald Trump. Their rhetoric is exactly the same, their policies are exactly the same."
Here's part of Trump's speech during which he talks about the wall he wants at the U.S.-Mexico border: