A shaggy, bespectacled male was caught on video kicking a female pro-life advocate during a silent protest on a Toronto street corner before running away when authorities were contacted, the victim wrote in an account for LifeSite.
Marie-Claire Bissonnette, a youth coordinator for Campaign Life Coalition in Toronto, said her attacker appeared to be in his late 20s and that she began recording him on her cellphone after he committed acts of vandalism to other pro-life advocates during Sunday's incident.
Here's the clip:

What happened?
Bissonnette noted that a pro-abortion woman "peacefully" stood among the pro-life protesters holding a sign that read, "My body, my choice, my right."
And then our hero emerged — decked out in a purple hoodie and what appeared to be a pentagram necklace.
First he took out two markers and defaced two pro-life signs, Bissonnette said. But after she warned her allies to shield their signs, he ran up behind five pro-life protesters — including a 10-year-old girl — and scribbled on their backs, ruining their clothing, she added.
Bissonnette said she then started recording and telling him he was committing destruction of private property. He replied by asking if a 16-year-old girl who gets pregnant after being raped should keep her baby, she said, adding that she tried to explain that her baby should be treated no differently than a 3-year-old child who may have been conceived by rape.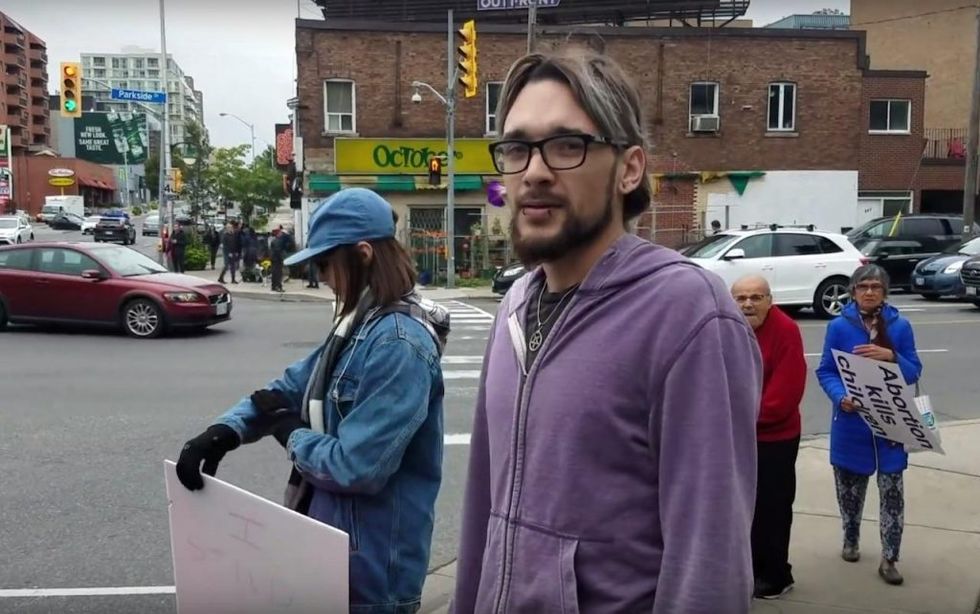 Image source: YouTube screenshot
'He then forcefully roundhouse-kicked me in the shoulder'
Here's what Bissonnette said happened next:
He then forcefully roundhouse-kicked me in the shoulder, which sent my phone flying, and I yelled for someone to call the police. In defense of his violence he claimed he'd meant to kick my phone, and then, as a fellow Life Chain participant dialed 911, he yanked off the ribbon I'd been wearing on my chest and ran away, heading east on Bloor.

Image source: YouTube screenshot

A police car arrived, 5 to 10 minutes later. The policemen rolled down their window but did not exit their vehicle.

I approached them and told them I was just assaulted and explained the situation. I showed them the video. They replied, "What do you want us to do about it?"

As I was on the verge of tears and shaking from the adrenaline, I didn't know what to say. I asked what my options were, and they replied that I could file a complaint but warned that I'd have to take him to court, and only if they were able to find him, but given that it wasn't a "serious case of assault," he'd be likely to be given probation or less.

I asked if I could file a complaint without going to court and they said no.
'Still shaking with eyes red from crying'
Bissonnette wrote that she declined to pursue the incident further over the officers' "apparent indifference" — but that two hours later she was experiencing pain in her shoulder and "filed a report with a different set of officers who were significantly more helpful, even offering a trauma support group after they visited my house and saw me still shaking with eyes red from crying. The police are still looking for my attacker and he has yet to be identified."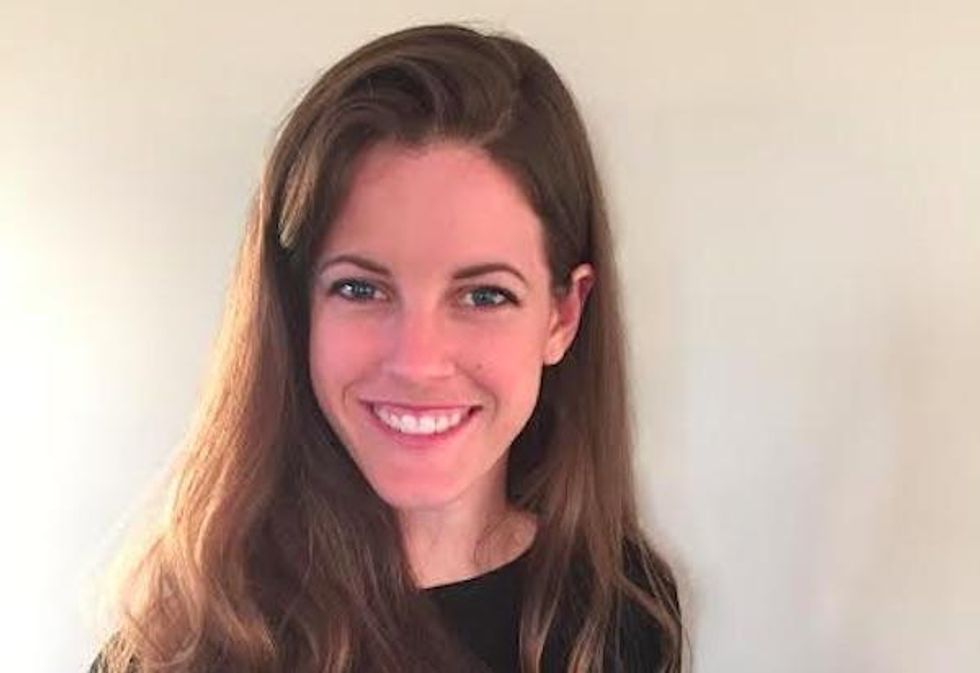 Marie-Claire Bissonnette, used by permission of subject
Bissonnette on Wednesday told TheBlaze that while she was in "minor pain" and "emotionally shaken up until today," she's otherwise "fine" and has no bruises. Toronto police on Wednesday told TheBlaze an investigation is ongoing and no arrests have been made.
'Not a rare occurrence'
Bissonnette noted that violence against pro-life advocates "is neither a single nor a rare occurrence."
More from her piece:
Elsewhere on the same day, a man was standing and silently praying at the corner of Confederation and the Queensway in Mississauga when a woman approached him from behind and poured paint all over his jacket and pants. He was oblivious to what was happening until he felt the liquid and turned around to see the woman grinning at him.

He told me: "These people are more and more aggressive because they have the support from the government and the media". In 2014 Michael Panagapko of Toronto was convicted of assaulting a woman during the 2013 Life Chain with a knife. He poured water on her, threw the bottle in her face, pulled her to the ground by her hair and beat her by punching and kicking her, before pulling out his knife. YouTube is full of documented evidence of violent attacks on peaceful pro-lifers.

I've participated in many public pro-life activities throughout my life. This isn't the first time I've been attacked. Rocks have been thrown at me. I've been spat upon multiple times and pushed. Men have aggressively asked how I would like it if they raped me and forced me to have an abortion. There is a media-driven narrative that pro-life activists are violent and a danger to women. This is a bald-faced lie. The only violence or aggression I've witnessed in my many years in the pro-life movement comes entirely from pro-abortion activists, and yet it's rarely, if ever, reported.
You can read Bissonnette's entire account here.
(H/T: Louder With Crowder)