© 2023 Blaze Media LLC. All rights reserved.
Hair salon identifies man who 'roundhouse-kicked' pro-life woman on video — and it just fired him
A Toronto hair salon fired a man it identified as the attacker of a female pro-life activist at a silent rally Sunday, Global News reported.
"It has been brought to our attention that Jordan Hunt has been caught on camera assaulting an innocent bystander at a pro-life rally. We don't condone his actions, and he has been let go," Noble Studio 101 noted in an Instagram post Wednesday. "We believe that everyone has a right to an opinion and the right to voice their opinion without fear of physical violence."
Toronto police told Global News on Wednesday evening they could not confirm the identity of the man in the video and that it isn't clear if Hunt has been identified as a person of interest or if any charges are coming in connection to the incident.
A spokesperson for the hair studio was unavailable for comment Wednesday evening, Global News said.
The outlet added that an apparently deleted profile from the business' website found through an internet cache shows the photo of a man "with the same physical features as the man seen in the video posted online."
The following is the same image and accompanying bio that Global News said it discovered:
Image source: Twitter
TheBlaze on Thursday was unsuccessful in its attempt to reach Hunt for comment.
What's the background?
Marie-Claire Bissonnette, a youth coordinator for Campaign Life Coalition in Toronto, noted in a LifeSite account that she was the victim of the attack. She said her assailant appeared to be in his late 20s and that she began recording him on her cellphone after he committed acts of vandalism to other pro-life advocates.
Bissonnette said the man defaced pro-life signs with markers and then scribbled on the backs of protesters, one of them a 10-year-old girl. He also appeared to be wearing a pentagram necklace.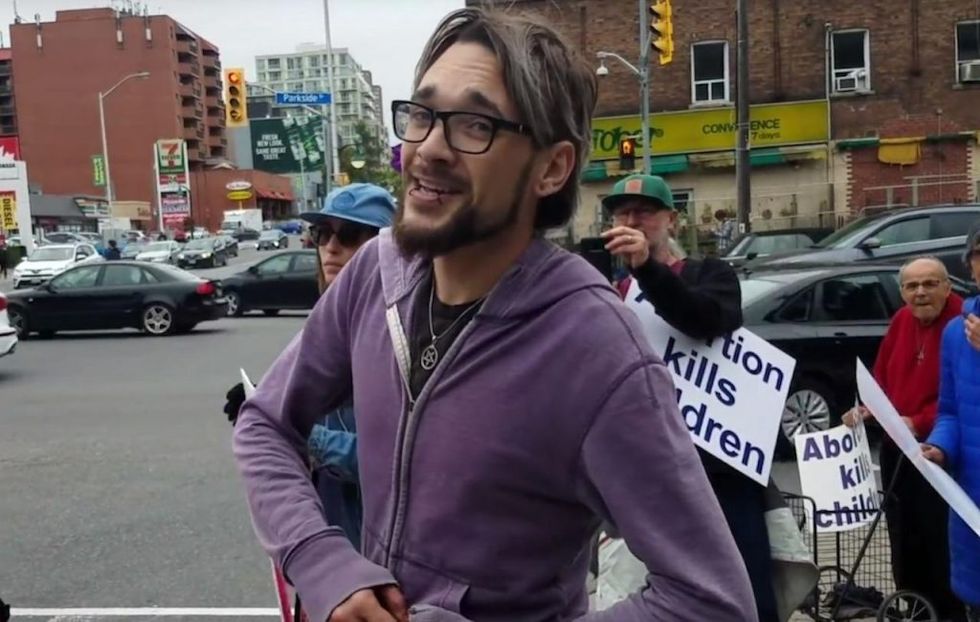 Image source: YouTube screenshot
After a short argument between her and the man in the clip, Bissonnette said he "forcefully roundhouse-kicked me in the shoulder, which sent my phone flying, and I yelled for someone to call the police. In defense of his violence he claimed he'd meant to kick my phone, and then, as a fellow Life Chain participant dialed 911, he yanked off the ribbon I'd been wearing on my chest and ran away, heading east on Bloor."

More from her account:
A police car arrived, 5 to 10 minutes later. The policemen rolled down their window but did not exit their vehicle.

I approached them and told them I was just assaulted and explained the situation. I showed them the video. They replied, "What do you want us to do about it?"

As I was on the verge of tears and shaking from the adrenaline, I didn't know what to say. I asked what my options were, and they replied that I could file a complaint but warned that I'd have to take him to court, and only if they were able to find him, but given that it wasn't a "serious case of assault," he'd be likely to be given probation or less.

I asked if I could file a complaint without going to court and they said no.
'Still shaking with eyes red from crying'
Bissonnette wrote that she declined to pursue the incident further over the officers' "apparent indifference" — but that two hours later she was experiencing pain in her shoulder and "filed a report with a different set of officers who were significantly more helpful, even offering a trauma support group after they visited my house and saw me still shaking with eyes red from crying."
Marie-Claire Bissonnette, used by permission of subject
Bissonnette on Wednesday told TheBlaze that while she was in "minor pain" and "emotionally shaken up until today," she's otherwise "fine" and has no bruises.
Want to leave a tip?
We answer to you. Help keep our content free of advertisers and big tech censorship by leaving a tip today.
Sr. Editor, News
Dave Urbanski is a senior editor for Blaze News.
DaveVUrbanski
more stories
Sign up for the Blaze newsletter
By signing up, you agree to our
Privacy Policy
and
Terms of Use
, and agree to receive content that may sometimes include advertisements. You may opt out at any time.