The man accused of physically attacking the campaign manager of Nevada Republican gubernatorial nominee Adam Laxalt was fired over the incident by a progressive group that monitors the GOP, CNN reported.
"Last night one of our employees was involved in an incident with a member of Adam Laxalt's campaign in Nevada," an American Bridge official, who declined to be named, told CNN. "In response to that incident, we have decided to relieve this employee of his duties with American Bridge effective immediately."
What is American Bridge all about?
"American Bridge 21st Century is a progressive research and communications organization committed to holding Republicans accountable for their words and actions and helping you ascertain when Republican candidates are pretending to be something they're not," the outfit's website reads.
Who was charged in the incident?
Wilfred Michael Stark, 50, was booked Tuesday into the City of Las Vegas Detention Center. Stark was charged with misdemeanor battery, according to the Las Vegas Municipal Court. He's scheduled for a Nov. 19 court appearance.
Jace Radke, a Las Vegas spokesperson, told CNN in a statement that Stark had been released from jail after posting bail.
What happened?
Laxalt's campaign manager, Kristin Davison, wrote in a declaration of citizen's arrest that the incident occurred while she was speaking to Laxalt — the state's attorney general — in a room in the East Las Vegas Community Center. Laxalt campaign spokesman Parker Briden told TheBlaze that Davison and Laxalt were at an education rally.
Davison said a "large man, since identified as Mike Stark, aggressively interrupted our conversation … by yelling and physically shoving a camera and his body" at her and Laxalt. She added that Stark followed her and other Laxalt staffers out of the room and began shoving them — adding that Stark pushed her several times.
Davison noted that she, her staff, and Laxalt then entered a room and closed the door — but Stark "pushed the door wide open, trapping myself and staff in the doorway" and then "grabbed my right arm, twisted it behind my back" and "squeezed it very hard…" and soon grabbed her neck as well.
"I was terrified," Davison added in her declaration, "and at that point saw multiple colleagues try to pull him off me, but Stark held tight. Finally police were called."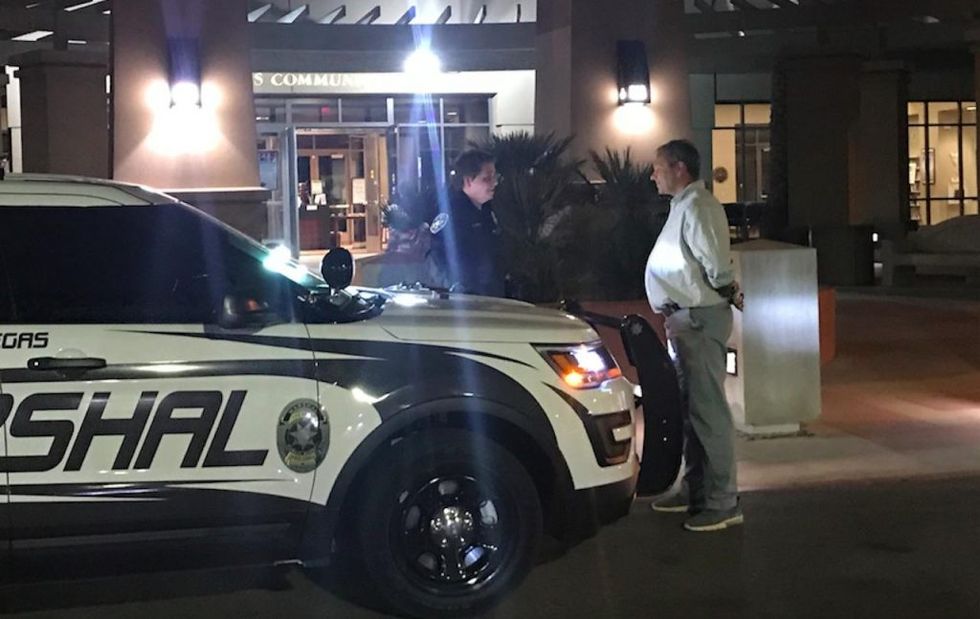 The campaign for Nevada Republican gubernatorial nominee Adam Laxalt told TheBlaze on Wednesday the man in the photo facing the officer is Wilfred Michael Stark, who was arrested Tuesday night in Las Vegas on a battery charge. Laxalt's campaign manager Kristin Davison said Stark attacked her. (Image source: Adam Laxalt campaign, used by permission)
Davison added that she has bruises and is in pain. Briden told TheBlaze that Laxalt doesn't usually have security.
Here's an image of Davison's declaration: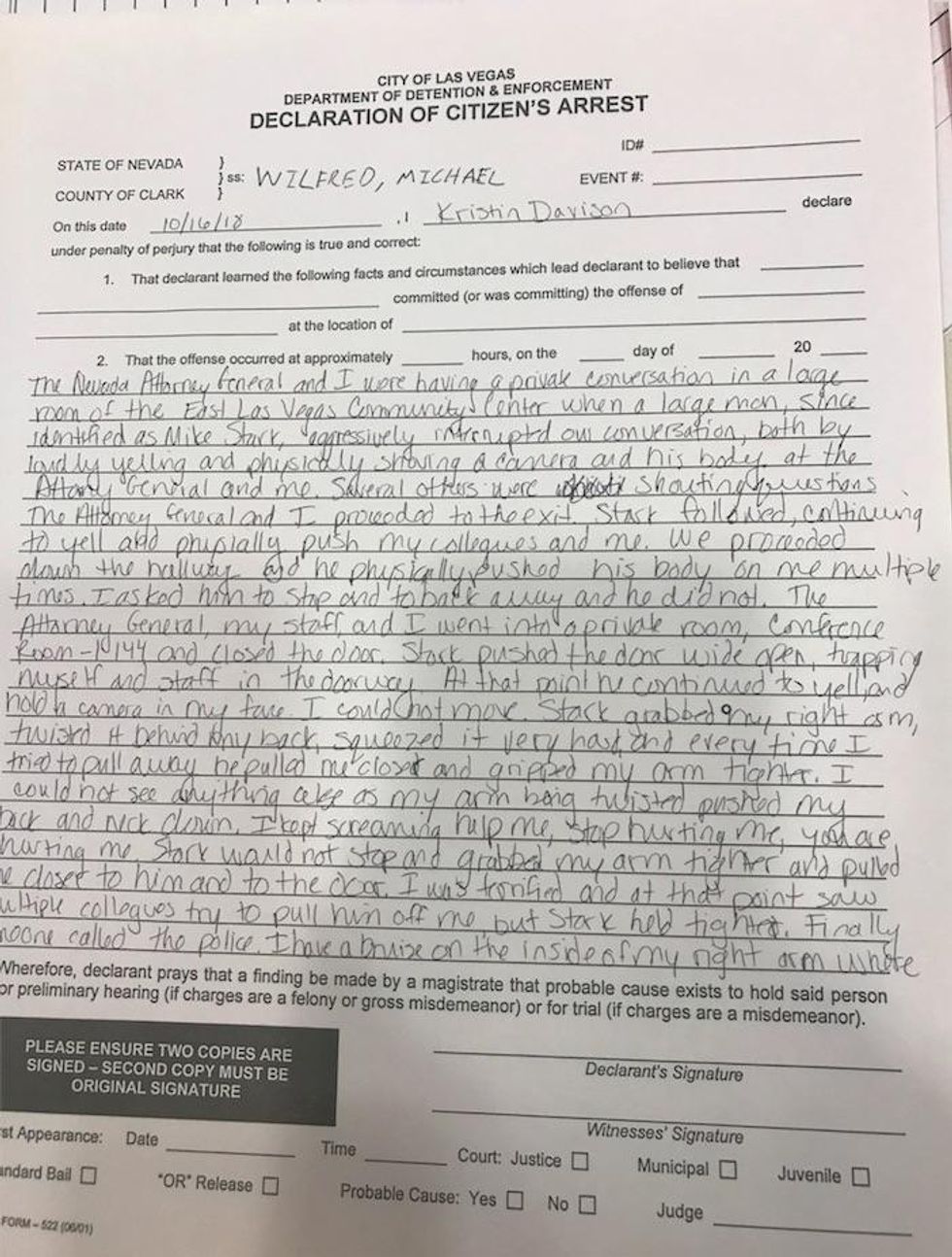 Image source: Adam Laxalt campaign, used by permission
What else did Davison say about Stark?
Davison confirmed to TheBlaze that Stark is the same man who made headlines after previous similar incident, including last year when a Mike Stark — identified as working for liberal media outlet Shareblue — was taken down and arrested by police while filming a parade in Annandale, Virginia, that then-Republican gubernatorial candidate Ed Gillespie was attending.
Officers told Stark to get out of the road and leave Gillespie alone, after which Stark admitted to cursing at the officer, and then the takedown commenced, WJLA-TV reported.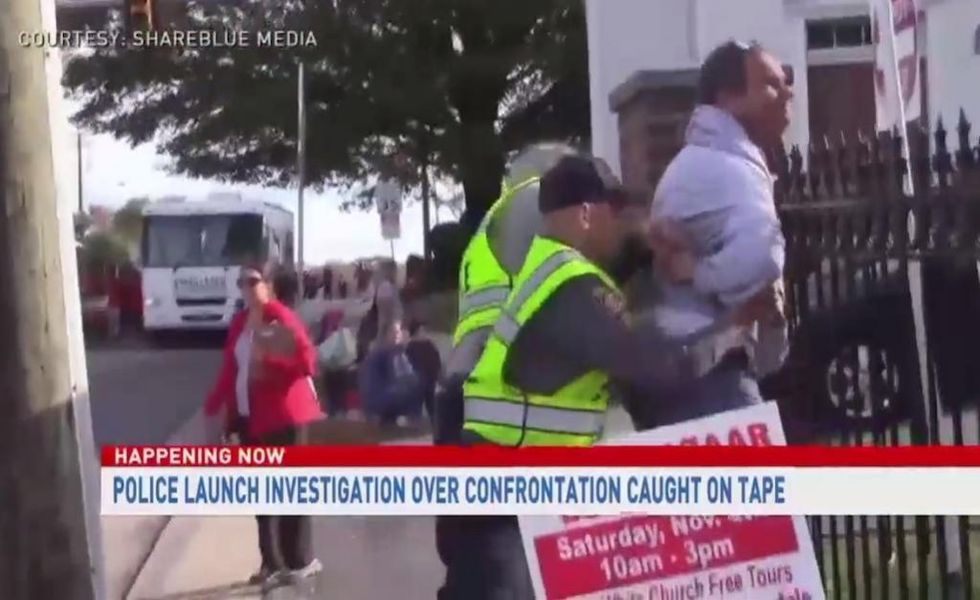 Image source: WJLA-TV video screenshot
"Captain flat out told me that if I cuss again I'm going to jail," Stark told the station. "I have a defiant streak, and I said the 'F-word this,' and I went to jail."
What did Laxalt's gubernatorial opponent have to say?
The campaign of Nevada Democratic nominee Steve Sisolak as well as state Democratic Party officials denied affiliation with Stark, the Associated Press reported.
"No one should ever feel unsafe at a political event," Sisolak spokeswoman Christina Amestoy added to the outlet. "We strongly condemn this violence."
It was not immediately clear if Stark had a lawyer, the AP said, adding that jail records didn't specify a bail amount.
"Last night, politics in Nevada reached a new low," Briden also told TheBlaze, adding the incident was "disgusting" and "has no place in our system."