Protesters didn't take too kindly to the city council of Duluth, Minnesota, considering the police department's request for protective crowd-control equipment — and told the governing body in no uncertain terms at the Oct. 22 meeting, the News Tribune reported.
What went down?
"They are militarizing the police ... and we've had enough!" one protester was heard saying in a video of the demonstration as others chanted, "No Line 3! No riot gear for the DPD!" Line 3 refers to an oil pipeline coming through the area, Minnesota Public Radio reported.
The protesters — some clad in dark hoodies with their faces covered and carrying signs — were able to shut down the Duluth City Council meeting, as members recessed amid the disruptive chanting, the paper said. But it was only temporary.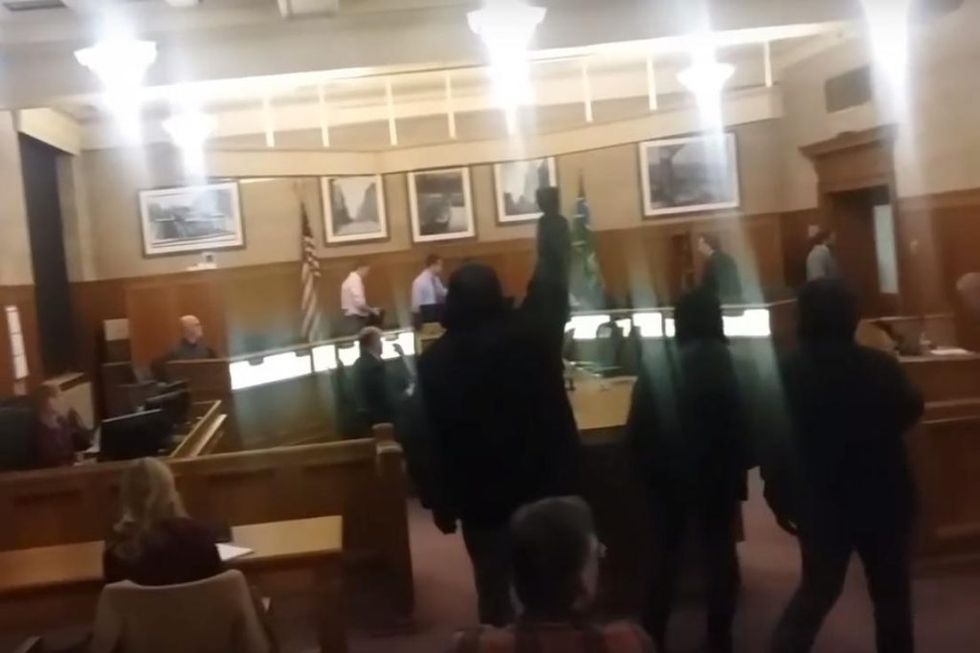 Image source: YouTube screenshot
After a 30-minute recess, Council President Noah Hobbs tried to quiet the crowd so the council could listen to public comments, but protesters answered with music from a portable speaker and additional shouting, MPR said.
With that, Hobbs simply called for a vote, the station said: "All those in favor of Resolution 674, please signify by raising your hand."
The measure to purchase items such as helmets with visors and elbow and chest pads passed 6-2, the station added, and the meeting adjourned to a chorus of further outrage from protesters. The familiar "no justice, no peace!" chant was heard, the News Tribune said.
Although one brave soul — presumably in favor of the measure — waved a thin-blue line American flag after the vote: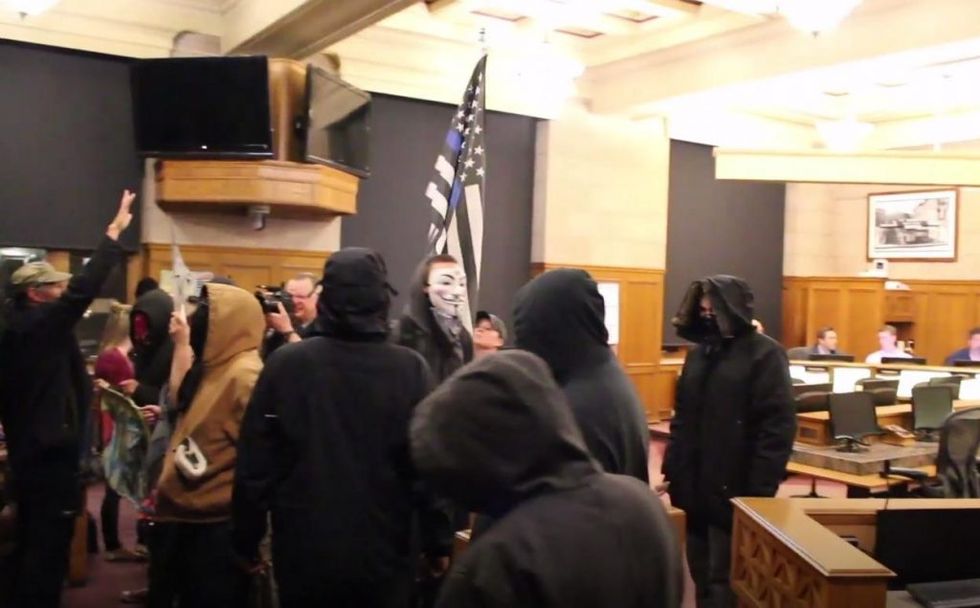 Image source: News Tribune video screenshot
City Council Member Arik Forsman — who voted for the $84,000 equipment purchase — told MPR he wants to protect police officers' bodies as well as their morale.
"I was concerned that if we didn't move forward and show folks that we do support our police officers, that we were going to earn a reputation in this city as one that doesn't support them," he added to the station.
The News Tribune said it appeared more people in the meeting room were against the equipment purchase than for it.
What did the local NAACP have to say?
The Duluth branch of the NAACP asked the council keep the purchase request tabled to allow more time for the Citizens Review Board to examine community input on the equipment purchase, the paper said.
"It is imperative that any actions relating to a potential increase in police power happen only after thorough discussion with communities of people of color, American Indians, homeless people, LGBTQ, and others that suffer disproportionate levels of police violence," the NAACP's statement said, the News Tribune reported.

(H/T: Blue Lives Matter)