A Kentucky father admitted it was "in bad taste" to dress his 5-year-old son as Adolf Hitler and himself as a Nazi soldier for a Halloween event in Owensboro last week, WEHT-TV reported.
"I think it was in bad taste for me to let my child to wear that, probably for me to wear that. It didn't occur to me," Bryant Goldbach told the station Tuesday after thinking it over. "I thought it was a bad decision on my part."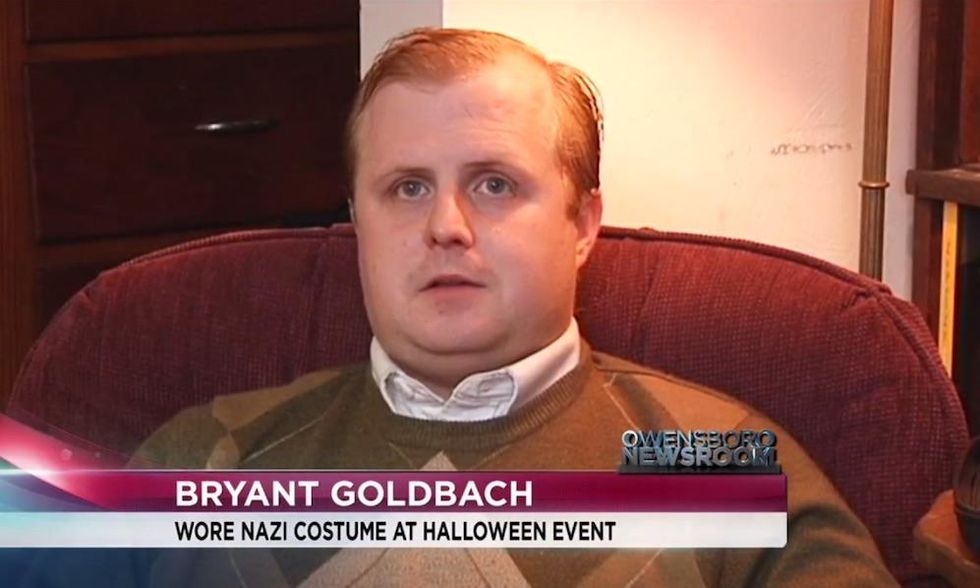 Image source: WEHT-TV video screenshot
What happened?
Goldbach explained to WEHT that he's a history buff and possesses a "devotion to living history."
He added to the Owensboro Times that he dressed as a Confederate soldier last Halloween and a Catholic priest the year before that. Goldbach performs in Civil War and World War II reenactments, the paper noted, adding that Goldbach played a German soldier in a Rockford, Illinois, reenactment.
But when his son asked if he could dress like him this Halloween, Goldbach told the Times he "didn't think it through" and was soon confronted at Thursday's Trail of Treats event for his Nazi soldier costume and his son's Adolf Hitler getup — complete with the dictator's notorious square mustache.
Soon after Goldbach hit social media to complain about how others treated him. The Courier & Press said one of his posts indicated his son was threatened:
"....we saw people dressed as murderers, devils, serial killers, blood and gore of all sorts. Nobody batted an eye. But my little boy and I, dress as historical figures, and it merits people not only making snide remarks, but approaching us and threatening my little 5-year-old boy. ... Yes liberalism is alive and well. And we had the displeasure of dealing with the fruits of the so-called Tolerant Left.'"
Goldbach added on his Facebook post that adults were "screaming obscenities" and threatened to rip off his son's costume, the Courier & Press reported.
"First off, it's none of your business. Second, how dare you!" he wrote, the paper said. "I mean how dare you threaten a child. Me, it's one thing, but my child? You are messing with fire."
The Courier & Press said screenshots of Goldbach's Facebook page prior to his apology show slogans like "White pride doesn't mean hate," "Being liberal means being a hypocrite," and stances against social-justice causes such as "white privilege."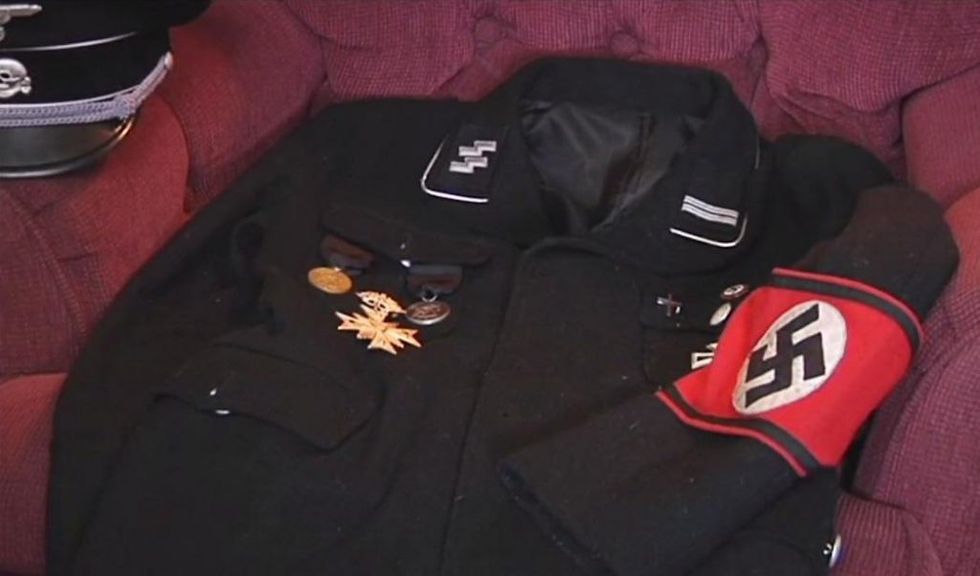 Image source: WEHT-TV video screenshot
But Goldbach told the Times he isn't racist and views white supremacy as "disgusting."
"My brother is half-Iranian," he added to the Times. "I have black friends. My last name is Jewish."
The Washington Post said his posts have been taken down or set to private.
The apology
Goldbach later told WEHT, "I'm sorry. I feel like I've hurt a lot of people, and I'd give anything to make it right."
Rabbi Gary Mazo of Temple Adath B'nai Israel in Evansville, Indiana — about an hour northwest of Owensboro — told the station that "the fact that the father apologized is important; the fact he did not know the costumes would be offensive is a very sad reflection on our society. A good rule of thumb would be: 'If your costume calls to mind an event where millions were killed, choose another costume.'"