After President Donald Trump tweeted out a racially charged campaign video, CNN dropped all pretense of being objective and decided to run allegedly hard news stories that were written like editorials, decrying both Trump and the GOP as a whole for being racist days before the midterm elections.
CNN repeatedly asserted, both on its cable broadcasts and on stories posted on the CNN.com website, that the ad was "racist" and that the GOP's strategy was "racist."
Wait...what campaign video?
On Wednesday, President Donald Trump tweeted out a campaign video that showed an illegal immigrant who was also an unrepentant murderer. "Illegal immigrant, Luis Bracamontes, killed our people!" captions on the video read. "Democrats let him in."
The video ends with an overhead shot of the migrant caravan currently working its way up from Central America and the caption "Who else would Democrats let in?" which quickly switches back to a shot of Bracamontes' face.
Bracamontes had been deported twice, but had re-entered the country and killed two California police officers. He was sentenced to death in April in Sacramento.
At the time of publication of this article, that tweet is pinned to the top of Trump's Twitter profile.
It is outrageous what the Democrats are doing to our Country. Vote Republican now! https://t.co/0pWiwCHGbh https://t.co/2crea9HF7G

— Donald J. Trump (@Donald J. Trump) 1541017087.0
What did CNN say?
CNN called this ad "the most racially charged national political ad in 30 years," comparing it to the 1988 "Willie Horton" ad run in support of former President George H.W. Bush's campaign.
In the campaign video with Bracamontes, CNN said, "President Donald Trump and the Republican Party accuse Democrats of plotting to help people they depict as Central American invaders overrun the nation with cop killers."
The video was produced by Jamestown Associates, a GOP consulting firm, on behalf of the Trump campaign.

(Image source: CNN.com screenshot)
In a separate article, CNN said that the ad "represented a new flashpoint in a culture war he is stoking ahead of next week's midterm elections." It also claimed that it was "part of a broader strategy GOP candidates are using in key House, Senate and governor's races."
To support this broader point, that this approach is the work of a broader Republican party, CNN points to an ad by U.S. Senate candidate Rep. Marsha Blackburn (R-Tenn.), which claims that a migrant caravan heading toward the U.S. border from Central America is filled with "gang members, known criminals, people from the Middle East, possibly even terrorists."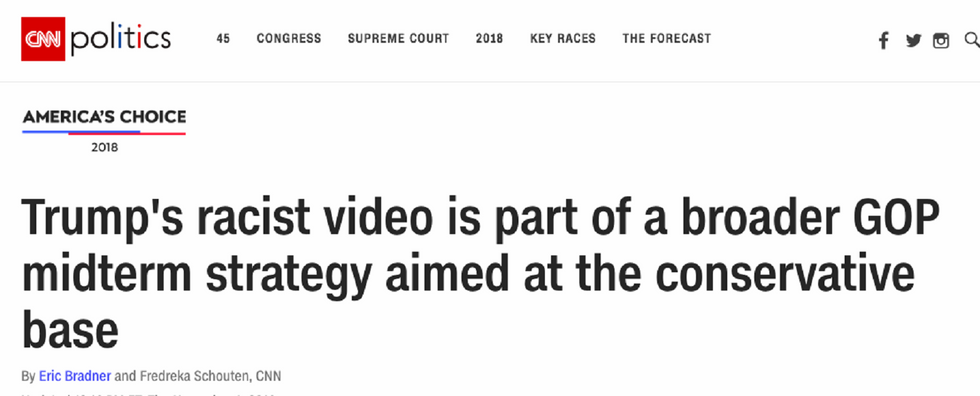 (Image source: CNN.com screenshot)
But several prominent Republicans had come out and condemned the ad, including Sen. Jeff Flake (R-Ariz.), Sen. Bob Corker (R-Tenn.), Rep. Carlos Curbelo (R-Fla.) and former-Florida GOP chairman Al Cardenas. One of the CNN articles does mention Curbelo, but portrayed him as an outlier. Curbelo, it argued, was running in a moderate district. Republicans in red districts would agree with the ad and come out to vote.
The text of both of these articles reads like an opinion piece from a Democratic campaign operative. Instead of stating that some people find the ad offensive and explaining why, CNN takes a position itself on both this ad and GOP politics as a whole.
Both articles included the same video from CNN "New Day," which begins by saying: "President Trump embracing demagoguery, tweeting the most racially-charged political video in decades, demonizing immigrants, and accusing Democrats of plotting to overrun the country with criminals."
"The new campaign web video was the culmination of a day on which the President staked out ever more extreme positions," CNN White House Reporter Stephen Collinson wrote in one of the articles, quoting nobody but himself. "He took advantage of his role as commander-in-chief to promise to triple the number of troops to 15,000 that he has pledged to send to the southern border to repel the caravan -- which is still hundreds of miles away."
He called Trump's strategy with this ad "combustible," "increasingly frantic," and speculated that it could be "a sign of political weakness" for GOP House races.
CNN also ran chyrons throughout the day that explicitly called the ad "racist."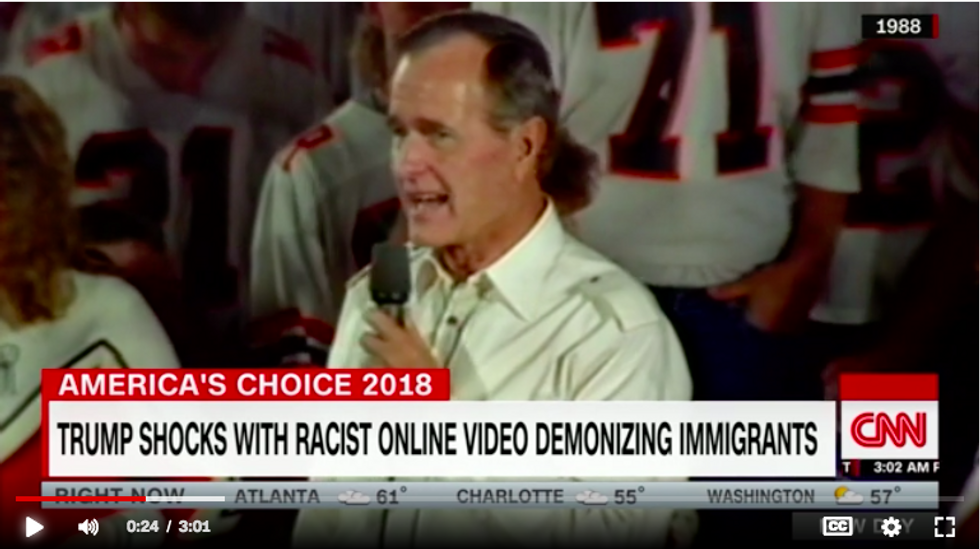 Some context on the Willie Horton ad references
In the 1988 ad, the National Security PAC pointed out that Bush's opponent, former-Massachusetts Gov. Michael Dukakis, supported the idea of weekend passes for felons. It then highlighted a felon who committed murder while on furlough. The people behind the ad insisted that it was meant to show that Dukakis was not tough enough on crime, while critics said that it reinforced black stereotypes.