It's true that sometimes a picture is worth a thousand words. And other times a thousand words tell you more than 10,000 pictures. What conveys the true depth of a moment can differ from one to the next.
It can even be a cartoon.
In the case of memorial tributes to the late President George H. W. Bush, who died at the age of 94 on Friday, there are all kinds of tributes, in words and pictures, that tell the story. The articles across America's news and politics publications detailing his life are informative. The words from President Trump and former President Obama, from his children and friends, are important and moving.
There are others, too. From across the aisle, Rep. Nancy Pelosi said that the late president "profoundly believed in the power of ordinary Americans to make a difference." Citing perhaps his most famous phrase, she said that his "belief in a 'kinder, gentler' America encouraged people to embrace the spirit of service and encouraged them to share his vision of 'a thousand points of light."
And Sen. Chuck Schumer said "President George H.W. Bush will be greatly missed in many ways. He was a fine man and even when he opposed your views, you knew he was doing what he thought was best for America."
Bill Clinton spoke of the letter he received from Bush, hand-written, as they transitioned from one administration to the next in the White House.
"No words of mine or others can better reveal the heart of who he was than those he wrote himself," he wrote today. "He was an honorable, gracious and decent man who believed in the United States, our Constitution, our institutions and our shared future."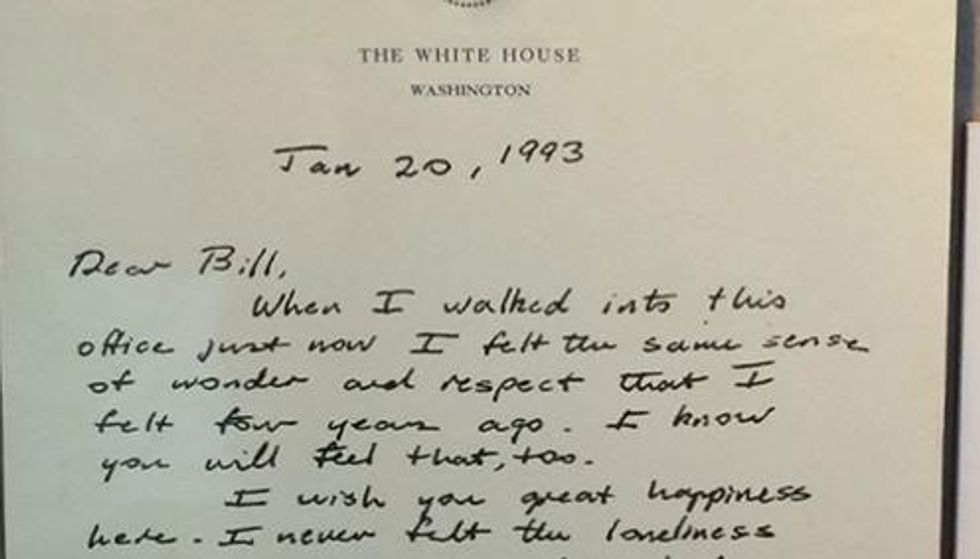 (Click to view the letter.)
A tweet thread from commentator David Burge (Iowahawk) is well worth reading today, the military service of presidents.
Farewell to last Greatest Generation president. Every US pres from 1952 to 1992 served in uniform during WW2, and f… https://t.co/fyyGjmbmci

— David Burge (@David Burge) 1543675550.0
There are many more. But sometimes a thousand tributes can have less impact than a single, drawn image. In this case, an editorial cartoon from Marshall Ramsey of the Clarion Ledger, shared below by President Bush's longtime spokesman.
#Remembering41 https://t.co/RH24HBTouD

— Jim McGrath (@Jim McGrath) 1543673056.0
It shows George, reunited with his dear wife Barbara, and the child who went before them, Robin, who died tragically of leukemia at age the age of 3 in 1953.
Ramsey's image is a follow-up to his cartoon drawn after Barbara Bush died earlier this year, which spread over social media and drew thanks and praise from the family, including the former President himself.
One moment from Barbara Bush's passing that struck me was that he greeted every mourner who came to her casket. He… https://t.co/mHa5wmPU5J

— Marshall Ramsey (@Marshall Ramsey) 1543645976.0
From world leaders to everday people, it is family that matters the most in the end, and love that leads us to the next life. A truly touching tribute.