More than 3,000 ISIS members have surrendered to U.S.-backed Syrian forces in the town of Baghouz.
"Number of Daesh members surrendered to us since yesterday evening has risen to 3000. 3 Yazidi women and 4 children were rescued, too," Syrian Democratic Forces spokesman Mustafa Bali tweeted Tuesday.
Number of Daesh members surrendered to us since yesterday evening has risen to 3000. 3 Yazidi women and 4 children were rescued, too.

— Mustafa Bali (@Mustafa Bali) 1552424692.0
The ISIS fighters and family members were part of the last holdout group that the Kurdish-led SDF had been flushing out in attacks in the region over the past three days, the Washington Examiner reported. In 2014, ISIS had declared itself a caliphate as it began taking over large areas in Syria and Iraq.

"The objective of our advance is to terrorise IS fighters so they surrender, and for the civilians to come out," SDF Unit Commander Ali Cheir said before the terrorists surrendered Tuesday, according to the report.
Huge clouds of black smoke and fire filled the skies above the ISIS encampment in Baghouz as it came under fire for the three nights in a row. The eastern village is the last bit of territory in Syria and Iraq that had been claimed by ISIS.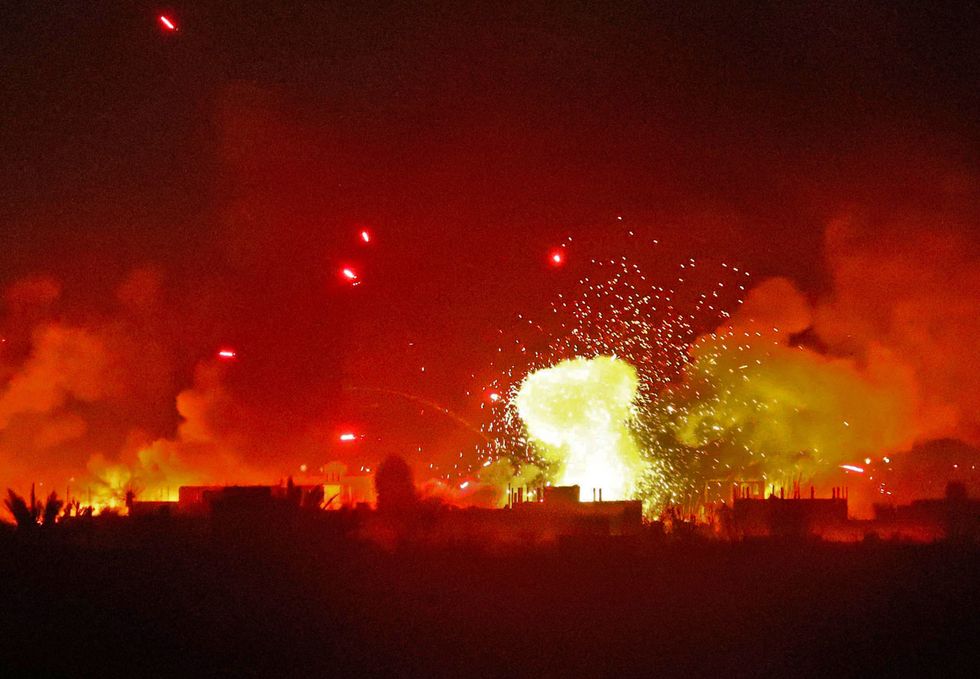 Delil Souleiman/AFP/Getty Images
At least 38 terrorists were killed during attacks at two weapons depots earlier in the day, CNN reported.
ISIS video encourages members to stay strong
On Tuesday, ISIS released a 2-minute video purportedly recorded in Baghouz, The Guardian reported.
A militant, who identified himself as Abu Abid al-Azeem urges ISIS followers to remain steadfast.
"What is our guilt? What is our crime?" al-Azeem said. "Why are we bombed by planes, why do all the nations of the unbelieving world come together to fight us? Why are we besieged, why are we bombarded day and night, and the world is silent, instead gathering together to fight and make war on us? We wanted to apply sharia law. Tomorrow, God willing, we will be in paradise, and they will be burning in hell."
What else?
In January, the U.S. began withdrawing troops from Syria following President Donald Trump drawdown order in December.
Trump's decision drew criticism from top military officials who said the U.S. would be abandoning its local Kurdish allies.
He later tweeted that "we will be leaving at a proper pace while at the same time continuing to fight ISIS and doing all else that is prudent and necessary!"
The Failing New York Times has knowingly written a very inaccurate story on my intentions on Syria. No different fr… https://t.co/kQrQPlAbJp

— Donald J. Trump (@Donald J. Trump) 1546872905.0
In February, the president predicted that ISIS would be eliminated within days.

"It should be formally announced sometime, probably next week, that we will have 100 percent of the caliphate," Trump said, according to NBC News.
At the time, U.S. officials said that the terrorists had lost all but two square miles of territory in Syria.
Trump later reversed his decision to withdraw all troops from the region. A few hundred American troops would remain for a period of time, White House press secretary Sarah Sanders said Feb. 22.
A bipartisan group of senators including applauded the move in a letter to the president.
"It is a tremendous accomplishment to defeat the caliphate, and we join you in deep appreciation fro the efforts of our military and our allies," the group wrote in the letter. "Our goal now must be to ensure ISIS is not able to regenerate and pose a threat to American security here at home or abroad."
"Like you, we seek to ensure that all of the gains made in Syria are not lost, that ISIS never returns, that Iran is not emboldened, and that we consolidate our gains and ensure the best outcome in Geneva for American interests," the letter continued.
"I agree 100% — All is being done," Trump wrote in a response directly on the letter and signed it.