A 62-year-old man was walking on West 44th Street near Eighth Avenue in the Hell's Kitchen neighborhood of New York City on Wednesday just after 5:30 a.m. when police said another man came up behind him and asked, "What are you looking at?" the New York Post reported.
What happened next?
A surveillance video captured the moment when the second man struck the elderly man with what appeared to be a rod or stick, knocking him to the sidewalk, police added to the paper.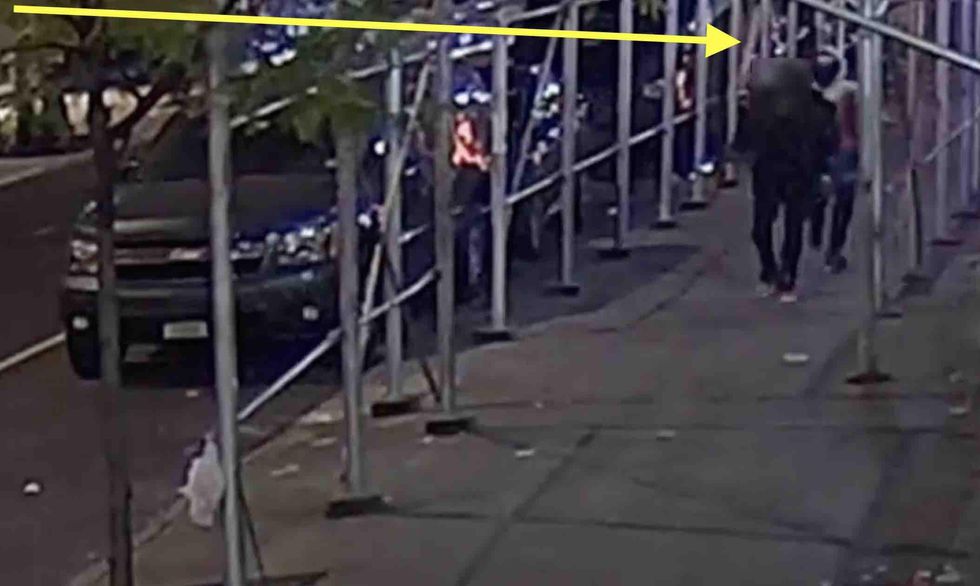 The attacker then reversed course and ran away from his victim, who was struggling to climb to his feet.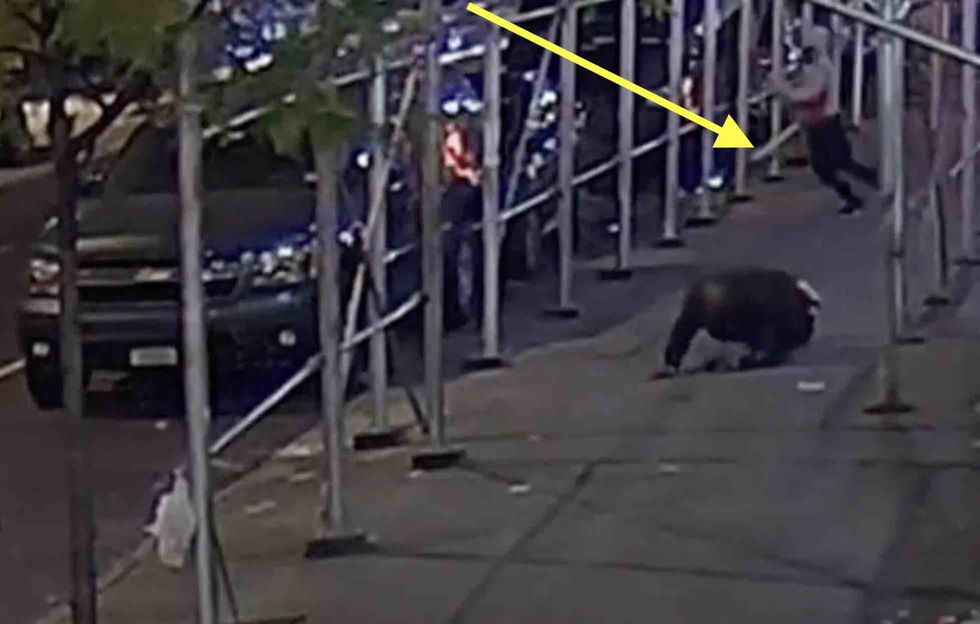 Image source: Twitter video screenshot via @NYPDTips
The attacker then made a left, ran between the parked cars, and made his way back down the street toward the elderly man — and that's when another six individuals are seen walking together toward the victim.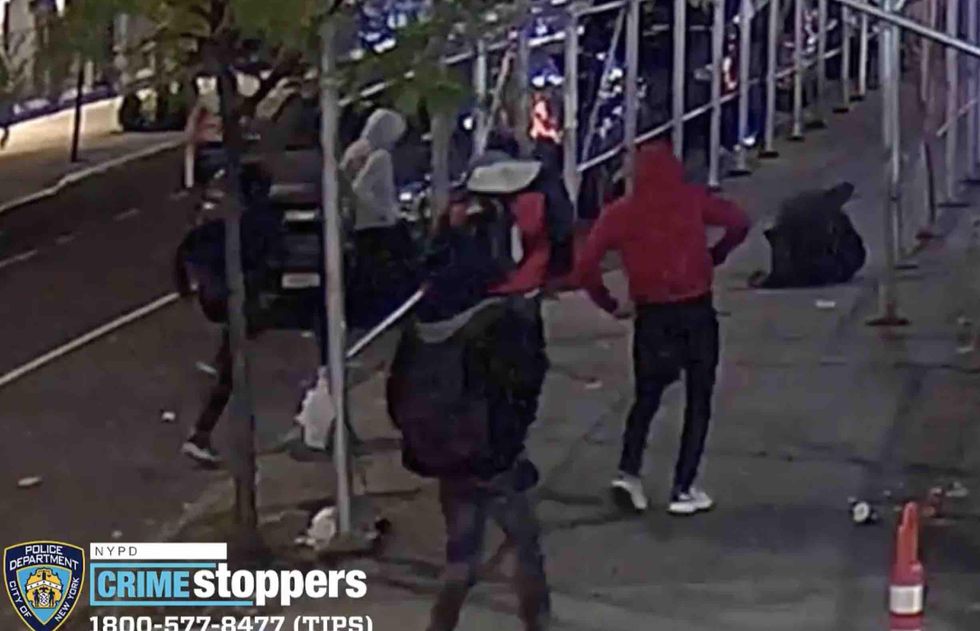 Image source: Twitter video screenshot via @NYPDTips
Most of them began physically attacking the man. Police said they stabbed and slashed him.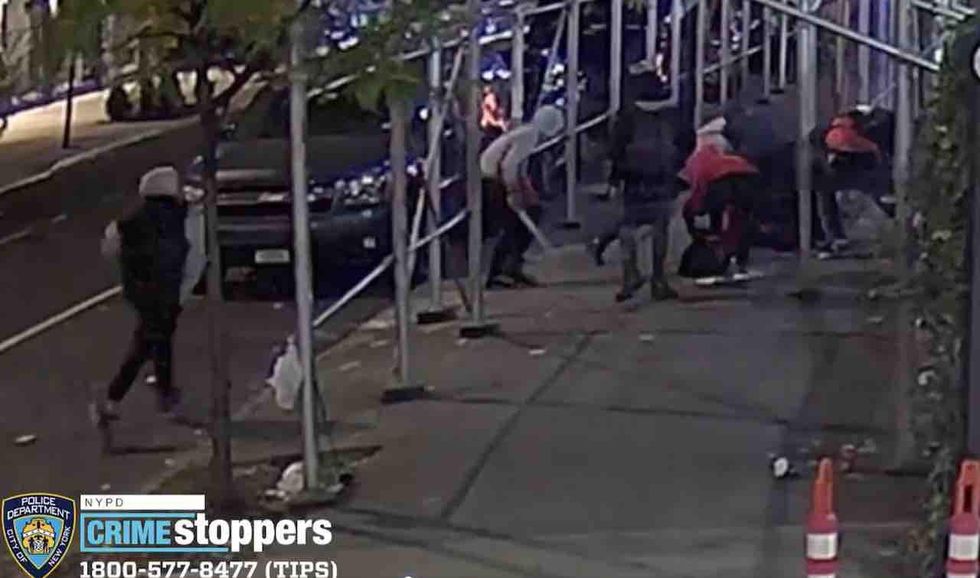 Image source: Twitter video screenshot via @NYPDTips
While there was no report made of property stolen from the man, one of the group who had not engaged in the attack appeared to grab an object, which apparently fell from the victim's possession as he was knocked to the ground, and place it in a pouch.
The suspects then strolled away. Check out their smiling mugs: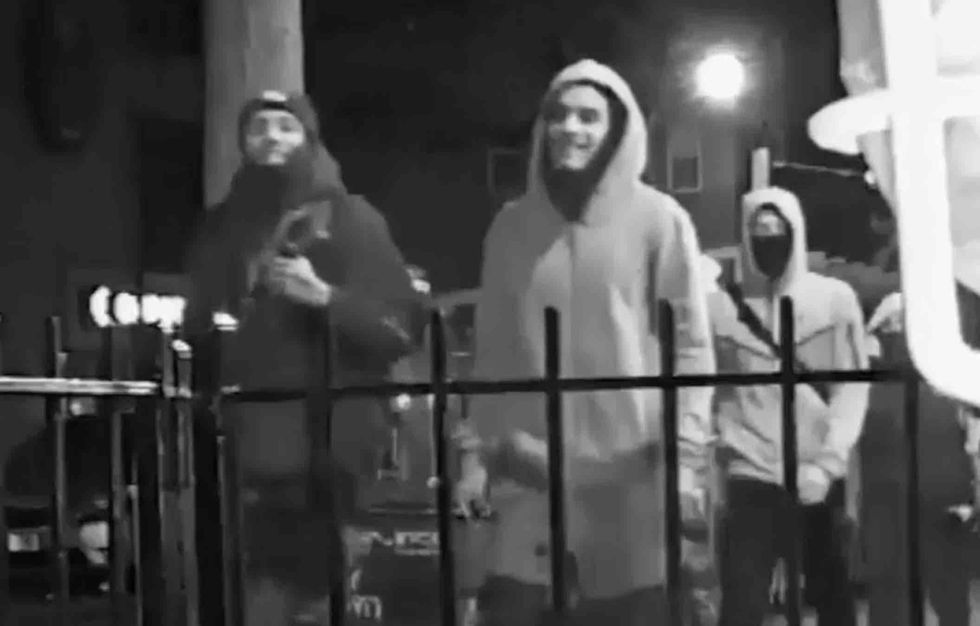 Image source: Twitter video screenshot via @NYPDTips
The Post said police were still looking for them Thursday morning.
What happened to the victim?
The victim was taken to Bellevue Hospital with stab and slash wounds to his torso, head, and nose, police told the paper, adding that he was initially listed in critical condition but has since stabilized.
Police don't believe the victim knew his attackers, the Post noted, adding that there is a reward worth up to $3,500 posted for information about the attack.
How did folks react?
Not surprisingly, those responding to the NYPD Crime Stoppers tweet about the incident were disgusted by the beatdown:
"A pack of animals! $3,500 reward? What for, so they can get arrested and be out on a no-cash bond in hours and never face prosecution," one commenter said. "I would absolutely be carrying a handgun if I lived in NYC. This keeps up and people are going to open-carry AR-15s (and I understand it)."
"Punks and cowards — that can hit a defenseless elder or anyone," another user declared. "They are wussies. I hope they are caught and prosecuted to the fullest extent. Is it not an auto 2 yrs for elder abuse? This is also the result of the Dem way of defunding police and elevating criminals."
"Round 'em up, lock 'em up, throw away the keys," another commenter suggested. "Can't let 'Satan's Demons' out in public to do that again, or send them to Afghanistan let the Taliban torture them for 50 years."