Actor and comedian Allen Covert fired back at those hoping Hurricane Dorian destroys President Donald Trump's Mar-a-Lago resort in Florida.
As Dorian, now a powerful category 4 hurricane, barrels toward Florida, critics of the president voiced their wish that Trump's Palm Beach resort suffers a direct hit.
"I'm rooting for a direct hit on Mar-a-Lago!" former Canadian Prime Minster Kim Campbell said.
Although Campbell has since deleted her original tweet, she later defended her words, connecting her animus for Trump and desire that Mar-a-Lago is destroyed to the president's environmental policy, which does not prioritize the climate change agenda.
And no, I don't wish anyone, anywhere, the horror of being hit by a Category 4 Hurricane. But not everyone can have… https://t.co/0UqvEFdQYu

— Kim Campbell (@Kim Campbell) 1567120871.0
What did Covert say?

The actor, who frequently stars alongside his friend Adam Sandler, said the hatred of those wishing east Florida suffers a direct hit has devolved them to "become worse than what you hate."
"My family lives about 10 miles from Mar-a-Lago so all of you people cheering the fact that Dorian might wipe it out can kindly go f**k yourselves. You have sunk so low in your hatred that you have become worse than what you hate," Covert said.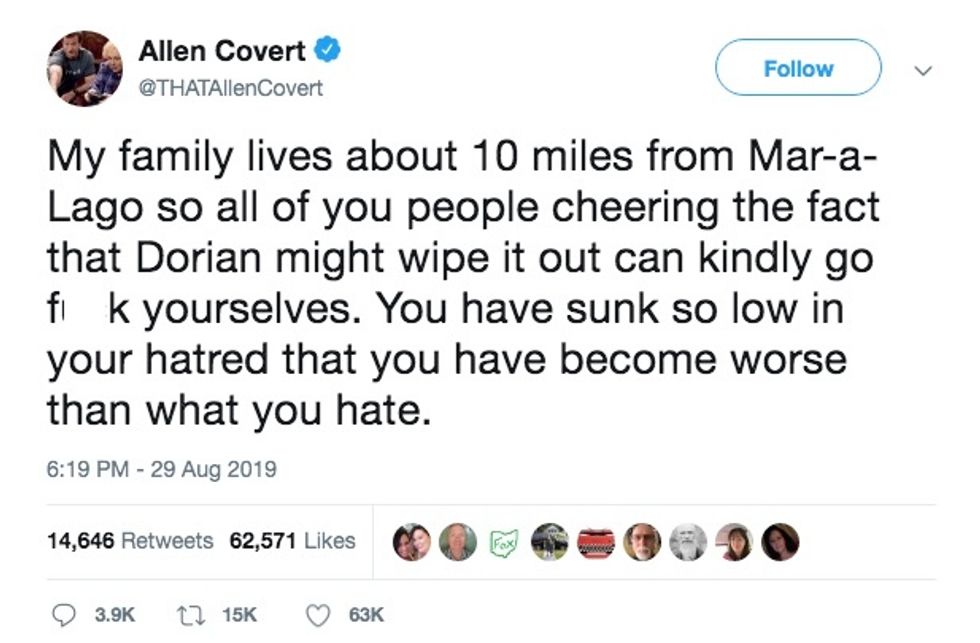 Image source: screenshot
With potential landfall still two days away, it's not yet clear if Dorian will strike Florida.
As of Saturday afternoon, the storm was just shy of a category 5 — indicating it continues to strengthen — but the forecast track is less clear. Some forecasters believe the storm could recurve north making landfall somewhere in the Carolinas while others think the storm could miss land completely.