The brothers who said "Empire" actor Jussie Smollett paid them to stage a fake hate crime attack against him now are expressing "regret" about being part of the controversial incident.
Ola and Abel Osundairo told Chicago police Smollett paid them $3,500 to pull off the Jan. 29 street beatdown at 2 a.m. in near-zero temperatures, which the openly gay actor blamed on two masked men who yelled racial and homophobic slurs at him, as well as "This is MAGA country" — a reference to President Donald Trump's 2016 campaign slogan, "Make America Great Again." No video was found of the alleged attack.
The brothers' attorney Gloria Schmidt released the following statement to WBBM-TV:
"My clients have tremendous regret over their involvement in this situation, and they understand how it has impacted people across the nation, particularly minority communities and especially those who have been victims of hate crimes themselves."
Smollett was arrested Feb. 21 for filing a false police report — a felony — and posted $100,000 bond the same day. The charge against Smollett carries a maximum sentence of three years in prison. He's due back in court March 14, WBBM added.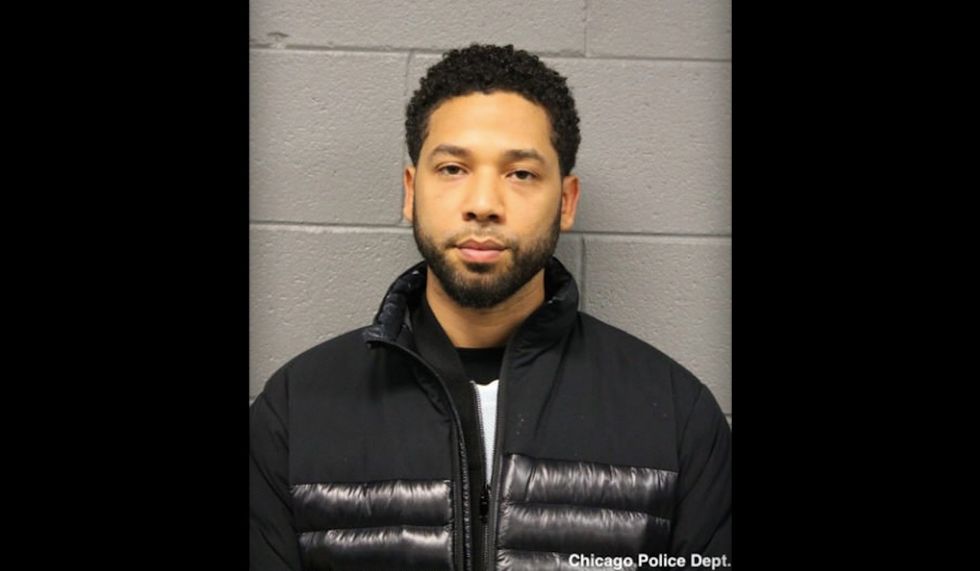 Jussie Smollett mug shotImage source: Chicago police
The actor has maintained his innocence and claimed the $3,500 check Chicago Police Superintendent Eddie Johnson said was payment to the Osundairo brothers to stage the attack was actually for gym and nutrition training.
But Johnson reiterated the brothers' claim to ABC News' Robin Roberts and added that there is yet-to-be revealed evidence — "physical evidence, video evidence, and testimony that just simply doesn't support [Smollett's] version of what happened."
On Friday morning, Johnson spoke to WGN-TV on the heels of the Osundario brothers' statement and again expressed doubt about Smollett's check assertion: "If I were going to buy a kilo of cocaine, I wouldn't put in the memo section 'for a kilo of cocaine.'"
Here's the WGN interview with Johnson:
What else?
Surveillance video came to light recently showing the Osundairo brothers in a store before the Jan. 29 alleged attack buying a red hat and ski masks, WBBM-TV reported.
The brothers also told detectives they and Smollett rehearsed the attack days prior to it happening, WBBM added.
"Empire" executive producers announced last Friday that Smollett's character, Jamal, will be removed from the final two episodes of the season "to avoid further disruption on set," according to a statement 20th Century Fox Television sent to TheBlaze.
The day before Smollett apologized to the show's cast and crew for any embarrassment his arrest and allegations against him may have caused — but he also told them he's innocent, CNN reported, citing an individual at the on-set meeting. That individual told CNN that "they were shocked and dismayed that Smollett stuck to his story of innocence."
TMZ cited sources who said many "Empire" actors are "f***ing furious" and believe that if Fox suits and ties don't fire Smollett that the 36-year-old should quit. The sources added to TMZ that some cast and crew members still believe Smollett's story.