© 2023 Blaze Media LLC. All rights reserved.
Jussie Smollett arrested following hate crime hoax allegations
Fox — which runs Smollett's 'Empire' series — said it's 'evaluating the situation and we are considering our options'
"Empire" actor Jussie Smollett is under arrest and in detectives' custody, Anthony Guglielmi, chief communications officer for the Chicago Police Department, announced Thursday morning.
A WLS-TV reporter said Smollett — accompanied by a female attorney — turned himself in about 5 a.m. Thursday.

Smollett was charged with felony disorderly conduct Wednesday evening for filing a false police report, the Cook County State's Attorney's Office said, stemming from his claim that he was the victim of a racist, homophobic attack last month by masked men who yelled "MAGA country" — a reference to President Donald Trump's 2016 campaign slogan, "Make America Great Again." No video of the alleged attack has been found.
The charge against Smollett carries a maximum sentence of three years in prison.
"Like any other citizen, Mr. Smollett enjoys the presumption of innocence, particularly when there has been an investigation like this one where information, both true and false, has been repeatedly leaked," Smollett's attorneys said in a statement. "Given these circumstances, we intend to conduct a thorough investigation and to mount an aggressive defense."
Guglielmi added that police Superintendent Eddie Johnson and Commander of Area Central Detectives Edward Wodnicki will brief reporters at 9 a.m. local time at Chicago Police Headquarters prior to Smollett's appearance in court.
What else?

In addition, new surveillance video surfaced Wednesday of the two brothers implicated in the alleged attack against Smollett — and it appears to corroborate their story that the actor actually paid them to pull off it off.
The video shows Ola and Abel Osundairo in a store before the Jan. 29 alleged attack buying a red hat and ski masks, WBBM-TV reported.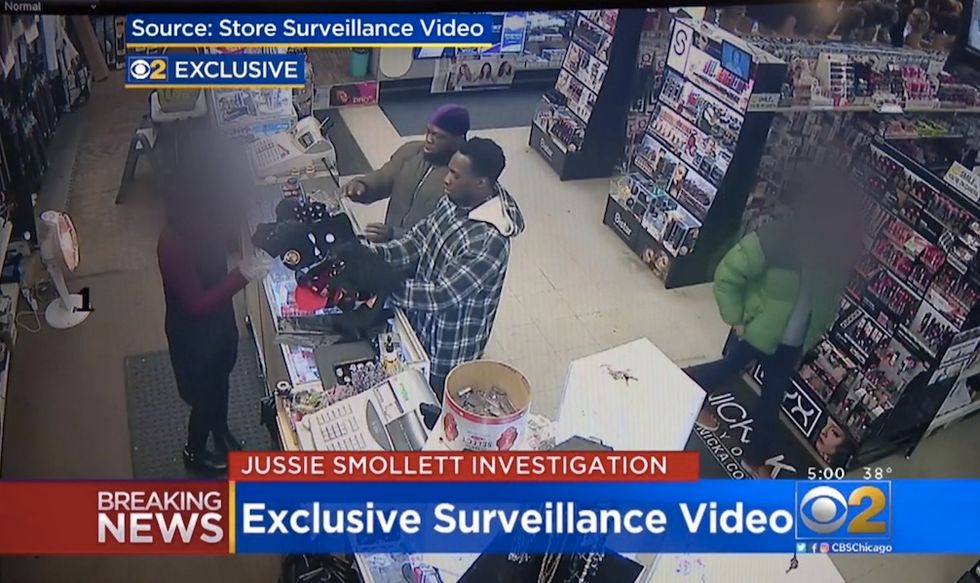 Image source: WBBM-TV video screenshot
The brothers were set to give grand jury testimony Tuesday before a last-minute phone call from Smollett's attorneys convinced prosecutors to delay their testimony; Smollett's lawyers said they had new evidence.
The brothers said they were paid $3,500 to pour a chemical on the actor, place a rope around his neck, and yell racist and homophobic slurs, WBBM-TV reported, adding that two sources indicated the brothers used a ride share vehicle to get to the Streeterville neighborhood and were caught on camera appearing nervous.
The brothers also told detectives they and Smollett rehearsed the attack days prior to it happening, WBBM added.
What did 'Empire' honchos have to say?

Fox Entertainment and 20th Century Fox Television — which run Smollett's "Empire" series — previously backed the actor. , telling TheBlaze as recently as Wednesday that "Jussie Smollett continues to be a consummate professional on set and as we have previously stated, he is not being written out of the show."
But their tune took a turn following Smollett's arrest. Here's what they told TheBlaze on Thursday: "We understand the seriousness of this matter and we respect the legal process. We are evaluating the situation and we are considering our options."
What did CNN's Don Lemon have to say?
CNN host Don Lemon — an early supporter of Smollett after initial reports of the alleged attack — said "in the court of public opinion, Jussie has lost — he's lost the fight in the court of public opinion, and that's where his battle is."
Lemon added that such a defeat was "not his fault" and perhaps his representatives "handled poorly" his presentation in public after he claimed he was attacked. He also said ABC News' Robin Roberts did a "terrific job" in her interview with Smollett:
Lemon also added the following:
This story has been updated to include a new statement on Smollett from Fox Entertainment and 20th Century Fox Television.
Want to leave a tip?
We answer to you. Help keep our content free of advertisers and big tech censorship by leaving a tip today.
Sr. Editor, News
Dave Urbanski is a senior editor for Blaze News.
DaveVUrbanski
more stories
Sign up for the Blaze newsletter
By signing up, you agree to our
Privacy Policy
and
Terms of Use
, and agree to receive content that may sometimes include advertisements. You may opt out at any time.