Alexander G. Dial was among 13 people arrested during Saturday's protests in Portland, Oregon — and only one of two booked into Multnomah County Jail, KOIN-TV reported.
Dial, 37, was charged with attempted assault, unlawful use of a weapon, and riot, the station said.
If it isn't obvious enough, Dial apparently isn't your run-of-the-mill leftist demonstrator.
You see, a "legal defense fund" has been set up for Dial — which in just two days has amassed nearly $10,000 — and the fundraiser text identifies him as the "#betacuck4lyfe" protester wearing a red helmet during an altercation with school bus passengers. The following photo was included in the fundraiser, apparently to inspire Antifa fans: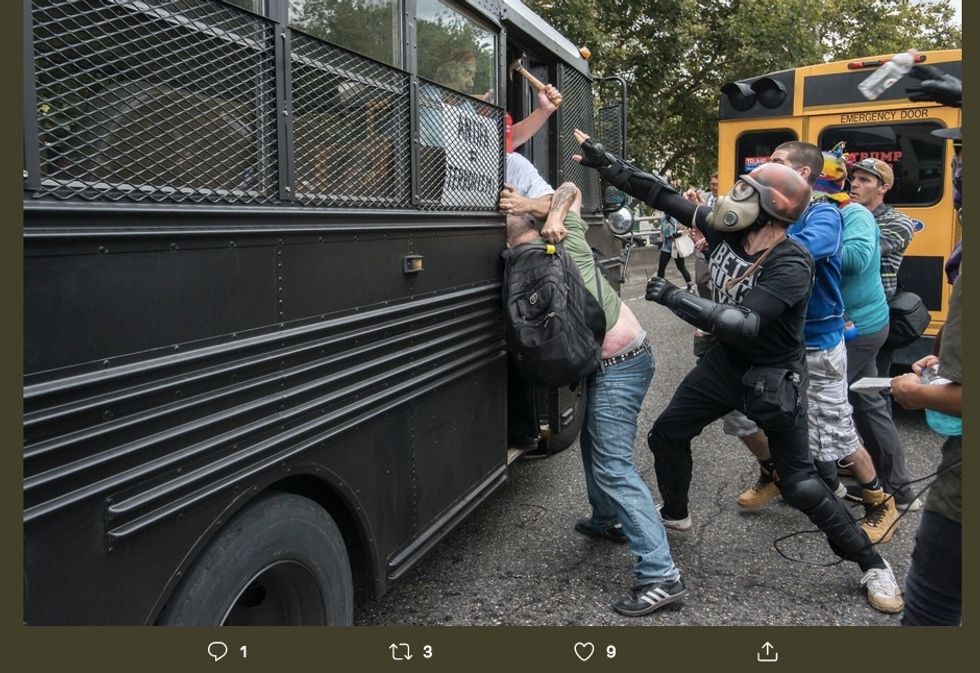 Image source: Twitter
The rest of the story

What the photo doesn't show is that the red-helmeted Beta Cuck 4 Lyfe guy was part of a mob that attacked the bus as it was moving along a Portland street. Apparently they didn't like the sign in the window that read "Antifa = Terrorism!"
Here's video of the attack from a new angle. (Content warning: Language):
Exclusive new video angle shows what happened unedited during the antifa bus attack last Saturday during the… https://t.co/yEgZTZzOKn

— Andy Ngô (@Andy Ngô) 1566402995.0
The clip shows the mob approach the dark-colored bus, yelling at its passengers and throwing objects at it. Suddenly, the bus door opens, and the mob descends on a couple of passengers inside. One of passengers appeared to be wielding a hammer: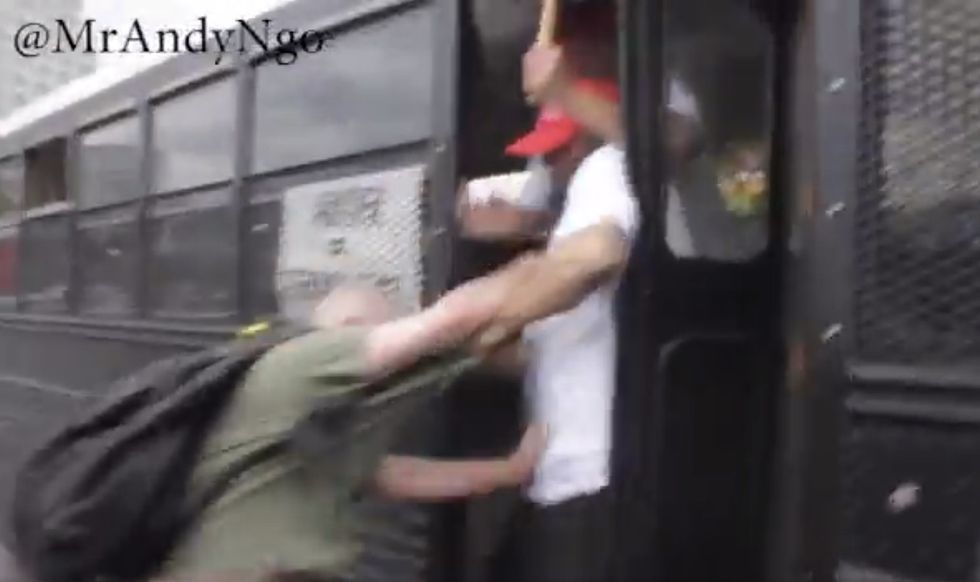 Image source: Twitter video
But about seven Antifa protesters apparently overpower the passenger holding the hammer and take it from him. With that our hero, Beta Cuck 4 Lyfe, ends up with the hammer: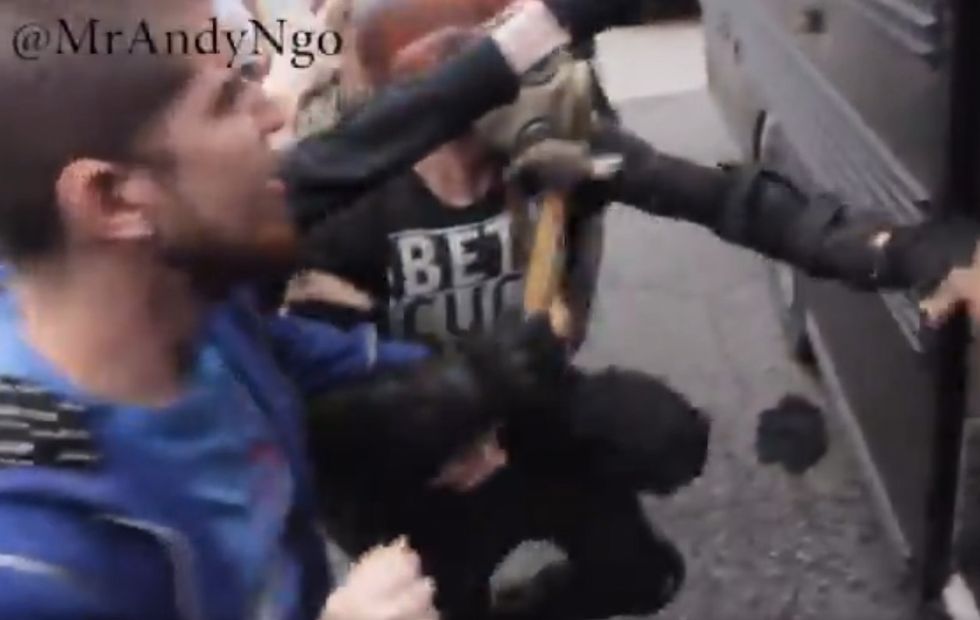 Image source: Twitter video
And the clip shows Beta Cuck 4 Lyfe throwing the hammer through the open door of bus: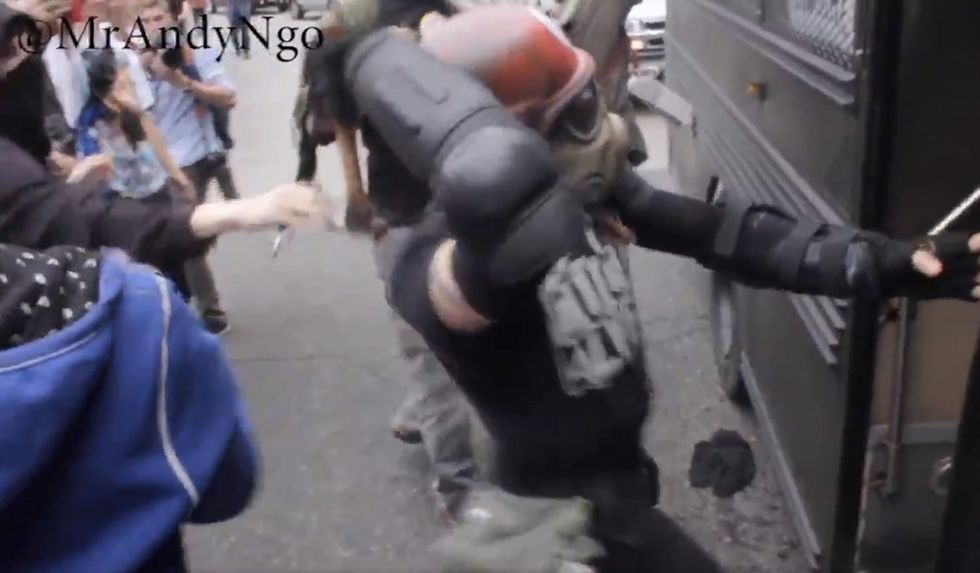 Image source: Twitter video
Oh, and let's not forget about another Antifa guy who sprayed what appeared to be mace through a kicked-in bus door panel: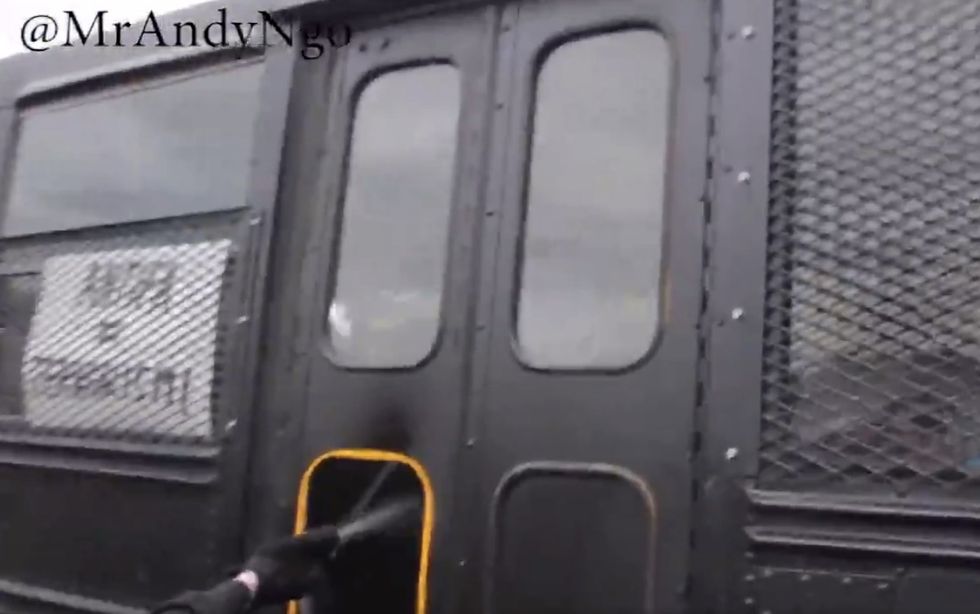 Image source: Twitter video
Another video from Elijah Schaffer, a contributor to TheBlaze, shows Antifa protesters standing in an area below the street and throwing what appear to be chunks of concrete at the bus:
🚨CONCERNING 🚨 We caught Antifa smuggling concrete slabs within a black case then breaking up the slab & using it to… https://t.co/nvJSRFOoPl

— ELIJAH SCHAFFER (@ELIJAH SCHAFFER) 1566177398.0
Busted
Finally, it appeared the same Beta Cuck 4 Lyfe guy was arrested:
The man being arrested here appears to be wearing the same clothes (sans helmet) as one of the antifa men beating t… https://t.co/T8QpUleFta

— Andy Ngô (@Andy Ngô) 1566091650.0
Yet the 'legal defense fund' grows

The "legal defense fund" for Dial (aka Beta Cuck 4 Lyfe) was continuing to grow Thursday, and its author — William Dearborn — insisted Dial "was defending Portland, Oregon along with a large group of local citizens against [Southern Poverty Law Center]-designated hate groups who had invaded the downtown area without permits in order to spread their rhetoric of intolerance."
The fundraiser added that Dial "has no criminal record, a long history of activism, and he is in serious legal jeopardy as a result of the nature of this case's political charge."
Its Wednesday update exclaimed, "Holy resistance, Betas! We have raised nearly half the funds we need in barely 24 hours!"
More from the update:
This momentum is powerful and I posit to you that this trial and the political charge around it is not just about me, but about all of us who turn out to defend our communities from hate-group incursions. Every activist knows that direct actions and civil disobedience can result in arrest and criminal charge. We take that chance every time we turn out in streets to reject and eject white supremacists and hate groups from our communities. OUR streets.

When hate groups march in our city, when they prowl our streets in search of victims whom they deem subhuman, when they preach their fearful and ignorant bigotry, we take that chance when we show up to drown them out, to shut them down. We do not accept their ideology. We do not condone their actions. We do not allow them to proselytize to our youth.

We do not suffer these fools. History has shown us what happens when they speak undenounced and march unopposed. So we take that chance and we oppose them.

We will not be intimidated by those in power who would punish us for performing the simple, American act of coming together in our own communities to protect the most vulnerable among us. So we take that chance for each other.
The update concluded by telling readers that "we are each of us just a single point of light, but standing together, we are a constellation: a whirling mass of united incandescences, burning bright. Sparkle hard, my countrypeople."