The white woman notoriously dubbed "Central Park Karen" for calling 911 on a black man who asked her to leash her dog last year in Central Park underwent "psychoeducation about racial equality" — five therapy sessions "designed for introspection and progress" — and so her case was dropped Tuesday, the New York Post reported.
What are the details?
Amy Cooper, who told the police dispatcher she was being threatened, faced up to a year in prison on a charge of making a false report.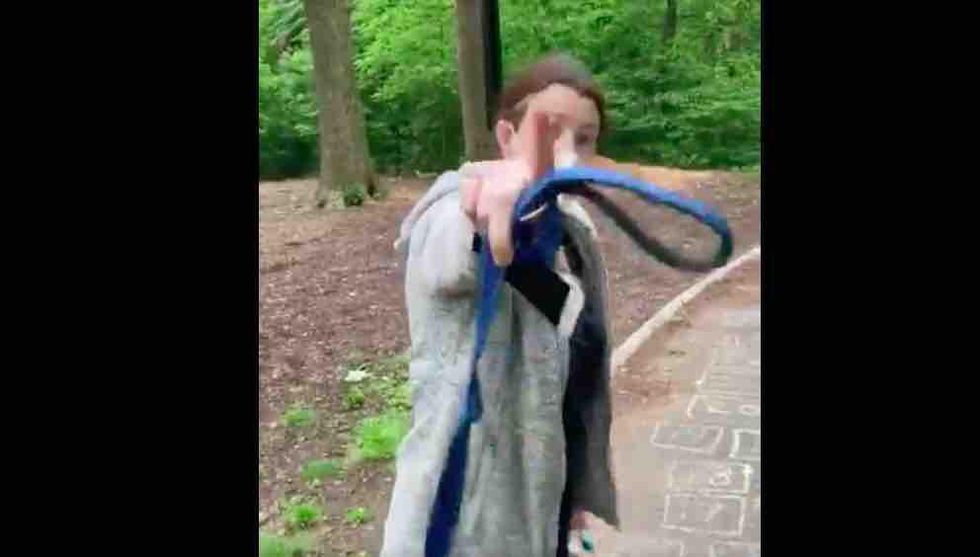 Image source: Twitter video screenshot via @melodyMcooper
But the paper said a judge granted Manhattan prosecutors' request to throw out the case after Cooper completed five therapy sessions "designed for introspection and progress," Assistant District Attorney Joan Illuzzi-Orbon said at a virtual hearing.

"They sent her to Critical Therapy Center … who provided psychoeducation and therapy services which focused on the ways in which Ms. Cooper could appreciate that racial identities shape our lives, but we cannot use them to harm ourselves or others," Illuzzi-Orbon told Manhattan Criminal Court Justice Anne Swern, according to the Post. "Psychoeducation about racial equality is woven into each therapy session to prompt understanding and reflection."
Illuzzi-Orbon also said the diversion program Cooper completed with Manhattan Justice Opportunities was a punishment "consistent" with other misdemeanor cases, the paper said.
"Ms. Cooper's therapist reported that it was a moving experience, and Ms. Cooper learned a lot in their sessions together," the prosecutor said during the hearing, according to the Post.
The paper said when Cooper was asked if she wanted to be heard, she told the judge, "No, your honor." Her lawyer also declined to speak but said he agreed with prosecutors, the Post added.
Swern then dismissed and sealed her case, the paper said.
What's the background?
Video of the May 2019 incident was posted to Twitter by the black man's sister. Cooper was heard saying, "I'm going to tell them there's an African American man threatening my life." Which is exactly what she said on the 911 call:
Oh, when Karens take a walk with their dogs off leash in the famous Bramble in NY's Central Park, where it is clear… https://t.co/zFb3O0cClz

— Melody Cooper (@Melody Cooper)1590426192.0
Cooper later told CNN she regretted calling the police: "It was unacceptable, and words are just words, but I can't undo what I did. I sincerely and humbly apologize to everyone, especially to that man and his family."
She added, "I'm not a racist. I did not mean to harm that man in any way."
But shortly after the incident Cooper was fired from her job at Franklin Templeton Investments, which said, "We do not tolerate racism of any kind."
In addition, Christian Cooper — the black man in question in the cellphone video — told people to stop making death threats against Amy Cooper for her actions that he called "definitely racist."
Christian Cooper also refused to cooperate in the prosecution, saying "she's already paid a steep price" for her behavior, the Post reported.