A young vagrant living on the streets of San Francisco, California, will not face charges for allegedly attacking the city's former fire commissioner with a metal rod, though the commissioner may soon be charged in connection to the incident.
On April 5, Don Carmignani, 53, contacted police because three vagrants had camped outside his mother's house, doing drugs, blocking her driveway, and harassing her neighbors. When the 911 calls went unheeded, Carmignani went to his mother's house and confronted the three men himself. According to reports, he even deployed pepper spray to encourage them to leave the area.
"I didn't go out there to fight anyone," Carmignani later told CBS. "I'm trying to get them down the road, go to the park."
One of the three men, 24-year-old Garrett Doty, did not take kindly to Carmignani's interference. At some point during their encounter, Doty retrieved a metal rod — possibly a crowbar — from a trash can and began swinging it at the retired fire commissioner, reports said.
A bystander filmed the violent incident, and the footage is disturbing. According to video evidence, Doty strikes Carmignani in the head, dazing the victim and causing his eyes to cloud with blood. Carmignani then raises his arms to protect himself as he attempts to retreat from his attacker.
The video suggests that Doty continues to threaten Carmignani, swinging the rod in his direction and forcing him to back into the convenience store of a gas station. At some point, Carmignani makes a run for it down the street, and Doty chases after him.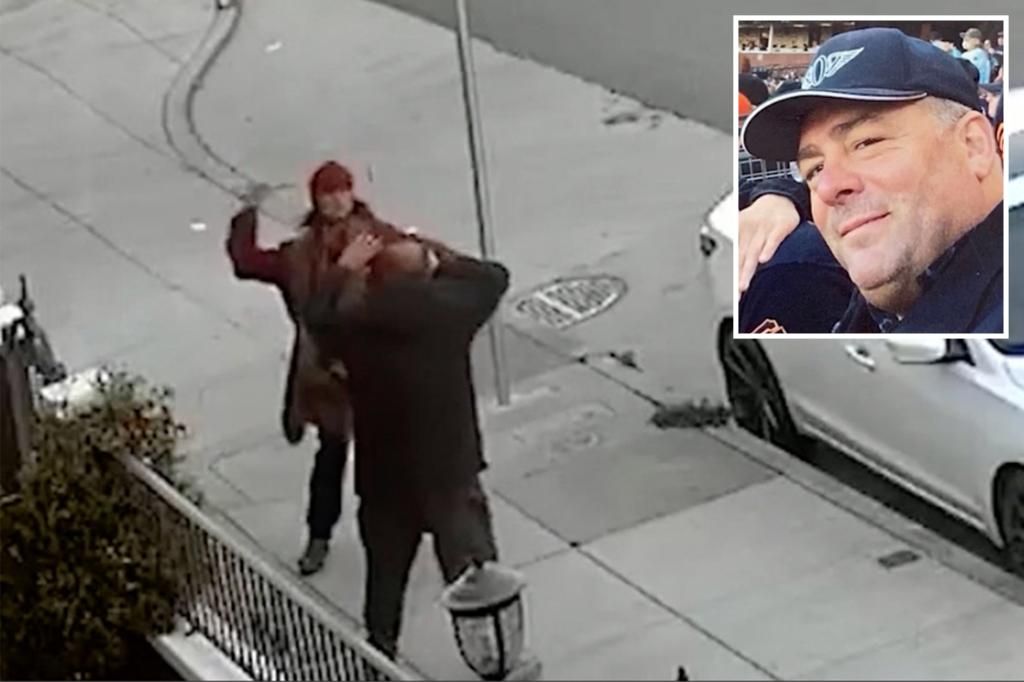 San Francisco drops case against transient who bashed ex-fire commish with crowbar, says it was 'self-defense'nypost.com
Carmignani sustained serious injuries during the attack. His skull was punctured, requiring emergency surgery. During the procedure, doctors had to break his jaw and put a plate in his head, he said, causing his teeth to shift. "My mouth feels like it had been ground up by a meat slicer," he said. He spent several days recovering in the ICU and, since returning home, has experienced night terrors and difficulty with short-term memory.

Doty was initially arrested and charged with assault with a deadly weapon, aggravated battery with serious bodily injury, and assault with force likely to produce great bodily injury. However, on Tuesday night, San Francisco prosecutors announced that the charges against Doty had been dropped because he had acted in "self-defense."
According to a statement issued on Carmignani's behalf, prosecutors, likely including District Attorney Brooke Jenkins, even hinted that Carmignani may face charges for instigating the incident by allegedly spraying Doty and his companions with pepper spray. Carmignani claimed that police and prosecutors never spoke with him to learn his side of the story before dropping the charges against Doty.
Carmignani, a self-described "native San Franciscan," has expressed serious disappointment in the way local law enforcement has treated his case and many others like it. "This is unacceptable," he said in a statement shortly after his attack.
"We strongly believe that rather than threatening Mr. Carmignani, they should focus on prosecuting the individual who has terrorized the Marina, and put Don in the hospital after brutally beating him with a metal rod," Carmignani's statement read in part.
"I firmly believe that the City needs to promote the safety of its law-abiding citizens over those who chose to do drugs and commit violent acts in our streets," he concluded.
Interview: Former SF Fire Commissioner Don Carmignani says charges may be dropped in brutal attackwww.youtube.com
Like Blaze News? Bypass the censors, sign up for our newsletters, and get stories like this direct to your inbox. Sign up here!