Chicago police on Thursday told TheBlaze they brought in for questioning two "persons of interest" in connection to the alleged attack on "Empire" actor Jussie Smollett, who told police the Jan. 29 incident was racist and homophobic in nature.
CPD public information officer Sally Bown added to TheBlaze that the two individuals have not been charged, but she said she wasn't sure when they were taken in or if they've been released.
CPD Director of Communications Anthony Guglielmi said in a statement, "After a meticulous investigation with the use of advance technology, interviews with the victim and witnesses and transportation records, detectives have identified two persons of interest in the Empire cast member case."
Bown also told TheBlaze there's no confirmation the two individuals in for police questioning are Chicago residents, or if they're the same individuals seen in a recently released surveillance photo taken minutes before the alleged attack.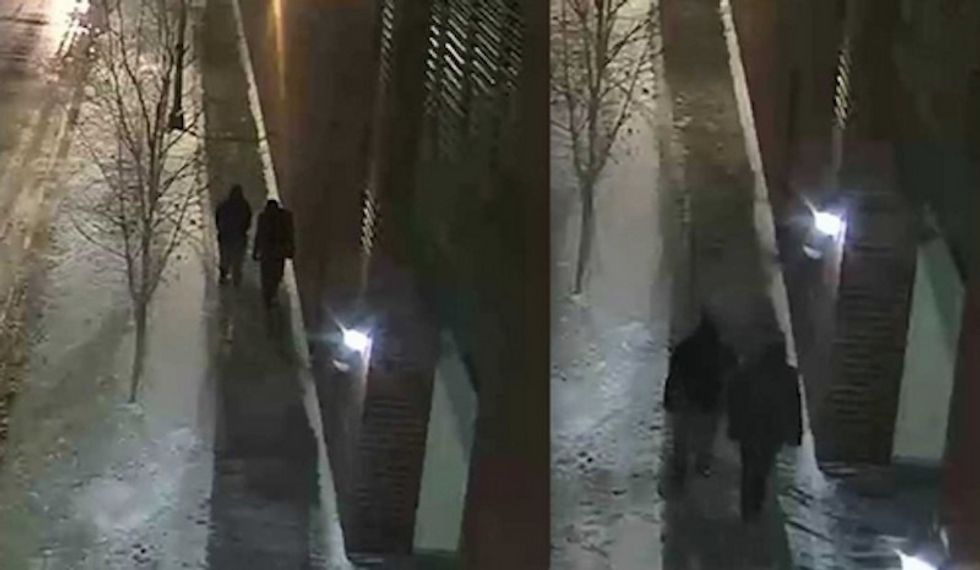 The individuals are seen walking on New Street near Illinois, between 1:30 and 1:45 a.m. on Jan. 29Image source: Chicago Police Department, composite
Smollett told ABC News' Robin Roberts that he believes the two figures seen in the surveillance image are his attackers.
When Roberts pressed for more information, asking how he's sure they're the same people — given the photo is dark, grainy, taken from a distance, and contains no identifying facial features — Smollett replied, "'Cuz I, I was there."
He added, "I mean, for me, when [the photo] was released, I was like, 'OK, we're getting somewhere,' you know what I'm sayin'? So, yeah, I don't have any doubt in my mind that that's them. Never did."
'Pissed off'
Smollett also told Roberts he's "pissed off" at assertions his claims are a hoax:
It's like, you know at first it was a thing of like, "Listen, if I tell the truth, then that's it, 'cuz it's the truth." Then it became a thing of like, "Oh, how can you doubt that? Like, how do you not believe that? It's the truth." And then it became a thing of like, "Ohhh, it's not necessarily that you don't believe that this is the truth, you don't even want to see the truth."
"I have to acknowledge the lies, and the hate," he added to Roberts, according to ABC News. "And it feels like if I had said it was a Muslim, or a Mexican, or someone black, I feel like the doubters would have supported me much more. A lot more. And that says a lot about the place that we are in our country right now."

He also disputed a claim that he said his alleged attackers "were wearing MAGA hats" — the iconic red caps with President Donald Trump's 2016 "Make America Great Again" campaign slogan: "I never said that."
"For me, the main thing was the idea that I somehow switched up my story, you know? And that somehow maybe I added a little extra trinket, you know, of the MAGA thing," Smollett added, ABC New said. "I didn't need to add anything like that. They called me a f***ot, they called me a [N-word]. There's no which way you cut it. I don't need some MAGA hat as the cherry on top of some racist sundae."
While at least one outlet, Forbes, reported the alleged attackers wore MAGA hats, numerous outlets ran with a TMZ report saying the Smollett was beaten up by two white men wearing ski masks who asked, "Aren't you that f***ot 'Empire' n*****?" before pouring bleach on him, putting a noose around his neck, and yelling, "This is MAGA country!"— a reference to President Donald Trump's 2016 campaign slogan, "Make America Great Again."
Chicago police told TheBlaze there was "no mention of MAGA" in initial reports, but when detectives followed up with Smollett later on the day of the attack, he recalled the attackers making those comments, and detectives completed a supplemental report.
Police didn't specify the race of the alleged suspects but did call it a "possible racially charged assault and battery" and that they are "treating it as a possible hate crime."
Smollet, who's openly gay, also said he was angered by claims the incident was "a date gone bad, which I so resent ... I'm not gonna go out and get a tuna sandwich and a salad to meet somebody. That's ridiculous. And it's offensive. Yes, there's Grinder, yes, there's Jack'd, yes there's all of these things, which I have not been on in years. I can admit that I was on it back in the day. I was single. You know what I'm sayin'? But I haven't been on that in years."
Anything else?
Smollett said he was on the phone with his manager, Brandon Moore, during the alleged incident. But Chicago police said the "limited and heavily redacted" phone records Smollett turned over detectives "do not meet the burden for a criminal investigation" as cops continue looking into Smollett's claims, WBBM-TV reported.
Guglielmi told the New York Post that "we offered to take the phone to download the data, and he expressed he couldn't be without his phone for several hours."
Other curious details:
Smollett's neighbor doesn't believe the story
A neighbor of Smollett cast doubt on his story.
"I don't believe it happened the way he said it did," Agin Muhammad, who lives in the same apartment complex as the actor, told the New York Post. "I've been in this neighborhood five years. I don't believe it, not around here. … Half the people are gay and the other half are black."
Chicago Police Superintendent Eddie Johnson told reporters that if police suspect Smollett's story is a hoax, he will be held accountable.
Threatening letter, empty hot sauce bottle

A threatening letter and drawing to Smollett was sent to the Fox television studio in Chicago on Jan. 22, police told ABC News, and it contained a powdery substance that investigators believe was likely crushed-up Tylenol.
The Post said last week it traced Smollett's likely route to the underpass from a 24-hour Subway sandwich shop where he bought a tuna sandwich and a salad, and that near the foot of a stairwell to the Loews, the paper found an empty hot sauce bottle that was partially filled with a clear liquid that smelled like bleach.
Guglielmi told the Post that after police seized the bottle it was turned over to the FBI for analysis; the FBI declined to comment.
Related articles around the web
Related articles around the web