Chicago police released photos of "potential persons of interest" in connection to the alleged racist and homophobic beating of "Empire" actor Jussie Smollett, who told police his assailants yelled "MAGA country" — a reference to President Donald Trump's "Make America Great Again" slogan.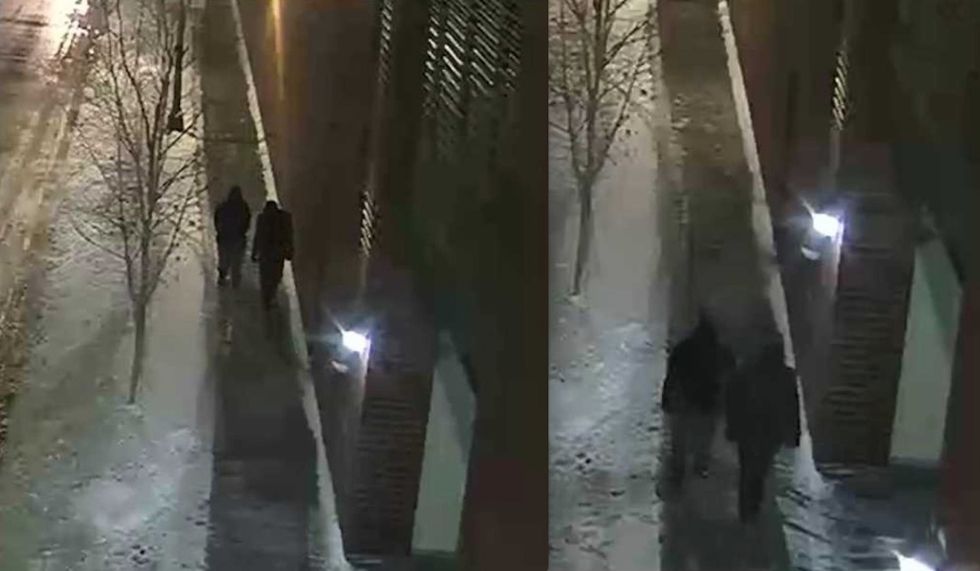 The individuals are seen walking on New St. near Illinois, between 1:30 a.m. to 1:45 a.m. Tuesday.Image source: Chicago Police Department, composite
Anthony Guglielmi, chief communications officer for the Chicago Police Department, noted on Twitter that "detectives located a surveillance camera that shows potential persons of interest wanted for questioning in reference to the assault & battery of" Smollett. He added that "while video does not capture an encounter, detectives are taking this development seriously & wish to question individuals as more cameras are being reviewed."
What's the background?
Numerous media outlets ran with a Tuesday TMZ report saying the actor was beaten up after walking out of a Subway restaurant around 2 a.m. by two white men wearing ski masks who asked, "Aren't you that f***ot 'Empire' n*****?" before pouring bleach on him, putting a noose around his neck, and yelling, "This is MAGA country!"
Chicago Police told TheBlaze on Wednesday morning there was "no mention of MAGA" in initial reports. But when detectives followed up with Smollett later on Tuesday, he recalled the offenders making those comments, and detectives completed a supplemental report.
Rob Elgas of WLS-TV in Chicago tweeted that after investigators heard the "MAGA country" claim in the news they called Smollett again, after which he added that information.
Smollett's music manager, Brandon Z. Moore, told ABC News he was on the phone with Smollett during the attack and that he heard "MAGA country" spoken: "I heard that clearly. I heard the scuffle and I heard the racial slur."
Chicago Police told the network they spoke with Moore and that his account is in the police report — but they haven't yet confirmed it with phone records. Police added to ABC News that Smollett and Moore told them they were on the phone together.
Police didn't specify the race of the alleged suspects but did call it a "possible racially-charged assault and battery" and that they are "treating it as a possible hate crime."
A threatening letter and drawing to Smollett was sent to the Fox television studio in Chicago on Jan. 22, police told ABC News, and it contained a powdery substance that investigators believe was likely crushed-up Tylenol.
Smollett reportedly was wearing rope 'like a necktie'

Police told ABC News that Smollett was seen on camera walking into an apartment with a rope around his neck and "wearing it like a necktie" before calling cops from inside the building.
CBS News said "when police got to his apartment, they said a noose was still around Smollett's neck."
Elgas reported that "when Smollett contacted police at 2:42AM, he was still wearing the rope around his neck. The alleged encounter occurred at 2AM. Police have the rope and it will be analyzed."
Other curious details:
Guglielmi told The Associated Press that detectives have looked at hundreds of hours of surveillance video from businesses and hotels in the heavily monitored area and are expanding the search to include footage from public buses and buildings beyond the scene's immediate vicinity in the hopes of spotting the individuals who match Smollett's description.
"We haven't seen anybody, at this point, matching the description he gave. Nobody looks menacing, and we didn't find a container anywhere," Guglielmi added to the AP, referring to a container for the liquid Smollett said was thrown at him.
The AP added that Chicago has one of the nation's most sophisticated and extensive video surveillance systems, including thousands of cameras on street poles, skyscrapers, buses, and in train tunnels — and that police said such cameras have helped them make thousands of arrests.